The Vancouver Canucks signed Northeastern Huskies forward Adam Gaudette to a three-year, entry-level contract. The Canucks drafted Gaudette late in the 2015 NHL Entry Draft and have quietly been watching him develop into an NHL-ready center.
#Canucks sign Adam Gaudette (@Hockey_Gaud) to three-year entry-level contract. https://t.co/z3WKsarMDj

— Vancouver #Canucks (@Canucks) March 26, 2018
Gaudette absolutely dominated the NCAA this season, presenting himself as the perfect addition to the struggling Canucks' roster. Management is very excited to implement Gaudette's versatile game into the Canucks' system and hopefully will watch him blossom into an elite two-way player.
Gaudette the Howlin' Husky
Gaudette's season with the Huskies was nothing short of remarkable. His statistics were next-level impressive, as he amassed 30 goals and 30 helpers in just 38 games — good for first in the league in goals and points. On top of that, the 21-year-old led the NCAA in points per game (1.58) and also power play points (27). But, beyond his offensive output, Gaudette's leadership on and off the ice was really on display this season.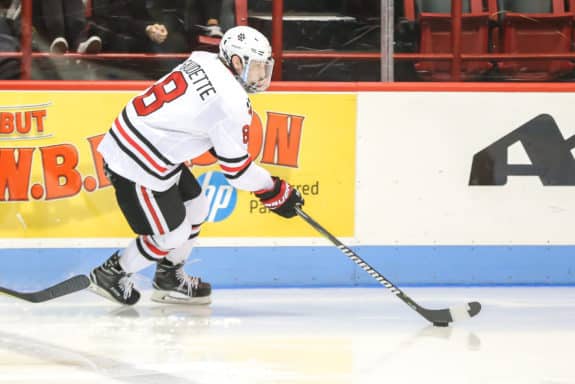 Back in February, Gaudette's leadership qualities took center-stage and he led the Huskies to their first Beanpot Tournament Championship in 30 years — he notched three goals in the final game, on his way to earning the coveted tournament MVP award. His fellow teammates really appreciate Gaudette's leadership and stellar play, but Gaudette just chalks it up to going the extra mile.
"I think I bring a lot of heart and hard work to the team and that rubs off on other guys. I try to do all the little things right, and just work my hardest," Gaudette told the Boston Globe
The Braintree, Massachusetts product puts in a lot of extra work and is almost always the last guy off the ice when the Huskies practice. It's been hard work like that, that Gaudette's showcased during his time in College that really took his game to the next level — in just a few seasons, he's grown into one of the more promising prospects in the Canucks system, and with the talent in that pool, that's no easy accomplishment.
The Huskies' season is now officially over, but Gaudette did leave quite the mark, being named Hockey East's player of the year and qualifying as a finalist for the Hobey Baker Award, as his sights move towards the NHL.
Gaudette's Leap to the NHL
Gaudette on signing with the #Canucks "Feels so awesome, it's a dream come true to play in the NHL. Very excited and happy."

— Rick Dhaliwal (@DhaliwalSports) March 26, 2018
A dream come true, indeed. It's been a long journey, but it's all starting to pay off. Gaudette is coming into a system that is heavily stacked with prospects, as previously mentioned, but he's also rather unique. He's a two-way center that can put the puck in the net, plays with an edge, and can be utilized in just about every situation. He's eerily reminiscent of former Canucks center Ryan Kelser.
Canucks fans have been patiently waiting for an opportunity to see Gaudette slip into a Canucks sweater and their opportunity may arise this Thursday, in a contest with the Edmonton Oilers. Gaudette is uncertain of when he'll be taking the ice for the black fish, but he says he's ready.
"Crazy last 24 hours but it feels right, it happened fast but I am ready for next step." – Gaudette told Sportsnet-650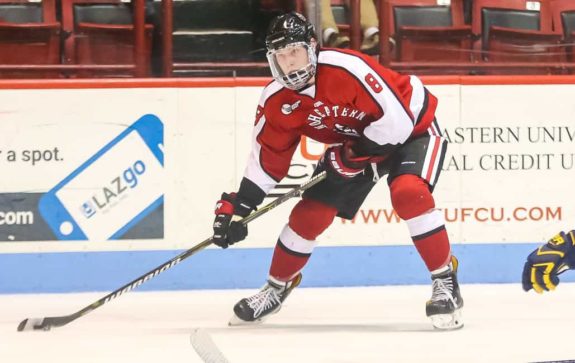 It's a pretty big transition to the big leagues, but lucky for Gaudette, the Canucks' season is completely in the dumps and the team's focus is on developing prospects and preparing for the future. When he does enter the lineup, he'll likely be holding down a third or second-line spot with a player who can bring speed and an edge to the table — somebody like Jake Virtanen.
Virtanen has been playing great lately, simply by playing fast and simple hockey. Playing with a like-minded centerman like Gaudette could spell disaster for opponents — coach Travis Green might even compose a penalty-kill unit of the duo and see if he can breed that for the future. On top of that, Green will likely give some power play time to Gaudette and even slot him in where Brock Boeser posted up before his injury — the one-timer spot at the top of the circle, on his off-wing.
How do you feel about Gaudette's future? Is Virtanen the perfect compliment to his game? Who would you play Gaudette with? Let me know your thoughts on this exciting prospect in the comments below!
Matt is a longtime fan, player and student of the game of hockey. Broadcast and Online Journalism student at the British Columbia Institute of Technology.