Kyle Connor is probably not going to win the Calder Trophy. In fact, he's probably not going to garner a lot of votes or a ton of press. That may be a good thing for him, though.
The Winnipeg Jets' rookie sniper is poised directly below the thirty goal mark following his goal against the Nashville Predators on Mar. 25. He would become the second Jets 2.0 rookie to accomplish the feat, and the second in as many seasons.
Connor's first crack at 30 will come on Tuesday, Mar. 27, and it will come (rather fittingly) against the Boston Bruins. The Bruins had three chances to draft Connor in 2015 and passed all three times. Someday I will let them off the hook for this.
Connor's excellent rookie season, which started out well and only got better as he got rolling, has largely gone unrecognized. A number of factors deserve blame for this, but however you slice it, the lack of spotlight may be the best thing for him.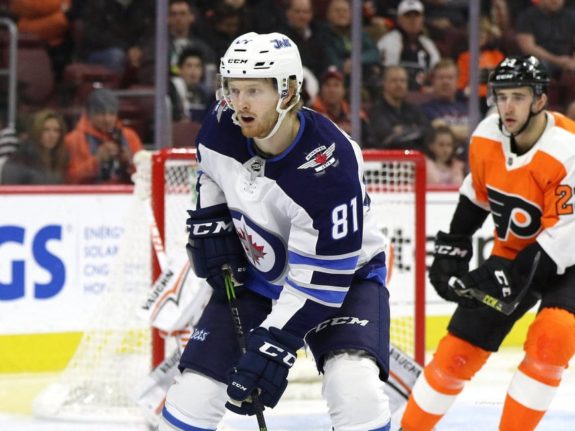 Connor's teammates have all garnered plenty of attention during the Jets historic season. Patrik Laine has made national and international headlines in his pursuit of the Rocket Richard Trophy. Blake Wheeler has entered the Hart Trophy conversation.
Yet the Calder Trophy conversation has been fairly one-sided since Brock Boeser went down hurt. Connor's 29 goals in 69 games are impressive, but Boeser matched that feat in just 62. And there's no ignoring Matt Barzal's superlative season.
Mat Barzal joins John Tavares, Matt Moulson, Michael Grabner, and Anders Lee to score 20 goals in their rookie season since 2009-10. #Isles

— Rob Taub (@RTaub_) March 21, 2018
Barzal already has more points than any rookie since Evgeni Malkin put up 85 in 2007. It's hardly a surprise that he should steal the spotlight. Yet the spotlight shining brightly elsewhere hasn't deterred Connor in the least.
Connor Flourishes When Snubbed
The Jets have a lot of offensive weapons and Connor joined their ranks in a hurry upon his recall. He spent all of a period on the second line before joining Mark Scheifele and Blake Wheeler, scoring in his first game back.
Connor never really left that line. In the absence of Scheifele, Connor continued to score with Wheeler. He's now surpassed Nikolaj Ehlers for second on the team in goals and is on track to be the Jets second 30-goal man of the year.
Consistently underestimated throughout his career, Connor's story is one of being underrated and snubbed. It seems unthinkable now that he ever missed out on a spot on the USNTDP, but that was just the beginning for him.
NTDP didn't want him, USA Hockey didn't want him for the WJC, the Hobey Baker? Nope, not that either. Kyle Connor just continues to prove people wrong. I'm proud to have known and watched him through his junior career. #ConnorForCalder #GoJetsGo

— Traci (@manntr07) March 24, 2018
From the moment he slipped down to 17 at the draft, right up to being cut by the Jets early in their season, Connor seems to have gotten the short end of a lot of sticks. So have any of these snubs slowed him down?
Well, not making the NTDP prompted Connor to score 30 goals in back-to-back seasons in the USHL. Missing out on the US World Junior team sent his already-solid freshman season at Michigan into overdrive.
Getting cut from the Jets last season only inspired Connor to terrorize the AHL for a year. Then, getting his full-time chance in the NHL at last, Connor has made the most of it this year.
The rest of the hockey world is starting to take notice. A few more headlines and tweets are geared toward Connor than usual, owing in part to his back-to-back overtime winners against L.A. and Anaheim.
Connor Isn't Just Supplemental
It can be tempting to dismiss Connor's success as a function of playing with great linemates. There's no doubt he drew the big straw playing with Wheeler and Scheifele, but as any coach will tell you it takes a special player to mesh well with other good players.
Give Connor's latest overtime winner against Anaheim a look. Yes, he gets a good pass from Scheifele, but only after forcing a turnover, winning a battle, and getting into position. Connor's good fortune is largely of his own making.
If all it takes for a player to be a big-time scorer is to get power play time with the Jets big guns, why wasn't Adam Lowry, a talented player in his own right who spent lots of time on the man advantage last year, a thirty-goal man? There's more to Connor than his linemates.
This, too, is an old criticism of Connor. Much of his Hobey Baker snub may have had to do with the excellent seasons J.T. Compher and Tyler Motte had. Watching closely, however, it's clear Connor brought out the best in that line.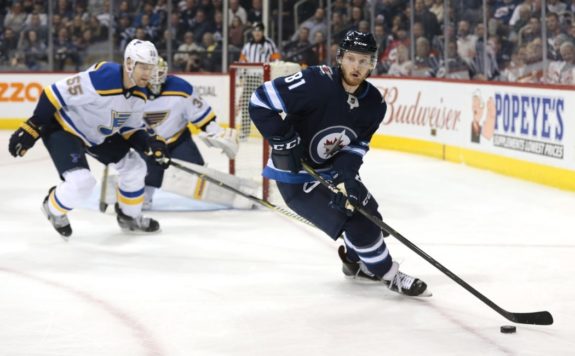 With all the talent they've got up front entering their primes, the Jets are going to have to make some tough decisions in the years ahead. When it comes to Connor, the Jets seem to have called him untouchable.
Good thing, too. If the Jets underestimate him, he may do to them what he's done to everyone else who's sold him short: prove them wrong in spectacular fashion.