No one has scored more goals in the AHL than Greg Carey with 84 in the last three seasons. The next-closest competition is Grand Rapids Griffins forward and Philadelphia native Eric Tangradi, who has 74 goals. His 30 goals this season are the most in Lehigh Valley Phantoms history since relocating to the area four seasons ago. He is also the first to score 30-plus goals in the franchise's history since Jon Matsumoto (30) did it back in 2009-10 for the Adirondack Phantoms.
So, what does the 27-year-old Carey think makes a good goal scorer? He had the answer to that in a recent interview with The Hockey Writers.
"I think a lot of goal scorers just have a knack for being at the right place, at the right time," said Carey. "I think they kind of have a tendency to go to the areas where they're most successful and a lot of times that's just going to the net with your stick down. A lot of good goal scorers—I feel they can score the pretty ones, but they get just as many other dirty ones as other players."
Greg Carey's Hobey Baker Honor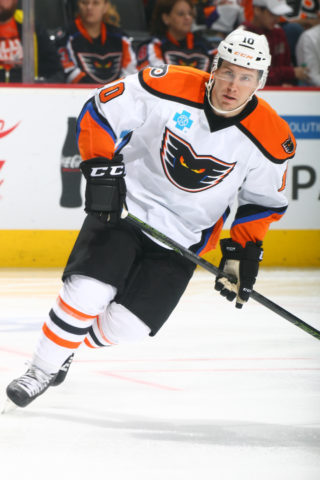 Born in Hamilton Ontario, Carey grew up a Toronto Maple Leafs fan. He was a big fan of Phil Kessel's goal scoring but also lists Joe Sakic and Paul Kariya as other goal scorers he admired growing up. He developed his goal scoring skill while playing four-years at St. Lawrence University. In 152 collegiate games, he had 84 goals, 101 assists, and 185 points. He was a two-time Hobey Baker finalist and was in the Hobey Hat Trick in 2014. Although he ended up losing to Johnny Gaudreau, Carey considers it a highlight of his career to this day:
"To be considered among the top players in college—I mean Johnny Gaudreau won that year and he is a phenomenal player, still catch him on the TV every now and then, and Nic Dowd is an awesome hockey player as well," said Carey. "My mom got to fly down, she was tickled. That's something that doesn't happen for small schools very often. It definitely was cool for me and for St. Lawrence."
Going undrafted, he was a highly-touted college free agent, signing a contract with the Arizona Coyotes in March 2014 and reported right away to their AHL team, the Portland Pirates. After an unsuccessful rookie season that saw him play in both the AHL and ECHL, he was not tendered a qualifying offer but that just motivated Carey more.
"I got an opportunity with Ron Rolston and the Springfield Falcons (2015-16)," Carey said. "We were struggling earlier in the year and I was able to kind of pop a couple in and then get a little leeway and a little trust in me, and obviously we didn't finish that well but I had a much better season—the season I was hoping for. It was kind of a do or die, on an American Hockey League deal, but I tried to do as much with the opportunity and I was fortunate for Philly to sign me."
Greg Carey Arrives in Lehigh Valley
More like Philadelphia was fortunate to acquire Carey's goal-scoring services. In the 141 games played in Lehigh Valley's last two seasons, Carey has nine game-winning goals, 25 power-play goals, and eight first goals, while taking 400 shots on goal. Carey was rewarded with a two-year contract extension on Mar. 8, 2017, which allowed him to set up some roots in the area.
"I lived in Lehigh Valley last summer with my fiance. I really liked the area, the people, the fans are awesome. I mean, they take care of us. I feel like we get treated like an NHL team, with their facilities and everything they really do take care of us and they kind of treated us like family," Carey said.
The family, his team, has also been successful. Last season, Lehigh Valley played in the Calder Cup Playoffs for the first time since 2009, when they were still the Philadelphia Phantoms. This season the team is looking to clinch their first division title since the Philadelphia team did it in 2003-04 and Carey knows with that comes pressure to win it all:
"It is it is tough, because on paper we have the skill, but it's not skill that wins championships," Carey said. "It definitely helps [but] I think we have that determination, the fire, to say we don't just want to be in the playoffs…we want to make a run for it. So, there's that pressure, but it's something I think we kind of embrace. We want a team to give us their all, we're going to give them everything we got."
The Hamilton Howitzer – @careygreg10 – strikes again!

That's his 30th goal of the season for the #LVPhantoms. pic.twitter.com/BSzN51B5Os

— LehighValleyPhantoms (@LVPhantoms) March 31, 2018
Off the ice, Carey is an avid golfer. He credits his father, Alan, for getting him into the game and who, now retired, works at a golf course allowing for easy access to playing during the offseason. Another one of his hobbies is talking and watching all things superheroes. His favorite superhero is Batman and is a big fan of Christian Bale's portrayal, but he doesn't mind Ben Affleck's depiction because, "he looks like Batman: big and scary." Interesting, because this is most likely the way goaltenders are describing Greg Carey's shot: big and scary.
Former Producer for the NHL Network and Fantasy Insider for NHL.com. Emmy award winning ESPN alum & former PR for the Flyers & Phantoms. Proud Temple Univ. Grad.