The Lehigh Valley Phantoms organization has not had a player lead the AHL in points since Peter White did it in their first two seasons: 1996-97 and 1997-98. This season, that streak can be broken by Phil Varone. The 27-year-old already has passed his AHL career-high in goals (18) and points (61) set in 2013-14 and credits the team with why he is having such a successful first season in Lehigh Valley.
"I think its understanding who I am as a player now. We have a very good team, we have a lot of skill guys. It's the best AHL team I've been on so I think that obviously contributes to it. I've had good linemates and a good D core that moves the puck up the ice well. I just think our team is that skilled and that balanced.  It's really helped me out." Varone told The Hockey Writers in a recent conversation.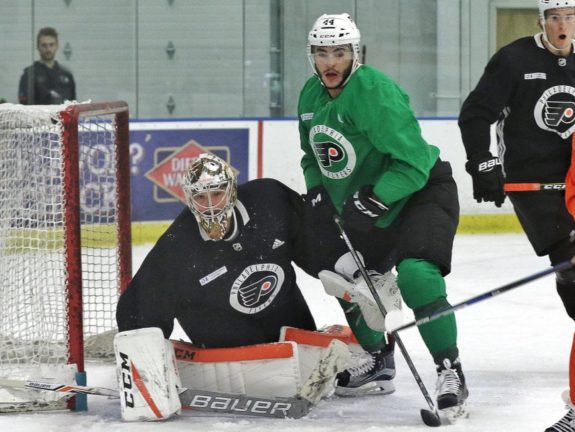 Phil Varone Makes An Immediate Impact
Varone was originally a fifth-round pick by the San Jose Sharks in the 2009 NHL draft but did not sign with the team after compiling 230 points in 228 OHL with the Kitchener Rangers, London Knights and Erie Otters. He went on to finish tenth in rookie AHL scoring with the Rochester Americans in 2011-12 on an AHL-only contract. Signing that kind of deal after an accomplished junior hockey career added fuel to his fire.
"I never really thought that I couldn't make it, I always felt I just needed an opportunity. When I went to Buffalo's camp, I had a pretty good camp and I owe a lot to them for giving me an opportunity to sign an AHL contract and more importantly they kept me in Rochester and played me instead of sending me down to the East Coast League. It was a lot of just believing in myself but I am not naïve to the fact that a lot of things had to go my way, get the ice time and it all kind of fell in place. I think it's a mindset and taking advantage of an opportunity in front of you."
Becoming a Leader on His AHL Teams
With the Americans, he was the team's leading scorer in three of the four full seasons played. The Vaughn, Ontario native also led the Binghamton Senators in points the only full season he was there, last season. Being a team leader is important to Varone.
"I've always had a knack of being a guy that puts up points. What I pride myself on is not just putting up points, its playing center, trying to be great on face-offs, killing penalties. I don't want to be just a one-dimensional offensive guy. I tried to round my game out. At the end of the night, when I evaluate myself, its everything, its making plays, scoring chances, defensive plays, face-offs, killing penalties. I feel like if you can be the jack of all trades-type of guy you can catch the eye of an NHL team."
Another important moment for Varone was his first NHL game on Jan. 23 with the Buffalo Sabres against the Carolina Hurricanes. He would score his first NHL goal five days later in his fourth game in Buffalo against the Washington Capitals.
"I got the call, I wasn't really expecting it we were just leaving to go to Lake Erie on a road trip and coach called me in and I was playing the next night at home against Carolina. Buffalo was close enough to Toronto where I had a bunch of people there. That was super exciting and five nights later I ended up scoring my first goal. That's what still keeps the engine running today. I still believe I can play and contribute at an NHL level. That's still my end-goal and thinking back at those times is what motivates me to try and get back," Varone said.
Varone's Career Year with the Phantoms
This offseason, after signing two straight one-year deals with two different organizations (Buffalo and Ottawa), Varone decided to sign with the Philadelphia Flyers on a two-year contract.
"You talk about Philly, things you hear around the league as a player that they treat their players right, they are a great organization. I felt like this was a good move for me and trying to make the most of it."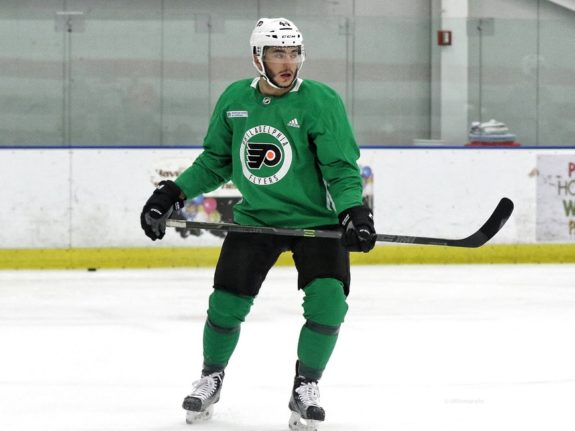 It has paid off for the Phantoms this season. The center's longest stretch without a point is two games, back on Oct. 8 and 13. He has 14 multi-point games, two five-game point streaks and two four-point games, including his first career hat trick on Feb. 21 vs Utica, that culminated in a career-best four-game goal streak.
1️⃣, 2️⃣, 3️⃣ for @pvarone22!

Ha! Ha! Ha!

Phil Varone recorded the #LVPhantoms second hat trick of the season in last night's win over Utica. pic.twitter.com/oOvw1k1Qpy

— LehighValleyPhantoms (@LVPhantoms) February 22, 2018
"We were in a tie game 4-4, I always tried to be a difference maker. Whether its scoring a goal or making a big defensive play or face-off. That's kind of my mindset. It just worked out that I got the puck into open ice and made a pretty good shot and it ended up going in and most importantly, it was a big goal. It wasn't just an empty-netter so I think that is what I was most excited about."
The Golf Expert Makes His Masters Pick
One look at Varone's Twitter page and you know he is an avid golfer and fan of the sport. He plays golf on most days during the offseason and already has picked out his favorite for the upcoming Masters.
🦁➡️🔥 #hesback

— Phil Varone (@pvarone22) March 8, 2018
"I have Tiger. I think if there is one athlete I would love to meet or sit down and have dinner with is him. I don't think anyone has dominated a major sport the way he has. To be able to watch him now, I get giddy watching him on TV. It's great and I think it's great for the game of golf as well."
The Phantoms are at the top of the standings, which could allow Varone to play in the Calder Cup Playoffs for the first time since the 2013-14 season with Rochester.
"You play hockey to play meaningful hockey. You don't play to just play games in October or November and that's it. This is a fun time of year to play and we all are looking forward to it."
Former Producer for the NHL Network and Fantasy Insider for NHL.com. Emmy award winning ESPN alum & former PR for the Flyers & Phantoms. Proud Temple Univ. Grad.