Things always happen for a reason. At least when it comes to matters of importance, matters of the heart. The reason may not be evident at first but in time the picture becomes clear. This is typically noticed more in terms of hindsight than in the actual present. It dawns upon us in pinnacle moments – "sheesh, things actually make sense now". This is a rarity however, and as well it should be. Life would be less meaningful if moments of clarity were more frequent.
Let us introduce you to a young hockey player whose character and drive are cut from the finest of cloth. Merrimack College's team name for their sports clubs is the Warriors. Perhaps no athlete at Merrimack embodies the spirit of a "warrior" more than their leading scorer in women's hockey, Katelyn Rae. And as this 20-year-old junior sniper is finding out and demonstrating, things have a way of working out and happening for a reason.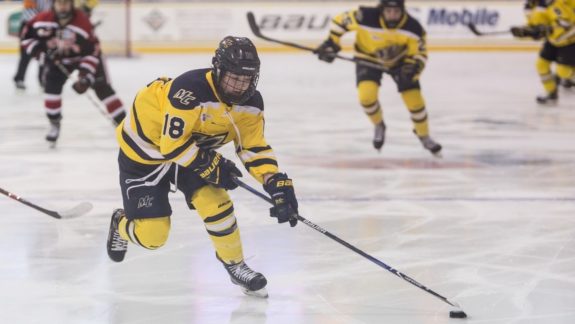 THW had a chance to catch up with Rae one evening and spoke with her about her hockey career. From growing up like any Canadian kid in Ontario, to the potential for her to play professionally someday. As you will find out, Rae is not only a warrior but a hockey player who is multi-faceted. NWHL and CWHL teams are going to want to keep a close eye on her – if they aren't already.
Life in Courtice and Inspiration in Oshawa
"I started playing when I was around three years old," Rae explained. "I have two older brothers and my dad was also heavily involved in hockey. I decided I wanted to be just like my brothers and try the sport that they were interested in. From that moment on I kind of fell in love with it, and it's been part of my life ever since."
Rae hails from Courtice, Ontario, Canada. Just to the right of Oshawa, the small town with a population of about 35,000 is nestled right in what many feel is the heart of Canadian hockey. Growing up Rae was an avid follower and spectator of the Ontario Hockey League's Oshawa Generals. The drive between Oshawa and Courtice is all of 10 minutes, and to have such a storied hockey club right in her own backyard profoundly impacted Rae. Additionally, though he didn't play junior for Oshawa, she found inspiration in one of hockey's most well-respected players who also happens to be 600-plus NHL goal scorer.
Katelyn Rae named Women's Hockey East Player of the Week https://t.co/AzKI6eGXQI pic.twitter.com/VrP4s1dlxq

— The Mack Report (@TheMackReports) January 23, 2018
"Growing up I really liked Jarome Iglina just cause he was fun to watch," Rae recalled. "He was a power-forward who always found a way to be dangerous in the offensive zone. Growing up we had a local junior team, the Oshawa Generals, and John Tavares who now plays for the Islanders was their best player there. I liked the way he played, and he was also offensively dangerous. I liked how he was consistent, and you always knew what you were going to get from him. It was kind of cool to watch him growing up. I tried to take some things from him to model my game after as well."
Looking at her college career, it would seem that Rae is following some of the finer points of both Iginla's and Tavares' level of play. Through her three seasons thus far at Merrimack the 5-foot tall forward has increased her goal totals in each season. To put it into perspective, in her freshman year Rae finished second overall for the Warriors in goal scoring with eight goals in 34 games. She then upped those numbers to 18 goals in 36 games her sophomore campaign, and then this year's 20 goals in 34 games – both of those seasons Rae led Merrimack in goal scoring.
Finding a Home at Merrimack
So how does a young lady from a small town in Ontario end up playing college hockey in Massachusetts? This is the part where things seemed to have happened for a reason. As Rae began to look abroad to play college hockey, the school she initially thought she might end up at was not where she eventually found her collegiate home. When THW asked how she found Merrimack, Rae told an interesting story.
"Like most people do, just contacting various schools," she explained. "I moved organizations to a little bigger of an organization in Whitby."
Interestingly enough, Whitby, Ontario is 10 minutes to the other side of Oshawa. In total, it is a 20-minute drive for Rae to travel from Courtice. Adding on minutes in the other directions may not seem like anything noteworthy, but it was a necessary move in Rae finding her way to Merrimack.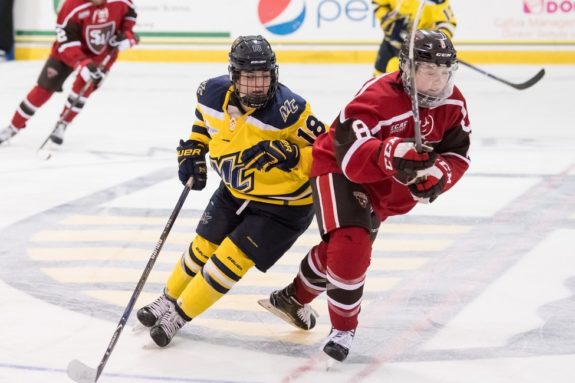 "I had reached out to various schools," she continued to explain, "and one of our old assistant coaches (in Whitby) actually was coaching at R.P.I. at the time, and he contacted me through there. But (he) ended up getting hired with Merrimack and contacted me again when he was hired at Merrimack. At the time I had no idea what Merrimack was or where it was, and once I started learning about it more and learning how it is kind of a smaller school, and being from a small town in Courtice, it kind of drew me in more. Knowing that it was going to be a brand new program added to that interest. Being part of something brand new is kind of cool to say you're a part of."
Being a part of that brand new program paid major dividends for Rae. The biggest of which, at least as far as hockey is concerned, is that Rae immediately became an integral part of the school's women's team. Her ability to put pucks in the net has made her a dangerous sniper who can seemingly score in all sorts of situations. Stating that though, Rae expects it of herself to be just as strong in her own zone as she is in the opponents' ends. In fact, it has become a "Merrimack way" for the team's players to be defensively sound.
Hard Work and Sacrificing the Body – All for a New Program
If you visit Merrimack's women's hockey website and you check out Rae's player profile, there is a great photo of the team's top scorer sacrificing her body by blocking a shot. It does not matter who you are or what league you play in – shot blocking takes guts and a willingness to accept pain for a greater good. The fact that the Warriors' premier scorer shows no hesitation in sacrificing her body speaks to the character of both the team she plays on and who Rae is as a hockey player and teammate.
"We definitely as a team work more on blocking shots," Rae stated, "so I think that's another key to our success. We're working on it – we definitely can get better at it – but I think that's one thing of being a Warrior, is we know we're going to have to block shots. Sacrifice for each other."
Katelyn Rae Named @hockey_east Rookie of the Month! #MackProud
READ: https://t.co/Ko9HEelCXQ pic.twitter.com/k4l43jBi8K

— Merrimack W. Hockey (@MerrimackWIH) February 3, 2016
It goes beyond Rae's shot blocking and her ability to score goals. For a player as diminutive as she is, this is a player who is also quite fearless and who actually excels in the dirty areas – places where typical star scorers will oftentimes shy away from. This is not the case when it comes to Katelyn Rae.
Asked what some of her best characteristics are as a hockey player, she responded:
"I think some of my best ones are my speed, my ability to make plays and capitalize, and get into the dirty areas and battle for the puck. I think those are some of my key ones for sure."
Those same abilities are what have made her so necessary to this very young women's hockey program. The Merrimack Warriors women's team has only be in existence since the 2015-16 season. Right off the bat Rae made herself known to the team and its fans.
Rae Scores the First Goal in Merrimack History
Any situation that is new can understandably bring about a great deal of uncertainty. In fact, the uncertainty can be unsettling. What if it doesn't work? What if there isn't the support? What if we lose this game 15-0? But uncertainty can be dispelled and defeated whenever those involved believe wholeheartedly in building something and fostering it to grow. One thing about Rae is that she never shies away from a challenge, and the challenge of something new only further accentuated her desire to play for Merrimack. She talked about the first time that she and her teammates took to the ice to represent their school.
"We had no idea what it was going to be like going into that game," Rae recalled. "Our coach the day of was like, 'Yeah, the game is sold out. All of the Athletics (department) people are going to be there'. But I don't think any of us expected it to be that crazy amount of people in the stands."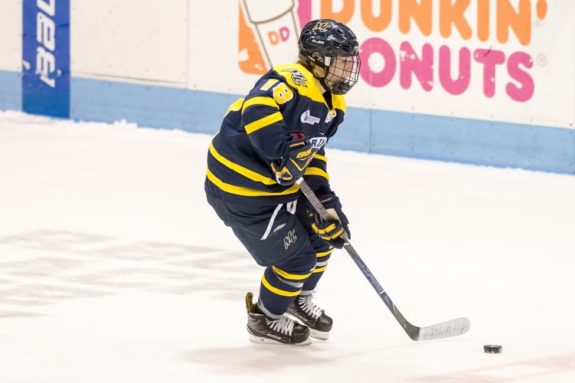 Hearing Rae recall the details of Merrimack's first game is enough to give a bit of goosebumps. It's not just that she scored the first goal in the program's history. More importantly it was about the outpouring of support that the team received even before the game got underway against St. Cloud State University.
"Our whole team… had been looking forward to that game for a long time. Coming out onto the ice for even warm-ups, there were over 2,000 people in the stands that game. To see the support for our brand new team on a campus that is pretty small, and to see the community support for us, people didn't even know if we were going to be good. They just knew that we were new and they wanted to support us no matter what. I also was able to score my first collegiate goal. Not only having it be the first one in program history, but to hear the support from the fans was more special in that moment to know that we were going to have great support throughout the years. That people care about us, and care about us doing well, and supporting the college too."
Rae Puts the Puck in the Net Again and Again
While that game against the Huskies brought about Rae's first goal, many more have since followed. In 104 college games for the Warriors she has scored 46 times. Tacking on her 27 assists, Rae has 73 points in her collegiate career through three seasons. What is most noteworthy about her ability to score is that she produces in every situation imaginable on the ice. Of the 20 goals that Rae scored during the 2017-18 season, five of them came on the power play, three were shorthanded, three were game-winners, and two were empty-netters. No matter what situation she is in, she scores in droves.
Rae explained what helps drive the potency of her offense:
"I think overall our chemistry on special teams," she stated. "We work a lot on our PK, and we've worked on moving the puck on the power play. We know that you might not get those highlight reel goals. The probability of you getting those goals is much less than getting those gritty goals. So we definitely work on those, and moving the puck around. Making sure you're crashing the net. I think everyone on our power play, we all did an equal part in getting that. It ended up working out for us because a lot of those goals were due to crashing the net and getting key rebounds. On the PK, we all worked together to read off of each other and pressure the D. To turn pucks over and capitalizing was something that we were working on."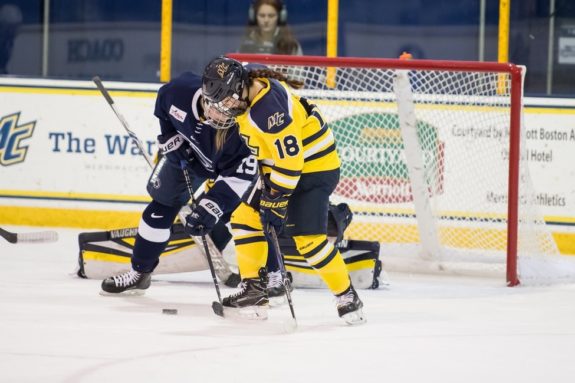 Rae has one more year of college hockey left at Merrimack. She will be a senior next year, and understandably she has certain goals in mind. Goals that are both on a personal level and for the betterment of the team.
"I think personally that every player in college hockey aims for that 100-point mark," Rae told THW. "That's definitely something that would be pretty cool to reach. That's something I'm aiming for personally, but just to improve my game in every area in order to help the team to succeed. Working on the little things. Getting pucks, blocking shots too, working more on the D-side of things, just so the team can succeed. We want to make the playoffs again, so in order to do that and prove that side of things, just making sure we get there again. To leave everything on the ice this last season and leave Merrimack with no regrets is kind of the focus I'm going at right now."
The Possibility of Turning Pro Someday?
It would seem that a hockey player with the skill and ability of Katelyn Rae would be a shoo-in for the professional game once she finishes college. The fact that she is from Ontario and attends school in Massachusetts, she is fully surrounded by both NWHL and CWHL teams. More than one squad is likely to come calling for her services in the near future.
"I've definitely considered it," Rae said when asked about her interest in playing professionally. "Having played hockey for 17 years, it's hard once your time at college is done to just leave it there. If the opportunity does present itself, it would be something that would be hard to turn down. To play in leagues with well-known players like Knight, Decker, and all those players, and some of the well-known Canadian ones, it would definitely be something special to be a part of and hard to turn down."
Good Hockey Leads to a Good Life
The attitude and commitment that Rae applies on the ice and in the locker room have a ripple effect. Managing her time well may sound simplistic but it is a necessary function of not just hockey but of everyday life. There is an expression that to be early is to be on time, to be on time is to be late, and to be late is to be out. Rest assured that Rae balances her life in such away that she will forever be in the first category. There is proper balance deeply rooted within her achievements both on and off the ice.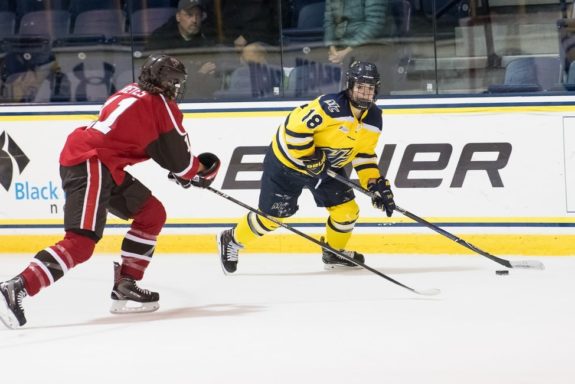 Asked what hockey has taught her about life, she explained:
"I think definitely one of the main things, and I know a lot of players say this, is time management. Juggling a busy schedule and being able to do things to the best of my ability. To give everything the same amount of effort, and not just prioritizing one thing over the other. I think also it made me learn to control things that I can control, and not to worry about the things that are up in the air that I don't have any say in. Just to put my best effort into everything, and letting the cards fall into place. Whether on the ice, in the classroom, or in a job. Just doing what I can do, and what I know I can do, and letting things go from there."
After she graduates, not only would an NWHL or CWHL team be getting a tremendous hockey player, but they would be adding one who can apply proper balance to everything that she does. Whether that is scoring goals, blocking shots, battling in front of the net, or simply being a good teammate and coachable athlete. Diligence is hard to come by these days and Rae is overflowing with it. Place it upon the shoulders of a top-level goal scorer and watch the many benefits unfold. Katelyn Rae – sign her up!