In this edition of our Bruins roundtable, we asked our B's writers which rookie exceeded their expectations the most in the 2017-18 campaign. Unsurprisingly, Jake DeBrusk's name rang through the answers as the player who began the season on the bubble but who cemented himself into a fan-favorite with his talent and, more importantly, his work ethic.
Check out what Brandon Share-Cohen, Drew Johnson and myself had to say about DeBrusk, and another B's forward.
BSC: Jake DeBrusk
While the results didn't always reflect it, Jake DeBrusk's effort throughout the season was unquestioned and commendable. Before he broke out in the postseason, his impact on the roster was felt from his tireless work ethic and hard-nosed style of play. He was far-and-away the most surprising rookie for me as I wasn't entirely sure he'd make the roster on opening day.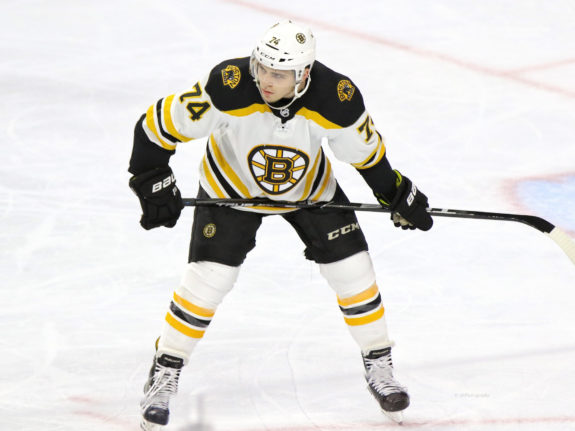 With that said, he went from "possible roster bubble" to "untouchable trade piece" in just one season in my mind. He has the potential for 30-goal and 60-70-point seasons in the NHL and his ability to make others around him better shouldn't be understated.
Drew Johnson: Jake DeBrusk, Danton Heinen 
DeBrusk was the young gun who exceeded my expectations last season. While he was streaky, he showed that he has the potential to be a consistent goal-scorer in the NHL and will likely be a reliable top-six forward for some time. I expect him to become a permanent member of the second line during the 2018-19 campaign.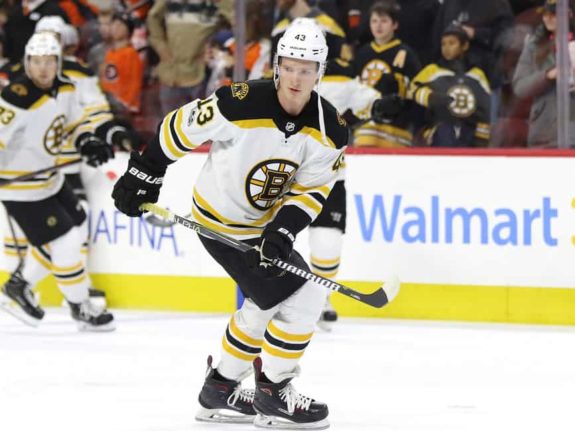 Danton Heinen also impressed me. Going into the 2017-18 season, I expected him to push for a roster spot but was 50/50 on whether or not he would stick. Clearly, he did, and I believe he will continue to develop into a solid third-line winger. While I have yet to see consistency from Heinen, especially in his two-way game, I expect that will come in time.
Cam Hasbrouck: Jake DeBrusk, Danton Heinen
Just like the two fellas who answered before me, Jake DeBrusk was my first choice for Boston's most surprising rookie. As a first-round draft pick, it may seem silly to be surprised by a strong rookie campaign, but DeBrusk's first season in the big show was exceptional. His 43 points were solid, but those who consistently watched the B's last season know that DeBrusk brought more to the table than pretty stats.
The 21-year-old left a mark with his consistently exceptional effort, his willingness to work in the dirty areas, and his refusal to quit on any play. He quickly transformed from a player with a bright future to becoming a staple in Boston's nightly lineup. Just one season into his career, the youngster should be considered nearly untouchable in trade conversations.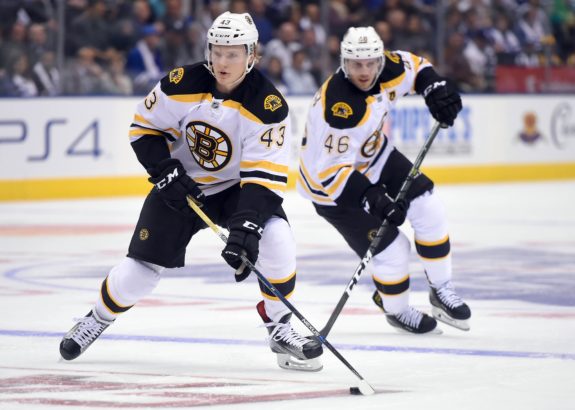 Like Drew, I was also impressed with the level of play that we saw from Danton Heinen at points throughout the season. The former Denver standout wasn't the most consistent producer for the Bruins last season, but when he found his game he was a force. Heinen demonstrated natural offensive abilities and earned his spot as a regular in Boston's competitive lineup. If he can work on those skills and find a way to produce on a regular basis, he could have a very bright future in Boston.
Lastly, I'd like to address a player who was not mentioned in this piece: Charlie McAvoy. While McAvoy had a very strong rookie season, he was left out of this conversation because he was the Bruins rookie to watch coming into the season. So while he did have a big impact on Boston's success this season, it wasn't necessarily a surprise to any of our writers, so hold the riots.
After missing out on John Tavares, the Bruins aren't quite where they want to be entering the 2018-19 season in the powerhouse Atlantic Division. In all likelihood, the Bruins still have some moves to make this offseason. But assuming the players mentioned above remain in black and gold, they'll be worth keeping a close eye on right from the start of camp this fall.
Cam is a Broadcast Journalism student at the University of Maryland. He's the Boston Bruins Beat Writer at The Hockey Writers, and is an avid college hockey fan. Find him on Twitter @CamHasbrouck!