It was a surprise when Detroit Red Wings management made the call to send Filip Zadina to the Grand Rapids Griffins. Though it may have been upsetting to the youngster and confusing to fans, it is shaping up to be the right decision for him.
A common misconception about the AHL is that its a downgrade from the NHL. In terms of earnings it is, but beyond that, it's as demanding as the NHL. It encourages skaters to improve or get benched. In Zadina's case, he's chosen to improve and defy any prepossessed misconceptions.
Misconception #1: He Won't Get Enough Ice Time
Though it seemed like Zadina initially had a hard time accepting where he was, he's appeared to have embraced it. Speaking to him in a post-game interview, he stated: "I'm getting better…I'm way more comfortable than I was." As a result, he's earning more ice time.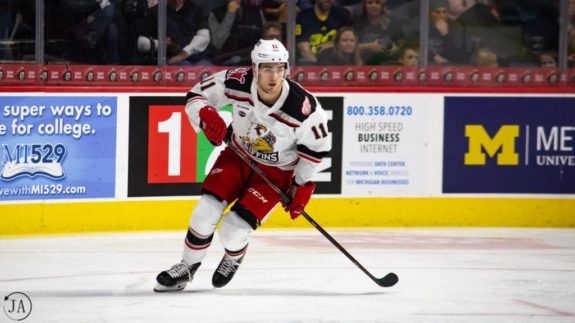 Zadina's overall success and development is something that head coach, Ben Simon, is attentive to, "We don't want to change his creativity offensively," he told me, "We're trying to put him in the best position to succeed…That's just a process of learning and playing more games at this level." In order to do that, Zadina has been awarded regular ice time, longer shifts, and more responsibility which has helped him develop even further. In the NHL, with the number of active skaters and talented youth on the roster, Zadina might not have been granted as much time as he has in the AHL.
Misconception #2: He's Putting Up Points That Don't Matter
I've often heard it said that the points earned in the AHL don't matter when you get to the NHL. I believe that to be heartily false. True, those points don't physically transfer over to the NHL, but they are tangible proof of progress and add value to a player. Ken Holland, though he's been present at several games in Grand Rapids, can't possibly go to all of them and see the prospects' progress. When tracking the productivity of future Red Wings, the points earned in the AHL matter.
Zadina has tallied 10 points in 16 games, which is encouraging considering his seemingly slow start. With increased ice time, he's been able to produce which that will show the Red Wings that he's taking initiative. He is learning from the instruction and implementing that in every shift.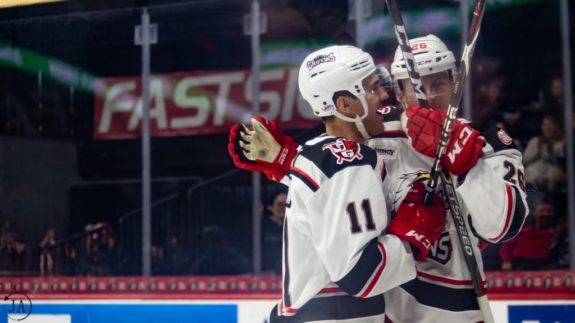 The points he earns in the AHL will also serve as a benchmark for other rookies and rank where he is among them throughout the Detroit organization. As rookies come and go through the system, each one's ability and points are taken into consideration when ranking future prospects. They're valuable points not only for him to keep track of his own success but to also set a standard for future Red Wings' draftees.
Misconception #3: His Development Will be Neglected
With the amount of coverage Zadina has received since the draft, it's been impossible to forget he's with Grand Rapids. The presence of Holland so frequently in Grand Rapids is also reassuring that they are closely monitoring he and the others.
The hype surrounding him puts a spotlight and consequently, a target on him – so he needs some individual attention. Many of the Griffins have already spent a season or more in the league, so their individual training is not mandatory which enables the staff to focus on the unique development of the rookies. In Zadina's case, his size is a factor that needs to be addressed.
Filip needs a 15-20 pound increase at least, much like what was required of Vili Saarijarvi the season prior. Zadina is beat on the boards physically. He can weave through neutral zone traffic but to gain the ability to withstand the physical play of men much older than he's accustomed to will require one-on-one attention. He won't be lost in the system. In fact, he's getting more attention than perhaps he would in the NHL – especially in terms of physical development.
Misconception #4: Rasmussen is More Important
This is one I've heard a few times and will happily debunk. Rasmussen has obviously stepped up in his new NHL role, however, the idea that he was deemed more important than Zadina is false.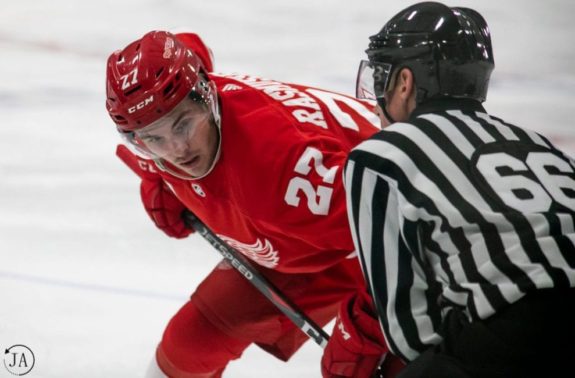 The NHL mandates that a rookie's first year of their entry contract begins when they play 10 or more games with the NHL club. Rasmussen at the time had played his ninth game with Detroit which made them have to decide between keeping him in the NHL or sending him back to juniors. When deciding where to place both Zadina and Rasmussen, the Red Wings decision was essentially made by Rasmussen's former junior contract, "…because he has a year left of junior eligibility, he either has to play for the Wings or be sent back to juniors…"(from 'Detroit Red Wings Mailbag: Should Michael Rasmussen Go Back to Juniors?', The Detroit FreePress – 10/20/18)
Rasmussen was not deemed more important or better than Zadina. It came down to contractual stipulations and league rules. By retaining Rasmussen in the NHL and sending Zadina to the AHL, the Red Wings were able to keep both skaters with very little risk. Already, this decision has proven to be the correct one. Rasmussen is measuring up to the physical and mental demands and Zadina is being fine-tuned for the future.
Zadina's Time in the AHL Is Well Spent
Zadina could spend the whole 2018-19 season with Grand Rapids which would be beneficial for everybody. He is making strides and is gaining confidence along with wisdom. As he earns more ice time and develops his game, he's showing that he is willing to put in the work and truly learn from the criticism (whether constructive or not) of the coaching staff.
For Filip, Detroit will be the end result. He will get there, his skill set demands it. He's earning the respect of his teammates and coaches while learning to overcome the mental battles that inherently come with making the junior-to-pro jump. His successes and failures while with the Griffins are not all for naught. The decision was and is the right one, for both he and the Red Wings.