Recently, the Detroit Red Wings' staff made the decision to send the highly-touted Filip Zadina to their AHL affiliate, the Grand Rapids Griffins. Not so surprisingly, this move caused a ripple effect of dissatisfaction among Red Wings fans. Many claimed they had lost faith in the organization already, as they thought it was a demotion for the would-be star, and even some were saying that it was Detroit's passive attempt at "tanking" in order to boost their efforts in the 2019 NHL Entry Draft.
Zadina, chosen sixth overall in this year's NHL Entry Draft, had joined the Red Wings with the expectation of making the final roster. Claiming he was going to "fill up their nets with pucks," in reference to the teams who passed over him, Zadina had high hopes going into development and training camp.
Was it wise of the Red Wings to put the youngster in the AHL—risking not only his confidence but perhaps his growth as well? Spawning from the widespread upset and questions, The Grind Line decided to assess Detroit's decision.
Rachel Anderson: Yes, Smart Move
The AHL is not a demotion for Filip Zadina. I absolutely believe he needs additional conditioning in order to skate at the level required in the NHL. Having watched him in the Red Wings training camp and the NHL Prospect Tournament this season, it was apparent that he has an insane skill, but he is easily knocked around. He can skate and puck handle pretty well; however, he has the propensity of getting trapped on the boards by stronger bodies. Time in the AHL and conditioning with the experienced pros will allow him to gradually work up to the size he needs to be as well as teach him how to use his size to his advantage. Detroit Red Wings head coach Jeff Blashill told The Detroit News, "Understanding how to create space is something when you're not super fast or super big, sometimes it takes a little while."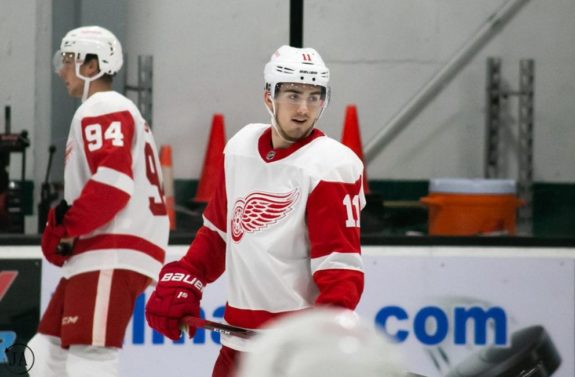 His game needs a few tweaks as well. He's a puck-control player, prone to cut through the center and over-handle the puck. Though this is a good type of offensive drive is good to have, in an inexperienced player, it can be detrimental if the skater doesn't recognize when to share the puck or learn to control it against faster players. Learning to play a more focused style of game will enable Zadina to hone in his on-ice awareness and be a key player for his teammates. He has an offensive edge, however, he needs to learn how to channel his style within the system without inadvertently playing like a one-man army.
He will not be stranded in the AHL but does need some time with the trainers and focused coaching on his specific needs. The veteran leadership with the Griffins will be able to not only teach him about the culture but create a more individualized training format to get him where the Red Wings expect him to be. His ability to meet their requirements and expectations is entirely up to him.
Jacob Messing: Absolutely the Best Choice
I'll admit, I was eager to see Zadina break into the NHL immediately and, best-case scenario, make a real push for the Calder Trophy. But upon watching him at the Traverse City Prospects Tournament and during the preseason, it was rather clear he wasn't used to playing against bigger, stronger men.
He still made numerous great plays and put up some points during the exhibition games, but the shift-by-shift consistency was lacking, which is understandable for an 18-year-old. Zadina also showed a solid commitment to two-way play, often unseen in a teenager. He made several wise defensive plays, showing he can be more than just his offensive upside.
The truth is some conditioning in Grand Rapids will go a long way in his development. It will allow him to get a feel for the daily grind of professional hockey alongside AHL mentors without being exposed to the heavy expectations many Red Wings fans would place on him.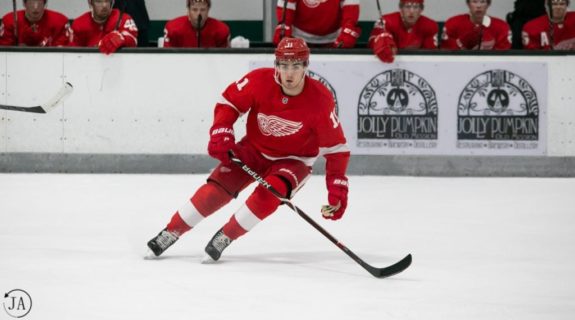 It's up to him how long he stays with the Griffins, as he oozes confidence and strives to be in the NHL as fast as possible. A quick start to the season will help him force an NHL call-up. In the eyes of Blashill, that won't take long. "I don't worry about him long-term at all," says Blashill. "Obviously in the short term, we'll have to make decisions."
Jake Nagy: It's Complicated
The first two selections in the 2018 draft, Rasmus Dahlin and Andrei Svechnikov, basically locked in opening night roster spots. However, just about everyone selected after that was a toss-up. Third and fourth overall picks, Jesperi Kotkaniemi and Brady Tkachuk, surprised many by earning a spot in their respective lineups, while fifth overall pick Barrett Hayton made the Coyotes' roster but was placed on IR.
It's only logical then that the sixth overall pick, Zadina, who was considered by most scouts to be a top-three talent in his draft class, would make it onto the Red Wings' opening night roster. Sending him to Grand Rapids would be a mistake if it wasn't for the fact that Blashill is the one calling the shots behind the bench.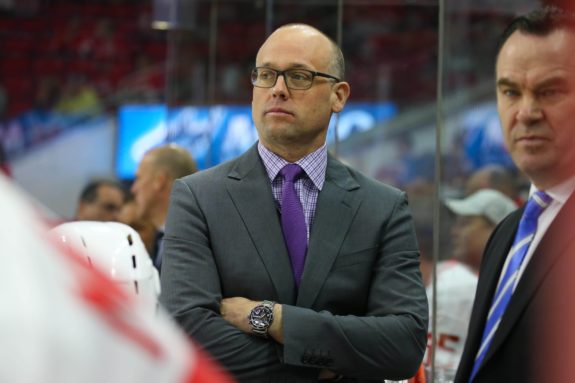 Blashill has a history of giving minimal playing time to young prospects, instead favoring fourth-line role players and veterans. This trend has arguably stifled the growth of most players called up from Grand Rapids over the past three seasons. On opening night against the Columbus Blue Jackets, Luke Glendening led all forwards in ice time and was even put out during overtime. Meanwhile, rookies Michael Rasmussen and Christoffer Ehn joined Tyler Bertuzzi as the bottom-three forwards in time on ice (TOI).
Under the guidance of a different coach, I would be all for Zadina being on the Red Wings' roster today. But this troubling trend of Blashill's leads me to support Zadina being sent to the AHL, where he'll be playing on the top line and helping run the power play.
I am a Detroit Red Wings prospect journalist for Access Hockey MI covering the Grand Rapids Griffins and Toledo Walleye prospect development. Draft analyst for USHL hockey with the Muskegon Lumberjacks.