In light of the uncertainty surrounding the Artemi Panarin situation, the Columbus Blue Jackets could use some good news. Thanks to a major commitment made by a prominent Blue Jacket, the community has something big to look forward to.
In the northwest Columbus suburb of Plain City, a new, state-of-the-art hockey training facility for hockey players of all ages will open to the public. This facility will be the first of its kind in Ohio. Take a look at what all this facility will include.
A studio ice rink for individual and team instruction.
A synthetic "Glice" rink that will be used for stickhandling, shooting, body positioning and body checking.
A video room.
A weight room.
A kitchen for teams looking to host meals.
The facility is expected to open sometime in the month of September just in time for the beginning of the 2018-19 season.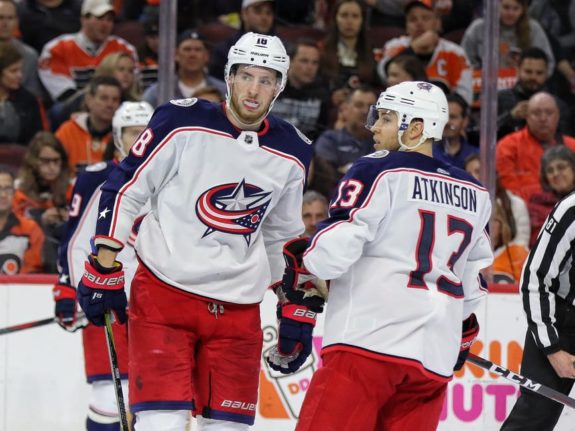 Cam Atkinson Gives Back
One of the part owners of this new venture, called the Battery Hockey Academy, is Blue Jackets' forward Cam Atkinson. In a recent conversation with bluejackets.com, Atkinson shared his thoughts on the new venture and why he decided to be a part of this major commitment.
"I've been wanting to do something like this for a long time," Atkinson told bluejackets.com. "It was just trying to figure out how to do it with the right people. He (part owner Jason Ohlson) started kind of talking about this with me, and it was spot on, because I was like 'I literally have the same vision of what I want to do, especially in Columbus, just knowing so many youth programs, high-school teams and professional athletes who come back in the summer and train here that need a facility like this."
You hear all the time of players declaring themselves all-in with their words. Atkinson not only went all-in with his words, he showed it by being part of this major venture.
Consider the things going on in Atkinson's life at the moment. He is a recent newlywed with his first child on the way. He and his wife bought a new house as well. But he still found it important to take part in this Academy. Also consider the work he does with the Force Network and you see the kind of person Atkinson is at heart. The Blue Jackets made a major investment in him. Now he's made an investment in not only Columbus but all of Ohio.
The Columbus Narrative
There are some in the hockey world that believe Columbus is not a desirable destination. Atkinson is just the latest example of many that show us that Columbus is very desirable. Head coach John Tortorella is another who loves it in Columbus.
On a recent interview with Anthony Rothman and Bobby Carpenter on 97.1 the Fan, Tortorella was asked if he and his family liked it in Columbus. This was asked mostly because of the Panarin situation. Tortorella told them that he and his wife love it in Columbus. You can listen to the full interview below.
ICYMI: @JohnTortorella2 joined the program for #HockeyAndHounds @AnthonyRothman @Bcarp3 https://t.co/W7HU2pjLnH

— Rothman & Ice (@971RandI) July 18, 2018
Rick Nash still makes his off-season home in Columbus. So does Mark Letestu. Some of the current players including Nick Foligno and Brandon Dubinsky also have their homes in the Columbus area. They all love it there. They love what all the city of Columbus has to offer. It's a great place to raise a family. It's also one of the cities that consistently rate well in both working and living rankings.
Slowly but surely, Columbus is starting to gain respect in the hockey world. The region is starting to get noticed. It's efforts like the one put in by Atkinson that keep this momentum going. Thanks to him and everyone involved in the venture, they've given hockey players of all ages hope that they too can achieve their dreams. They're laying the foundation. Starting in September, they'll start to see the fruits of their labor.
Hockey and central Ohio are a perfect match. One day when we see future hockey players that had their start at the Academy and think back to their beginning, we'll think of Atkinson's all-in commitment. By the time his contract is up, Atkinson will be remembered as one of the greatest Blue Jackets of all-time.
From a sixth-round pick to a champion of a city, Atkinson's story is one we need much more of in the hockey world. He'll never be forgotten now.