In today's rumor rundown, Artemi Panarin gives the Blue Jackets a deadline to talk business, the Islanders are working on a deal with Brock Nelson and the Anaheim Ducks are figuring things out with Brandon Montour.
Panarin Gives Deadline
In what seems like a bit of a strange development to this story, Artemi Panarin has given the Columbus Blue Jackets a deadline to discuss any business matters with him. This comes after confirmation by multiple sources that Panarin was not ready or willing to talk about an extension and would not commit to the team long-term at this time.
Panarin's agent, Daniel Milstein, confirmed to The Athletic's Aaron Portzline that the dynamic forward has given general manager Jarmo Kekalainen until Sept. 13 when training camp begins to discuss any matters related to a contract extension or a trade. Portzline's article notes the agent saying, "Artemi loves hockey. He hates the business side of hockey."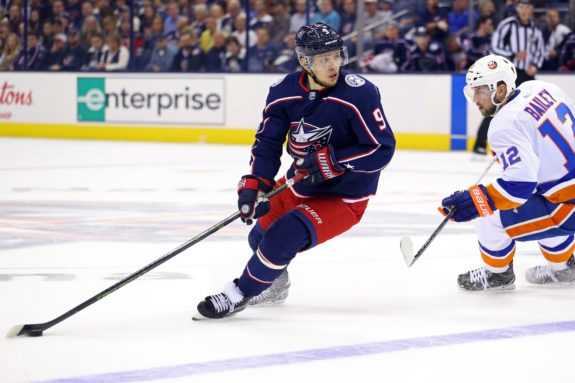 So the question becomes, if Panarin won't talk extension, what's the point of a deadline to talk an extension? Portzline explains:
Panarin, an unrestricted free agent after the 2018-19 season, is not currently willing to negotiate a contract extension with the Blue Jackets. So, in this respect, the Sept. 13 deadline is meaningless. Where it carries more weight — significantly more weight — is on the trade front, should the Blue Jackets opt to trade their best forward rather than risk losing him for nothing as a UFA next summer. It is logical to assume the Blue Jackets will get a much larger return in trade for Panarin if he's being traded to a team that knows it can sign him to a long-term contract. Otherwise, the acquiring team would also inherit the Blue Jackets' current crisis.

source, "Artemi Panarin gives Blue Jackets a Sept. 13 deadline" – Aaron Portzline – The Athletic – 07/19/2018
Columbus has already received numerous offers for Panarin and a trade could be made tomorrow if the Blue Jackets wanted to pull the trigger on something but speculation is most of those trades include futures and not immediate roster help. With no trade protection, the Blue Jackets could move him at any time, the issue becomes the value coming back. General managers are never as willing to part with the same assets for a player who has no contract, is less than a one-year rental and they know things between the player and his current organization are not good.
Related: NHL Rumors: Trouba, Offer Sheets, and the Blackhawks
Islanders and Nelson Working on Deal
Arthur Staple of The Athletic reports there's been plenty of discussions between New York Islanders general manager Lou Lamoriello and forward Brock Nelson but a deal does not appear close. Nelson is slated for arbitration on August 3, and through that process can only get a one-year deal. Speculation is Lamoriello is ok with a one-year contract knowing they'd like to evaluate Nelson as a second-line center.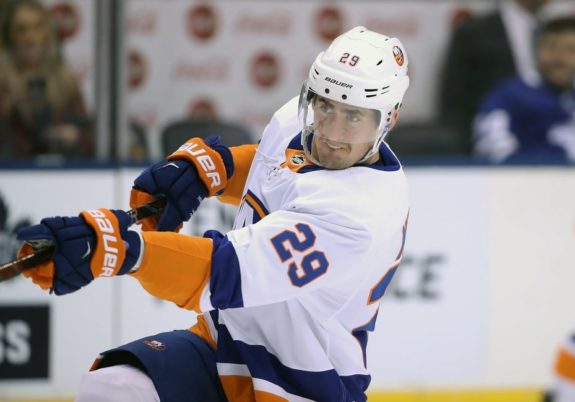 Staple writes:
It's not clear that Lamoriello, who again is trying to see what he has in all his Islanders, has the appetite to go longer than a year on Nelson, who reached 20 goals for a fourth straight year but had a very down 2017-18 and was almost surely headed elsewhere if John Tavares had stayed. So a one-year deal may be the goal here for the Isles, either through arbitration or negotiation, with the promise of a longer-term deal to come if Nelson shows he can handle the No. 2 center spot that the Islanders glaringly need to fill.

source – "Islanders notebook: Latest RFA deals show Lamoriello's need for further evaluation with the current roster" by Arthur Staple – The Athletic – 07/18/2018
The Islanders qualified Nelson at $3.5 million and there are some who think Nelson is poised for a breakout season but the question is, where does he fit better? Is he a winger in the NHL or can he be a useful center when he's yet to really prove he can handle top-six minutes in that role?
Related: NHL Rumors: Trouba, Rask, Seguin, More
Hurricanes Trying to Figure Out Aho and Teravainen
Luke DeCock reports the Carolina Hurricanes and Sebastian Aho's agent have spoken about a potential long-term contract extension. Same goes for Teuvo Teravainen. DeCock reports that the franchise is talking but in no hurry to sign those deals yet, perhaps preferring to see how the season starts for both players.
Related: NHL Rumors: Panarin, Dumba, Zucker, More
Ducks Arbitration Date With Montour Nearing …
Eric Stephens of The Athletic reports the Anaheim Ducks and defenseman Brandon Montour might be talking about a two- or three-year bridge deal heading into his arbitration hearing set for this Tuesday. There is speculation the two sides may get something done prior to that hearing.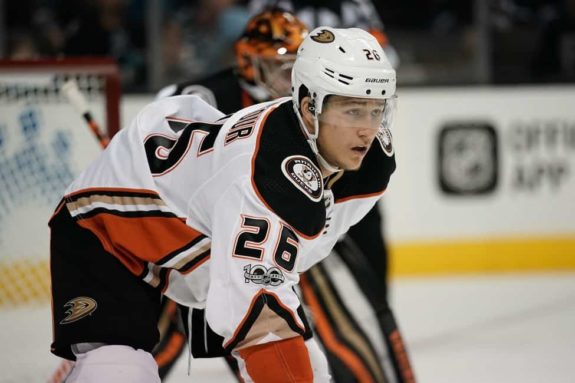 Stephens writes:
Can they get something done, whether it is a bridge deal that lasts two or three years or something that goes beyond? Matt Keator, Montour's agent, offered a tiny window into the current state of their affairs. Asked by The Athletic about the progress of their talks and whether he and the Ducks have moved closer to an agreement, Keator said they are 'going well.' 'We will see,' Keator followed.

source, "Brandon Montour contract talks 'going well' as arbitration date nears" – Eric Stephens- The Athletic – 07/18/2018