Jordan Staal can best be described as the Carolina Hurricanes' stealth leader. He's not normally found in the headlines and he is not who first comes to mind when thinking about the Hurricanes. Yet, if the team lost Staal, his absence would be monumental.
Being Without Staal Really Hurt
As a matter of fact, the Hurricanes were without him for an extended period of time before. In September of 2014, Staal was hit by Josh Gorges of the Buffalo Sabres in the third period of a preseason game in Buffalo and broke his leg. He was out for three months and his absence was felt across Hurricanes nation.
NEWS: Jordan Staal suffers broken bone in leg during #Canes preseason game. Details: http://t.co/XVVIVFFkZT pic.twitter.com/KXietSMxAM

— Carolina Hurricanes (@Canes) September 24, 2014
Mike Brehm of USA Today wrote on Dec. 29, 2014: "The Carolina Hurricanes will find out what might have been when Jordan Staal makes his season debut. Not that Staal's absence is total to blame for the Hurricanes' 29th-place showing in the standings, but he has been missed." This was what the Hurricanes' new head coach at that time, Bill Peters, was faced with right out of the gate. His only veteran leader with a proven record was out for three months. Welcome to the limelight coach.
Brehm also noted:
He [Staal] led the team last season in faceoff winning percentage (54.4%), was one of their top penalty killers and also played on the power play. He took more shifts than any other Hurricanes forward and chipped in 40 points in 82 games. But all of that was lost when he broke his leg in a preseason game. He missed 35 games before returning tonight.
To say that Staal was missed is an understatement. His play was missed but also his leadership. His injury did, however, answer the question as to whether he was overrated and overpaid.
Jordan Staal Overrated and Overpaid?
Ironically, a week before he was injured I wrote a piece that asked Hurricanes fans, "Is Jordan Staal Overrated and Overpaid?" At the time, the Hurricanes had missed the playoffs for the fifth season in a row, their head coach, Kirk Muller, had been fired and there did not seem to be any hope that the team was going to be better.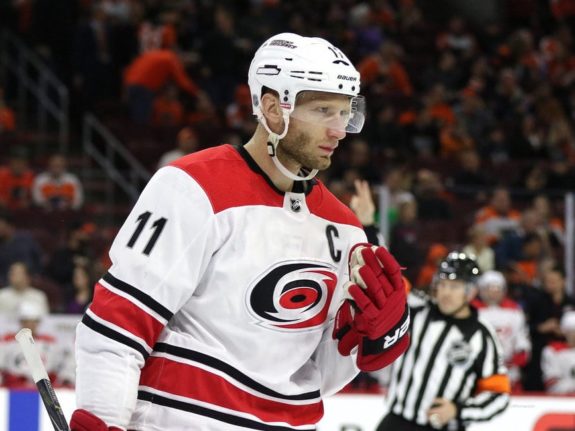 Although Staal had won a Stanley Cup with the Pittsburgh Penguins in 2009, he did not have the same outgoing nature as his brother Eric. Neither brother is going to win any outgoing personality awards, but Eric seemed more open than Jordan and, as a result, Jordan wasn't appreciated when he came to Raleigh with a 10-year, $60 million contract in hand.
As a part of that 2014 article, I asked for fans' impressions of Staal. A typical response was something like this: "I sent a text to a friend who is an avid Hurricanes fan. I asked him to respond with his first thought when I say, Jordan Staal. He replied almost instantly: 'He has not lived up to the expectations of an upper-level hockey player.'"
Other responses I received included, "He is definitely overpaid" and "He is getting a pass because he is Eric's brother."  While not a scientific poll, there seemed to be a consensus that Jordan needed to work harder and that perhaps he was overrated and overpaid. But four years later, his stature has grown and opinion has changed.
Over time, that same unscientific poll has yielded a different set of responses. A few days ago I posted the question in a Hurricanes social media group: What's your first thought when I say, Jordan Staal?
Words like "solid" and "consistent" and "hard-worker" topped the list of responses. Those initial thoughts have changed and he is respected and considered a consistent, hard-working two-way center. For what he brings to the roster in size and experience, Staal is not overrated nor overpaid.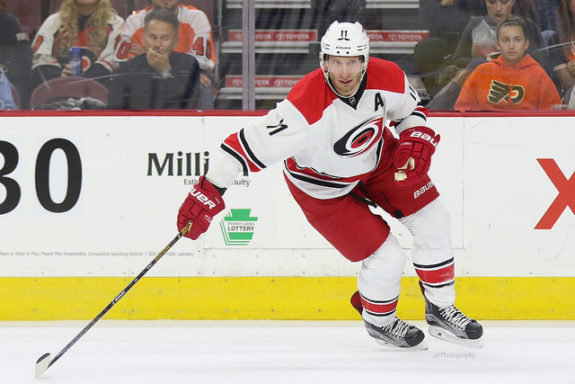 Leading by Example (Stealth)
I remember asking Staal after a particularly disappointing loss at home in 2015 what he felt needed to be done: "He responded that veterans like him needed to help the younger players by setting a good example of hard work. To be honest, at that moment I thought that was a stock answer, but as the season progressed, I saw his role as that veteran presence emerge."
There was something about that night that I will never forget. Staal had a sense of determination and the realization that if his young teammates were going to be led, his example needed to be resolute. He has played with consistency and while others on his team may have "ordered take out", Staal brought his lunch and hard hat and went to work. He's a blue-collar hockey player who leads by the example and others have noticed.
James Tanner, a former colleague at The Hockey Writers, wrote about Staal at Editor in Leaf. Tanner is as astute a hockey mind as there is in the business today and he made a convincing argument that Staal would be a great addition to the Toronto Maple Leafs: "He [Staal] is an elite defensive performer, who is also a dominant possession player. He is consistent: you can pretty much write in his 20 goals and 45 points every year."
Tanner also wrote that "Jordan Staal provides an elite defensive presence that no one on the Leafs roster can currently come close to providing." This quiet, stealth leader is respected in the NHL.
A thank you note to our fans from Jordan Staal. pic.twitter.com/vLeqRINeFR

— Carolina Hurricanes (@Canes) April 10, 2018
The Hurricanes are fortunate to have Staal on their roster and it will be intriguing to watch his play this upcoming season with the new pieces that will surround him and with their new coach, Rod Brind'Amour. Staal may or may not keep the co-captains' "C" on his sweater, shared last year with Justin Faulk. Most speculate that the "C" will land on Justin Williams, perhaps where it should have been last season. But, "C" or not, Staal will come to the arena, gear-up, and go to work. He will continue to lead in a quiet way that doesn't need recognition or a loud voice. He is a vital part of the Hurricanes' future and his leadership is invaluable.