Need a good conversation starter when talking to Hurricanes fans? "Is Jordan Staal overrated and overpaid" will fire 'em up every time.  There are fans I have spoken with who very clearly think he is overrated and that the team can't get rid of him soon enough.  Others are more sedate in their opinion of Staal, seeing him as a still viable piece of the overall team puzzle that is striving to make it back to the NHL playoffs.
His stat line is awful.
At 6'4" and 220lbs, Jordan Staal is a big presence in the center for the Hurricanes, and is known as a force on the penalty-kill.  However his stat line for last year can be viewed as underwhelming.  He played in 82 games last season which was 2nd in the NHL.  He had 15 goals, 25 assists, and 40 points – pretty much in the middle of the pack overall.  His +2 in the +/- category ranked 256th among all NHL players.  On paper, Jordan Staal clearly did not have the kind of year that would cause 'Canes fans to respond favorably if asked whether or not he is overrated and overpaid.  His 10-year $60 million contract would seem to imply that his performance should be much better.
Between his contract and that of brother Eric, the two Staal brothers make up over $15,000,000 in salary of the Hurricanes total player payroll this season.  With the "C" on Eric's sweater and the "A" on Jordan's there is little doubt as to where the leadership for this team should come.  If the 'Canes are to make it to the playoffs in 2014-15, then leadership must come from the Eric and Jordan Staal.  They are being paid extremely well – in large part due to past performance.
Jordan Staal Won a Stanley Cup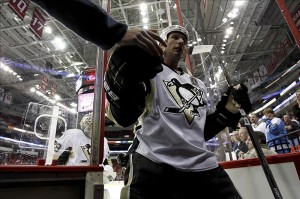 He won it with the Pittsburgh Penguins in 2009.  Eric Staal has won one, too.  Eric won his with Carolina in 2006.  But fans today don't care what Jordan did with the Pittsburgh Penguins, or that Eric helped this team win the Stanley Cup 8 years ago.  Folks in Raleigh want their team to break out of their multi-year playoff drought and give them reason to cheer again.
Jordan Staal's time in Pittsburgh was very productive.  He was drafted 2nd overall by the Pens and promptly racked up several NHL records for rookie players.  He was named to the NHL All-Rookie team.  In his rookie season he notched 7 short-handed goals.  Last year he only recorded one goal with a man down.
Jordan turned down the big contract for 10 years $60 million that Pittsburgh offered him, and accepted the same deal with the Hurricanes.  Apparently he wanted to be on the same side of the ice as Eric.  It is time for the brothers Staal to step up and play like they have in the past.
The Bottom Line, is Jordan Staal Overrated and Overpaid?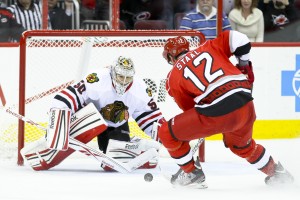 As I wrote this article, I sent a text to a friend who is an avid Hurricanes fan.  I asked him to respond with his first thought when I say, "Jordan Staal."  He replied almost instantly, "He has not lived up to the expectations of an upper-level hockey player."  Others responses I got to the same text were, "He is definitely overpaid" and "He is getting a pass because he is Eric's brother."  While not a scientific poll, there seems to be a consensus that Jordan Staal needs to work hard this season.  He and his brother Eric both need to step up and lead this team back to the playoffs.  If you have been following my work, you know I am optimistic.  I believe that this will be a season that Captain Eric Staal and his brother Jordan will step up.  I believe that the fans will see a reason to justify both of their contracts and positions as team leaders.  I could be wrong, and in June could join the cacophony of voices calling for either or both to be traded.  But, until then, I choose to believe.  What do you think?  Is Jordan Staal overrated and overpaid?  Let me hear from you.