Throughout his time at the Capitals' development camp, Kody Clark has been all smiles, whether he's in the midst of tough drills or a scrimmage. In fact, even as he packs his Ottawa 67s bag, he's still smiling, and his eyes light up with excitement as he talks about his journey since the draft.
"It's been a really good experience," Clark said. "Kind of just getting to come to Washington for the first time, never been here, getting to meet all the draft picks who were drafted with me and the previous. Just getting to know the people in the organization, the staff, the players has been pretty good."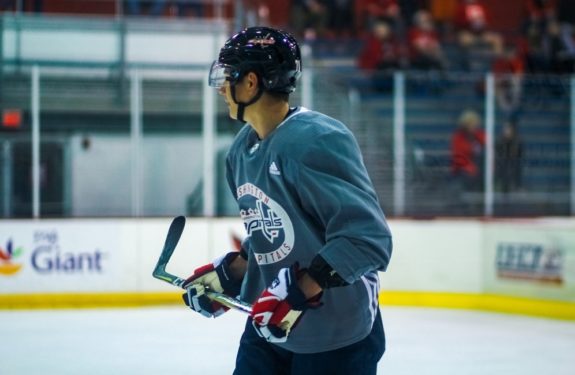 Washington took Clark 47th overall in the 2018 NHL Entry Draft, a dream that he has been chasing since watching his father, Wendell Clark, play for the Toronto Maple Leafs and serve not only as a captain but a vital franchise player. Coming into this year, Clark made major improvements to his game in juniors ranked 34th among all North American skaters heading into the draft.
As he gets to work with the Capitals, he will continue to work on improving his game over time on the path to the NHL. And by looking at his 2017-18 campaign and work ethic, he's well on his way so far.
Clark's Breakout Year
The 6-foot-1, 185-pound winger, in some ways, plays a similar game as his father. He plays a sound, two-way game and isn't afraid to battle for the puck or be a physical presence, and he's a player that follows through and finishes his checks. He crashes the net and has a strong shot, while also playing a 200-foot game and rarely making mistakes with the puck, even when he's taking risks on the forecheck.
After putting up just seven goals and 11 points in his rookie season last year, Clark came into the season with more size, speed and offensive ability. In 56 games with the 67ers this season, Clark registered up 18 goals 39 points and 128 shots and was a plus-7. He not only increased his production by nearly four times but also finished fifth in scoring on the team and made himself a top contributor while putting himself on NHL scouts' radars.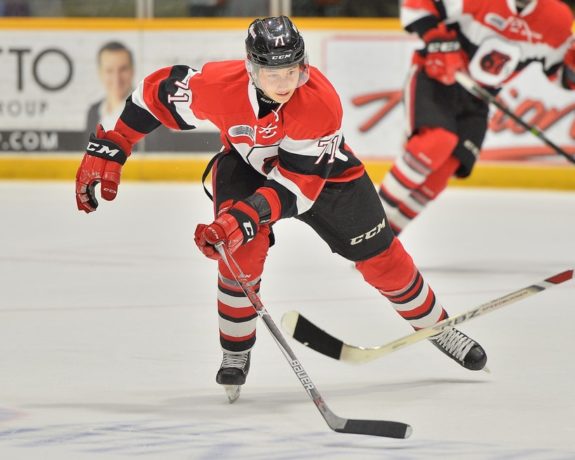 Heading into the season, Clark worked on his skating to become quicker and stronger on the ice while adding more offense to his game. He handles the puck fluidly, and became more of a threat, especially on special teams and in critical game situations, including overtime.
and coming into this year, he worked on his skating to become quicker and stronger on the ice. This helped him not only improve his all-around game but helped him further develop and showcase his ability in his pre-draft season.
Clark On Road to NHL
The 18-year-old winger was at home watching the draft when he heard his name be called, and about a week later, he took his first trip to the Nation's Capital to participate in development camp. Not only did he work with fellow prospects, he got to get a taste of the NHL and the organization, and pick up on skills that go beyond the game.
"Being a pro on and off the is something we [worked] on all week, doing the little things right and all the little things it takes to become a pro and an NHL player one day," Clark said.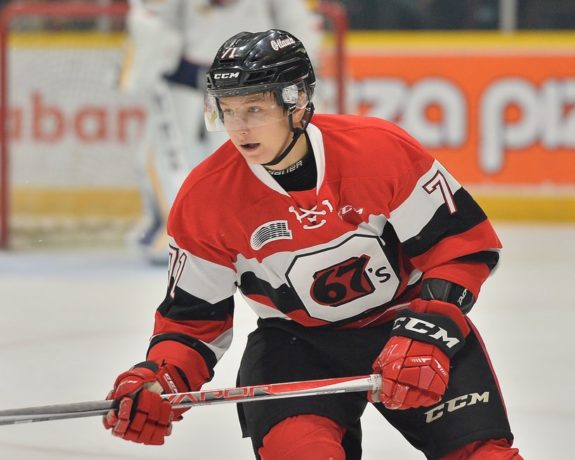 In the dressing room, it was easy to see that Clark was a presence. He had spent the week bonding and getting to know his teammates and fellow prospects and said that it took no time at all for everyone to become close and that they bonded over Netflix, movies and going out to eat following long days at camp.
"It's been unbelievable," Clark said. "I think a lot of us were nervous coming into the week, but it only took a couple hours before we were all pretty good friends. I know we'll all keep in touch throughout the summer and then coming back to main camp. I don't think it really matters where you're from, I think when you all play hockey and you all have that hockey bond, I think it's pretty easy to get along with everyone."
Ultimately, Clark is likely to make an impact this coming season as he takes on even more responsibility in Ottawa and takes the next step. But overall, the power forward is making great strides, and if he keeps it up, he will have no problem making the jump and continuing to develop his game to reach the ultimate goal.