Staal for captain of the Carolina Hurricanes. Wait, wasn't he traded? Not Eric Staal, who was the team's captain since 2010, but his brother Jordan Staal. With the team currently without a captain, the decision as to whether or not to name one and if so, who it will be, will likely be made within the next 3 months or so.
Staal the Veteran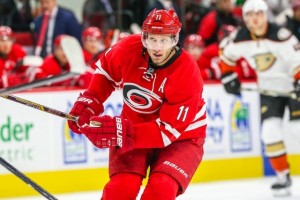 The Hurricanes are a very young team. Although they came within a couple of games of earning a playoff spot last season, there really is no way to see how they will respond to that success in the season ahead. The team that almost made it in was made up of "young guns" as I call them, some of whom – like Noah Hanifin – were in their very first season in the NHL. How will unexpected success translate to these young players when they are under a spotlight of high expectations this season.
I wrote recently in "Lindholm the Swedish Beast Tamed" that Elias Lindholm had a sophomore season slump. His challenges were not unusual for a young player who had a breakout rookie season. This type of normal "coming back to earth" could very easily hit some of the 'Canes' younger players. They will need a veteran voice and presence in the locker room that can encourage them to play through and keep grinding. In my opinion that voice belongs to Staal.
@Section_328 Prepare yourself for a Jordan Staal as captain

— Doug Abrams (@dabrams2021) April 12, 2016
I remember asking Staal after a particularly disappointing loss at home last season what he felt needed to be done. He responded that veterans like him needed to help the younger players by setting a good example of hard work. To be honest, at that moment I thought that was a stock answer, but as the season progressed, I saw his role as that veteran presence emerge. In fact, until Andrej Nestrasil's injury, the line he centered became consistently the best line that the 'Canes put on the ice. Matt Kromback wrote as much for Canes Country on July 1:
His 2015-2016 numbers of 20 goals and 28 assists don't do him justice. The line of Staal, Joakim Nordstrom, and Andrej Nestrasil was the most efficient line on the team with 17 goals for and 11 goals against. Staal was also exceptional in the faceoff circle, securing 57.8 percent of his faceoffs, helping the Hurricanes finish second in the league with an overall faceoff percentage of 53.7 percent.
Krombach notes that Staal and Justin Faulk are really the two viable choices to be the next Hurricanes captain. While he goes on to suggest that a rotating "C" might work as it has for the Minnesota Wild if naming Staal or Faulk isn't the best fit, I do think it will be a good fit for Staal.
Staal Has Won a Cup
Having won a Stanley Cup is significant in the NHL. It is the culmination of sports' biggest grind and hardest trophy for a team to win.
The Hurricanes will now have several players who have won a Stanley Cup on their roster, including goalie Cam Ward. Chip Alexander of the News & Observer wrote on June 15:
Like Versteeg and Nordstrom, Teravainen and Bickell come to the Canes having won Stanley Cups with the Blackhawks. Teravainen won with Chicago in 2015, and Bickell was a part of Chicago's Cup champions in 2010, 2013 and 2015.
This experience will be huge this season for the young Carolina roster. Of all the previous Cup winners, Staal has been with the team the longest with the exception of Ward. A young Faulk would be the obvious choice to completely cement the team as looking to the future. But at 27, Staal is not really an old guy, but he will be someone the younger players will look to for leadership. I think that his veteran presence and leadership will grow as the season progresses this year, and that it will be obvious that Staal should wear the "C" for the "Canes.
Mark lives in the Raleigh, NC area and covers the Carolina Hurricanes.