If the NHL Radio interview with the usually tightlipped Islanders general manager Garth Snow this week proved anything, Ryan Strome will be given every opportunity to be the Islanders' second or third line center this season.
Snow says Strome is most effective as C; but way team was built put him on wing. Loss of 51 should lead to different Ryan Strome. #Isles

— Brian Compton (@BComptonNHL) July 7, 2016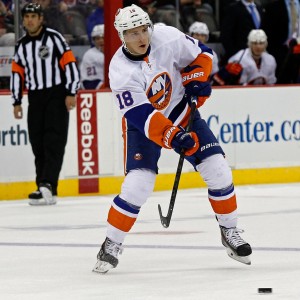 Now the bigger question here- can Strome be an adequate replacement for the departed Frans Nielsen? The Islanders think so. And before you go and say the Islanders have lost their collective minds, Snow may, indeed, have a point. Well, at least offensively.
Comparing Stromer and Nielsen
Through his first three seasons, Nielsen was far from the player he was last season where he scored 20 goals for just the second time in his career. In his first three years on the Island, "The Great Dane" scored just 34 goals and lost more faceoffs than he won. Just like Strome, Nielsen wasn't a finisher either, as he had a shooting percentage of under 10 through his first three seasons. But unlike Strome, Nielsen couldn't hit the 50-point mark his first three years with the Isles. It wasn't until the 2013-14 season, in the wake of John Tavares' season-ending injury that Nielsen was able to hit the 25-goal mark and come close to 60 points.
Scoring 50 points in his first full season in 2015 with Nielsen, Okposo and Tavares in the lineup, Strome has already proven he can be a dynamic player. In 2015, Strome was also a +23, a number Nielsen has never been close to in his career. That may be a byproduct of not playing in nearly as many tough situations as Nielsen, but the case could be made that he hasn't been given that chance yet.
"Probably to our own fault in handling Ryan, he was drafted as a center, I personally believe he's most effective as a center," Snow told NHL Radio. "But the way our team is built … we really didn't have the opportunity to play him for extended periods of time at center. With the loss of Frans Nielsen in free agency I think you're going to see Ryan Strome do the things he did two seasons ago."
Strome's First Real Opportunity?
Averaging two minutes less ice time than Nielsen over the past three years, Strome was never put in the same category as Nielsen, Tavares or even Okposo as a guy the Isles could or should lean on in tough spots. Already proving he can play the point on the power play and kill penalties, Strome will now have the opportunity to be a part of the core that gets the Islanders back to the 100-point mark for a possible third consecutive season.
And with Mathew Barzal appearing ready for NHL hockey as well, Strome will have to have a solid camp to reassure the Isles brass that he's the guy that can fill Nielsen's multifaceted shoes.
Over the past ten years as a working journalist, Patrick Hickey Jr. has covered the New York Islanders, New York Rangers and New Jersey Devils, as well as the Brooklyn Aces of the former EPHL, contributing pieces and/or holding Editorial positions at NBC, New York Sports Day, NY Sportscene Magazine and the New York Times. During that time, he has interviewed NHL stars the likes of Brendan Shanahan, Bernie Nicholls, Bob Probert, Martin Brodeur and Zach Parise. He is also the first winner of the New York Islanders Blog of the Year Award, for his work on TheDriveForFive.com in 2008.