As he promised at the 2017-18 end of season press conference, Jason Botterill has shaken up the core of the Buffalo Sabres' roster. With a new cast of characters, there will be a great deal of competition for starting roles, particularly at forward. For several youngsters on two-way deals, and those approaching the final year of their entry-level contracts, it's now or never.
For years fans have held out hope that these prospects would develop into long-term NHL regulars. To this point, they have been disappointed. As Botterill continues to work toward changing the complexion of the roster as the franchise reaches the end of their rebuild, aspiring NHLers will need to show that they deserve to be part of the Sabres' long-term plan.
Justin Bailey
For the most part, fans in Western New York were thrilled when the team selected Bailey with the 52nd overall pick in the 2013 Entry Draft. As a local product (hailing from Williamsville, NY, a suburb of Buffalo), many projected him to be a top-six player in the organization.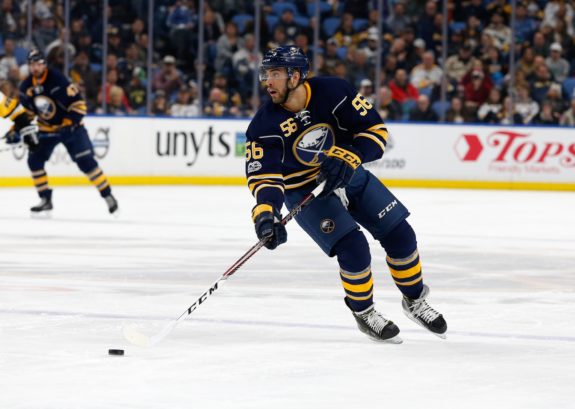 Five years later, the 23-year-old has failed to impress during his time with the Rochester Amerks in the AHL, posting a pedestrian 96 points in 159 games. His time with the Sabres hasn't been much better. In 52 games with the big club, he has only appeared on the scoresheet eight times.
Bailey's rookie deal expired this summer, but this past week the team announced they had retained him on a one-year, two-way deal. It's clear that Botterill wants to give the 6-foot-4 power forward one more chance to prove his worth before moving on. The bottom of the Sabres' roster is far from set. If he can come into training camp and start the season in the NHL, he could inspire the franchise to retain his rights in 2019.
Though he'll be given an opportunity, there's a lot of traffic on the road to Buffalo.
Related: Sabres Brass Analyzing Assets
Nick Baptiste
Baptiste and Bailey have always been thought of together as members of the 2013 draft class. Though he was selected later than Bailey (69th overall), Baptiste has been slightly more impressive though still mediocre. In 157 AHL contests he's managed 88 points, however, after a relatively impressive call-up mid-way through the 2017-18 season, he appeared in 33 games with the Sabres posting four goals and two assists.
At the moment, the 22-year-old has one of the best chances to stick with the Sabres long-term. Like Bailey, Baptiste reached the end of his entry-level deal on July 1 and was retained on a two-way contract for the 2018-19 season.
His biggest issue is consistency. While, at times, he's shown elite goal-scoring ability, he disappears for stretches, often being relegated to fourth-line minutes. If he can find a way to produce offense on a more consistent basis, his physicality as a power-forward will serve him well.
Botterill clearly saw something in Baptiste last season, evidenced by the extended look he received during the second half of the 2017-18 campaign. This will be his last chance to prove that he has what it takes to avoid becoming a career AHL player.
Sean Malone
Unlike Baptiste and Bailey, Malone has outperformed his draft position. As a sixth-round pick in the (you guessed it) 2013 draft, he is the odds-on favorite of the group to wear the blue and gold on a permanent basis next season.
As a natural center, he has an advantage heading into training camp. It's unclear who the Sabres will dress as the team's fourth-line pivot. Incumbents Zemgus Girgensons and Johan Larsson have underperformed over the past two seasons, wearing out their welcome among fans. With a new direction in mind, Botterill could elect to see what he has in Malone.
Following a fantastic collegiate career at Harvard, the 23-year-old posted 22 points in 73 games last season in Rochester. Those numbers aren't exactly eye-catching, but as a two-way forward with penalty-kill experience, he could be useful.
Like several others on this list, Malone was recently retained on a one-year, two-way deal. It's almost certain that he will see some NHL action in 2018-19. If he can continue to improve in just his second year at the professional level, the former collegiate standout could carve himself a nice little niche as a reliable bottom-six player.
C.J. Smith
After an incredible AHL season in 2017-18, Smith is one of the more intriguing youngsters vying for a long-term role. As an undrafted collegiate player, the Sabres signed Smith as a free agent toward the end of the 2016-17 season. In his first year of professional hockey last season, he earned a spot in the AHL All-Star game with 44 points in 57 games.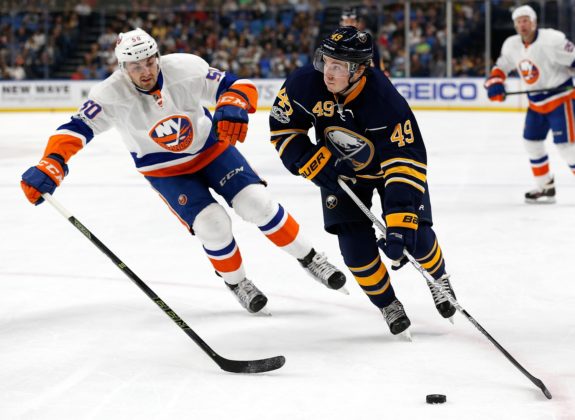 Smith's growth last season was evident and with a very thin crop of left wingers in Buffalo, he should get ample opportunity to show his skills with the Sabres. On a team that struggled to score last season, his ability to create offense will be a welcome addition.
Despite an outstanding inaugural campaign in Rochester, Smith was also retained on a one-year contract, which came as a surprise to fans who believed he had earned a multi-year deal. Like his competition, he will need to prove himself next year in order to be qualified as an RFA in 2019.
Another minor point that bodes well for Smith is his background in the NCAA. Botterill has shown that he holds college players in particularly high regard. During his time at the University of Massachusetts Lowell, his offensive production improved significantly from year to year.
Daniel O'Regan
Rounding out the list is O'Regan, a player who came into the organization late last season as part of the deal that sent Evander Kane to the San Joe Sharks. Interestingly, the 24-year-old had the second-highest points-per-game rate on the Amerks roster behind veteran Seth Griffith with 40 in 49 games. Before arriving in Western New York, O'Regan played a healthy chunk of the season with the Sharks, contributing four assists in 19 games.
His addition is a reunion of sorts with fellow Boston University alumni Evan Rodrigues and Jack Eichel already in Buffalo. In college, the trio served on a line together for the Terriers during Eichel's lone season in the NCAA before being selected in the 2015 Draft.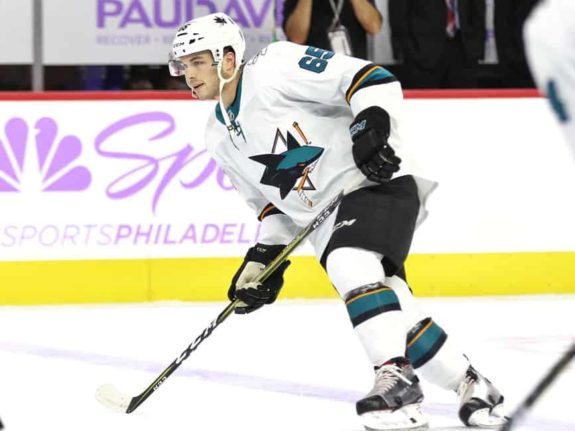 O'Regan is slated to hit the restricted free agent market next summer. In all likelihood, he'll start the coming season with the Amerks, but don't be surprised if he is one of the first call-ups. As one of the older fringe-forwards of the group, he will really need to stand out from the rest of the pack to remain in the fold long-term. He's shown that he can dominate the minor leagues, but time will tell if his scoring prowess can translate to the NHL.