It's nonsense to think some people are suggesting the Edmonton Oilers should trade Cam Talbot. It was just one year ago that Talbot was the second-most valuable player in Edmonton's lineup behind Connor McDavid. He also finished fourth in Vezina Trophy voting and set an Oilers record for most wins in a season. If you're looking for a starting goalie for the next three to four seasons, Talbot should be more than sufficient for the Oilers.
He's got another year left on a fairly cap-friendly $4.1-million deal. Adding to that, the 30-year-old is still young enough and will be in his prime when (or if) Edmonton becomes a Stanley Cup contender. Throughout much of his career, Talbot's been a fairly consistent goalie and has given his teams a chance to win every night. Unfortunately, it just hasn't happened that way this year.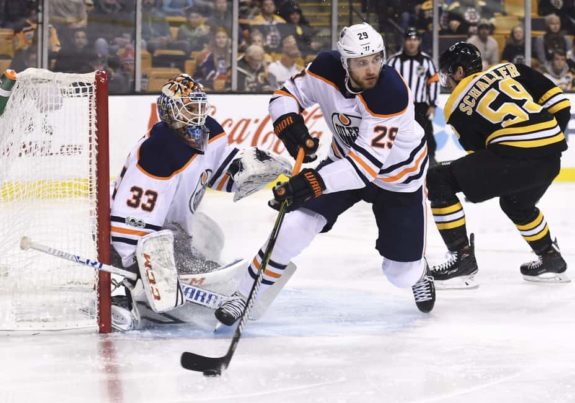 Whether it's a lack of defensive prowess in front of him, or Talbot often allowing early goals that pull the wind out of the sails, it's been a rough year. But one bad year shouldn't be enough to ship someone out of town (Jordan Eberle, anyone?). Edmonton fans need to have a little more patience with their starter. He plays a lot, and only a handful of others have played more minutes than him over the past few seasons. Have a little faith here, folks.
Other Goaltending Options for the Oilers
If you haven't already figured this out, I'm adamantly against giving up on Talbot. It's an incredibly shortsighted move, and as you'll see, most other options would be a lateral move or a step back. If you're one of the folks that subscribe to the theory that it's time to move on, here are some names to consider. If this were to happen, one of the first names that jump to mind is a guy like Carey Price.
Related: Cam Talbot's Jekyll & Hyde Performance
It's a dream scenario, and Edmonton would have to give up an incredible level of talent and possibly futures to make that happen. The Montreal Canadiens would want a number-one center, and you can bet your bottom dollar they'd ask for Leon Draisaitl. Everything else in between would be window dressing for both sides to make it work. Do you do it if you're Chiarelli? Probably not.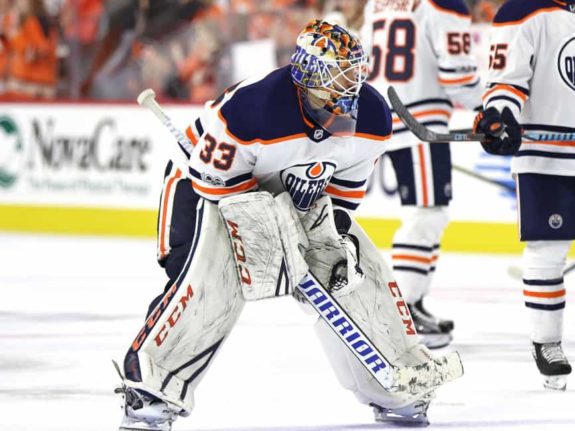 Another dream scenario would see the Oilers somehow finagle their way into acquiring an older Henrik Lundqvist from the New York Rangers. It might not cost Edmonton a guy like Draisaitl, but the Rangers would want a ton of future assets for their rebuild. Another pipe dream that's unlikely. You might get a goalie in the short-term, but you'd be stealing from Peter to pay Paul with all those assets in either of these scenarios.
More cost-effective names that are on the rise are; Joonas Korpisalo (Columbus), Alex Stalock (Minnesota), Tristan Jarry (Pittsburgh), and Aaron Dell (San Jose). The caveat is that each of them is on varying aspects of the scale to be truly considered ready for starter duties. This summer likely isn't the best time to be looking for a number-one goalie.
Oilers' Poor PK Contributing to Talbot's Poor Season?
For all those that have suggested it, trading Talbot because of one bad year is incredibly shortsighted. Since joining the Oilers in 2015-16, no goalie has played more games in the league than Talbot's 182 games played. Even with Edmonton struggling in two of his three years with the team, he still ranks eighth in most wins (88). Before the debacle that has been the 2017-18 season, Talbot's 2.46 goals-against average (GAA) ranked 10th in the league.
His .918 save percentage (SV%) ranked ninth. Only one other goalie has faced more rubber than Talbot since 2015-16 than 5,427, and that is his former teammate Henrik Lundqvist. Though Talbot's had a short NHL career (241 games), he's had respectable numbers with a 2.48 GAA and a .918 SV%. This year's numbers are well below his career averages, but part of that has to do with the overall team regressing and not insulating its goaltender.
This year, Edmonton spends the 10th-most minutes (9:31 per game) on the penalty kill. Combine that with the fact the Oilers' penalty kill (PK) is operating at a league-worst 74.4 percent, and you have a recipe for disaster. Since March 1, Talbot and the Oilers have seemingly turned a corner. Edmonton is 4-1-0 through March, and Talbot's 2.36 GAA ranks seventh amongst the league's goalies that have played at least four games this month.
Related: Cam Talbot Isn't the Only Struggling Goalie
His .931 SV% also ranks seventh during that same stretch. During this stretch, the Oilers have also dropped their penalties per game from 3.74 to 3.40. The Oilers' PK is now operating at 92.3% which ranks fourth-best in the NHL in March. They're staying out of the box, they're doing a better job short-handed, and suddenly the team is winning, and their goaltender is playing much better.
Where Do We Go Now?
When your team finishes in the NHL's basement after they were expected to be Stanley Cup contenders, fans will want change. Fans deserve change. However, moving a guy who's been an absolute workhorse on one of the worst defensive teams in the NHL isn't a very logical move.
It's a very contentious time for Oiler fans who have really had the rug pulled out from under them this season. Every aspect of this organization has to be under evaluation right now, but trading Talbot is one of the last things you'd want general manager Peter Chiarelli to do.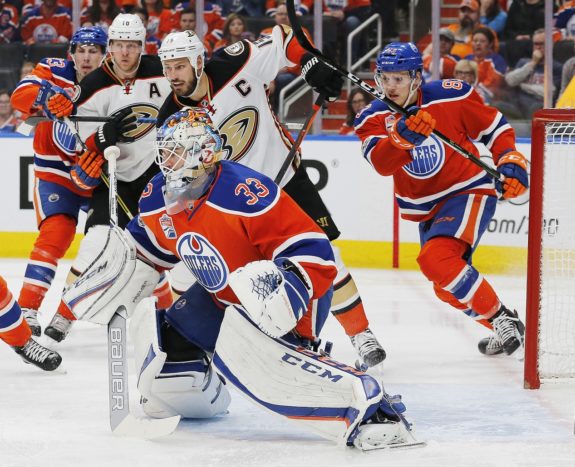 Right now, both Talbot and backup Al Montoya are playing some of their best hockey of the season. The two also come in at a combined $5.2 million next season, which is at a considerable bargain. The duo allows Edmonton cap flexibility to address other areas of their roster.
The numbers have been bad through most of the season, but they've turned a corner and that's worthy of consideration. With a better defense and a team that learns to stay out of the box, Talbot won't be as handcuffed as he was through much of 2017-18. Whether you agree or disagree, let us know your thoughts in the comments below.