Once upon a time in a career far, far away, Devin Setoguchi was on the verge of NHL stardom.
After being drafted eighth overall by the San Jose Sharks in 2005 and in the wake of a 17-point output during his rookie campaign in 2007-08, he followed up with 31 goals and 65 points the next year, earning an appearance on the NHL Young Stars team in the process. He also received votes for the Lady Byng Memorial Trophy.
Sadly, his second season turned out to be the peak of a troubled career ultimately derailed by drug and alcohol use. As detailed in a recent piece by The Hockey News, Setoguchi's partying spiraled into a drinking problem, depression and ultimately, cocaine and prescription pill abuse while with Winnipeg in 2013-14. Per The Hockey News:
I did a lot there where I would stay up all night till 6 in the morning, 7 in the morning, do a little bit, go to morning skate, go home, sleep for six hours and get up to play. I'm surprised sometimes I didn't have a heart attack. Three or four months of that.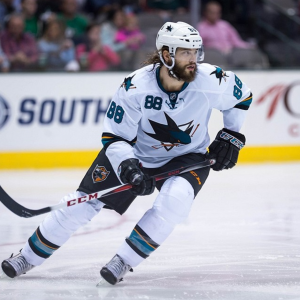 After his 31-goal season, Setoguchi remained fairly productive, averaging 20 goals over the next three years. However, despite a few high-profile moments during the playoffs, his potential was never fully realized, and he was eventually traded in package deal to the Minnesota Wild during the summer of 2011 for defenseman Brent Burns.
Burns thrived, while Setoguchi crashed and burned. After two lacklustre seasons in Minnesota and a twelve-game stint with Calgary in 2014-15, he found himself out of the league.
Setoguchi on the Rebound
Redemption is a time-honored idea baked into our culture's collective psyche. It's still early, but so far, Devin Setoguchi is on track to achieve just that.
Per The Hockey News piece:
Setoguchi is now one of the married guys, too. He married his longtime girlfriend, Kelly, a San Jose native who left medical school to become a physician's assistant so that her career could better accommodate his life as a pro athlete. 'He has a huge support group and that makes a huge difference,' she said. 'They were willing to talk about things and not pretend like nothing happened.'
Setoguchi dropped 30 pounds and is back to his playing weight from when he broke into the NHL. Having completed rehab, he's clean and sober, and after scoring 24 points in 30 games for Davos HC of the Swiss National League A — the fifth-highest scoring rate on a team that finished 32-16-1 — appears ready to return to the NHL. He'll have another chance, courtesy of a PTO with the Los Angeles Kings.
What Setoguchi Can Bring to the Kings
Still just 29 years old, Setoguchi may have something left in the tank. At his best, he was a solid two-way player with a knack for rising to the occasion on the big stage. He capped off a hat trick in Game 3 of the Conference Semifinals in 2011 with this overtime winner:
Or how about another overtime winner, this time as part of a remarkable (albeit painful) Sharks comeback during Game 3 of the 2010 playoffs against the Los Angeles Kings:
The Opportunity with the Kings
After having seen Milan Lucic leave for Edmonton, there is a real opportunity for Setoguchi to play a prominent role with Los Angeles. A natural right wing, he will battle Dustin Brown and Ted Purcell for top-six minutes, assuming that he makes the club. And that's a big if, given that he failed to do so while on a PTO with the Toronto Maple Leafs in 2015.
Being defensively responsible, it's possible he could make the team and end up on the third line. However, the Kings didn't sign him hoping for a bottom-six ceiling. Clearly, general manager Dean Lombardi is betting that his solid numbers with Davos and desire to make the most of, yet another, second chance will allow the moon and the stars to align sufficiently so that the hole left by Lucic is filled.
Will it work? It's a low risk/high reward move by one of the shrewdest general managers in the game, so it's worth the effort. Moreover, it's another chance for a player who was once one of the brightest prospects in the game, one who — like the mythical Icarus — flew too close to the sun and fell into the sea.
Let's hope that after years of struggle and no matter what the final outcome, he remains clean, sober and at peace with himself and his career. A few goals would be nice, too.
Walter McLaughlin is a Los Angeles Kings correspondent for The Hockey Writers. He is an avid sports fan, having followed the Kings since living in L.A. in the mid-1970's, as well as suffering through Seattle sports teams' general futility. He has a Bachelor's degree in Finance and has worked in community banking for over 25 years, specializing in SBA loans. He is married and has two daughters.