Dmitry Orlov is currently competing at the World Cup as a member of Team Russia, but his future with the Washington Capitals entering 2016-17 is uncertain.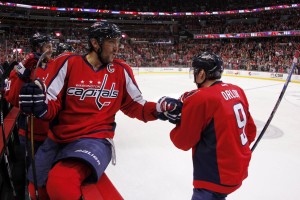 Orlov, 25, is one of just a handful of noteworthy restricted free agents left unsigned by NHL teams at this point in the summer and spoke about the possibility of re-signing with the Capitals after a practice with Team Russia on Sept. 11.
"It's hard to say," Orlov said, according to The Washington Post's Isabelle Khurshudyan. "I was five years in this organization, and everything was good, you know?"
The Capitals retain Orlov's negotiating rights after he opted against going to arbitration as a restricted free agent earlier this summer. The Russian defenseman could choose to return home and play in the Kontinental Hockey League— his KHL rights are owned by CSKA Moscow— but it sounds like Orlov wants to stay in the NHL for now. The question about Orlov's playing career may become, if not with the Capitals, where?
"You know, I play five years in USA, so of course, I like it here," Orlov said. "And I would like to stay there, but I don't know how it's going to happen. We'll see."
Orlov was originally drafted by the Capitals 55th overall in the 2009 NHL Entry Draft and has spent his entire career with the organization. In 2015-16, Orlov set career-highs across the board in games played (82), goals (8), assists (21), points (29), penalty minutes (26) and plus/minus (plus-8).
The Capitals open the 2016-17 season against the Pittsburgh Penguins on Oct. 13.