It's no secret to anyone that watched the 2015 NHL Stanley Cup playoffs that Tyler Johnson was an undrafted player (they mentioned it a gazillion times during Tampa Bay Lightning playoff games) that came out of nowhere to become arguably Tampa's best player before suffering a broken wrist (that he played through). The New Jersey Devils are hoping to also catch lightning in a bottle (pun originally not intended, but it works) with one of former GM Lou Lamoriello's final signings in Joseph Blandisi. The 21-year-old from Markham, Ontario was in fact drafted (in the 6th round of the 2012 NHL draft by the Colorado Avalanche) but failed to sign a contract (mainly due to an illness) and signed with the Devils this past January in the midst of a phenomenal final season with the Barrie Colts in the OHL as an overage player.
Johnson is smaller than Blandisi by about three inches and outweighed by roughly twenty pounds, and is also four years older. He earned his NHL spot after two solid seasons with Tampa's AHL affiliate — first in Norfolk and then in Syracuse, where he was the league MVP during the 2012-13 season. Blandisi may have to travel that same route, establishing his game in Albany before making an impact in the NHL Devils' lineup — and there's nothing wrong with that. Lots of players with long NHL careers gain important ice-time and development in the AHL game.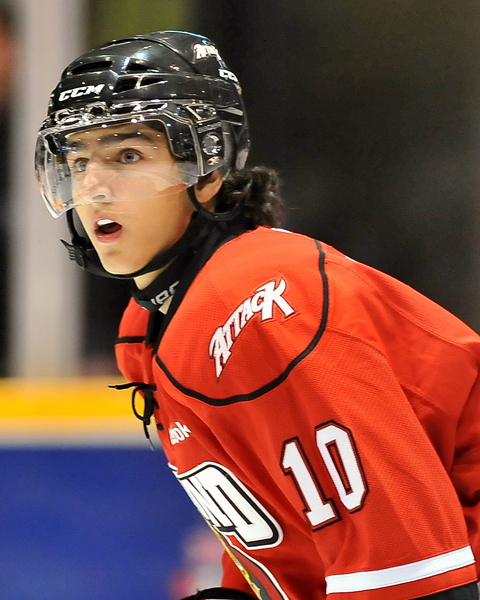 Blandisi finished fourth in the OHL scoring race last season with 112 points behind three lads you may have heard of — especially if you watched the 2015 NHL Draft: Dylan Strome (129 points/3rd overall, Arizona Coyotes), Mitch Marner (126 points/4th overall, Toronto Maple Leafs) and some kid named Connor McDavid (120 points/1st overall, Edmonton Oilers). If there was any team in the NHL that could use a scorer to come out of nowhere like a shot of adrenaline to the system it would be the seemingly constantly scoring-challenged team in New Jersey. With a new regime in charge, and a new mantra of: Fast, Attacking and Supportive, Blandisi could hopefully turn out to be a piece to the puzzle of a successful team.
Joseph Blandisi shows off some video game-like moves with this spin-o-rama goal:
In his first full NHL season Johnson was a finalist for the Calder Trophy and then he followed that up with a season where he tied some Steven Stamkos guy for the team lead in points (72) which was also tied for 15th in the entire NHL. He then followed that up with an amazing postseason in which he was a key cog in the Lightning's march to the Stanley Cup Final. He had six goals in the opening round series and had four multi-goal games in the postseason; Johnson had a league-high 13 goals in 26 playoff games and finished tied with Patrick Kane in total points (23). If Blandisi can turn himself into that type of player the fans (and likely GM Ray Shero) will be doing back flips.
Tyler Johnson netted Tampa's first ever playoff hat trick in Game 2 of the East Finals:
Obviously those are some big small shoes to fill but players come out of seemingly nowhere all the time to make an impact in the NHL, so why not Blandisi? Other than a few practices and a few scrimmages I personally haven't seen much of him on the ice but everyone that has mentioned him has had nothing but praise. The Hockey Writers will hopefully catch up with Blandisi in the next week or two at New Jersey's training camp as a follow up to this article. The highlight below in the tweet reminded me of the second goal Johnson scored in his hat trick against the Rangers — patience + soft hands + accuracy.
Watch: Joseph Blandisi slips by Raman Hrabarenka and goes bar down on Ken Appleby at today's practice. https://t.co/QMvIi3kZkH

— New Jersey Devils (@NJDevils) July 17, 2015
Dan Rice can be reached via Twitter: @DRdiabloTHW or via Email: drdiablo321@yahoo.com. 
Dan Rice is in his 9th year of reporting for THW & has covered NJ Devils home games for 15+ years at various websites. He began his journey working for legendary broadcaster/writer Stan Fischler from 2002-04 & completed an internship at the ECHL; he also has been writing features for the NWHL (nwhl.zone) website since 2016.