A new era has begun with the New Jersey Devils — with a new GM (Ray Shero) and a new head coach (John Hynes) taking over since they played their last game on April 11. With the NHL Draft now behind us and free agency about to start the new season (and era) begins now in Newark. For the last 28 years Lou Lamoriello was GM and is still in the mix (as Team President) in addition to being a confidant that Shero can lean on as well as bounce ideas off of. But these Devils will be built the way the new GM wants to build them, and possibly around some of the building blocks already in place.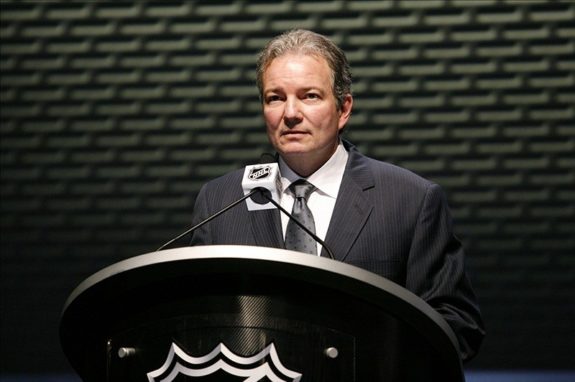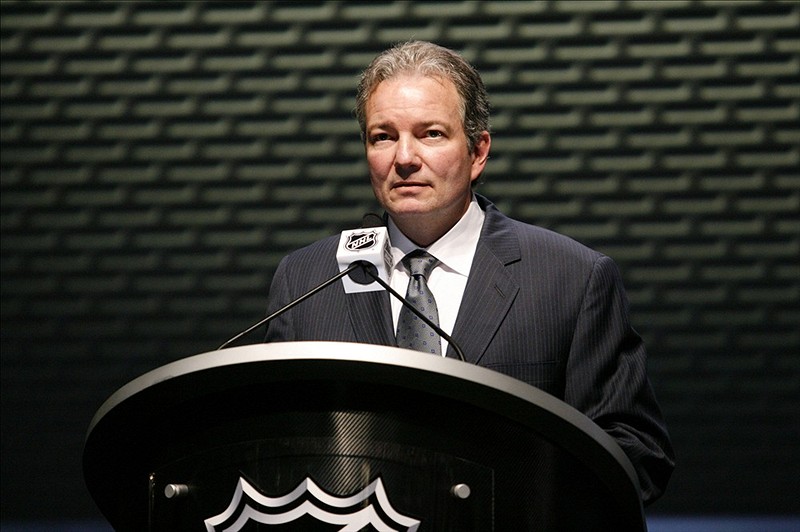 The cupboard may be bare as some out there in the hockey world might say, in terms of prospects in the pipeline — and that is where Shero will likely have to do his most diligent work. As is the case with the NHL team, there are some good, top-end, young players in the system and at the 2015 NHL Draft the Devils drafted five players and added a draft pick for the 2016 Draft.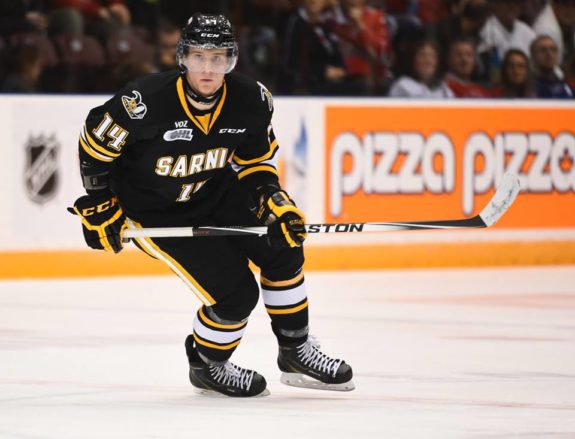 Shero's first, first round selection with New Jersey was 6'3" center Pavel Zacha at sixth overall; a player who has a combination of size, skill, work ethic and a good shot. Zacha will be part of the "next wave of Devils" top-end prospects (first and second rounders) that as of now includes John Quenneville and Josh Jacobs (2014 NHL Draft), Steve Santini and Ryan Kujawinski (2013 NHL Draft), Stefan Matteau and Damon Severson (2012 NHL Draft) and Adam Larsson, Reid Boucher and Blake Coleman (2011 NHL Draft), as well as free agent signings Sergey Kalinin and Joseph Blandisi.
With their other four selections at the 2015 Draft they selected MacKenzie Blackwood, Blake Speers, Colton White and Brett Seney.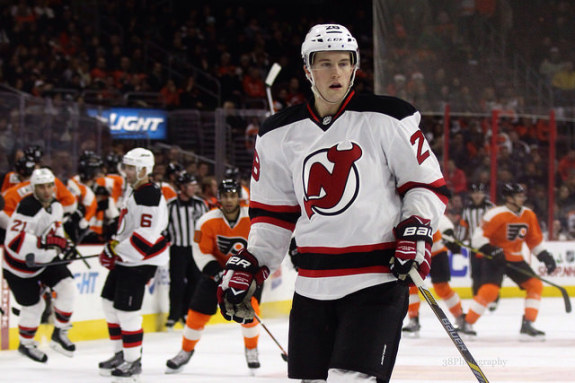 "Certainly four of the last five years has not been what the organization has expected or hoped for," said Shero during a Q&A with season ticket holders the Sunday evening following the draft. He knew that the high first round pick was going to net them a solid player and as he explained to the fans in attendance, Zacha was the guy he and the scouts wanted all along.
"What Pavel brings to the table is he brings size and strength to the center ice position, which, every team covets. He's got the skill set: he can really skate, he's a powerful guy, he can shoot the puck; and he's getting better. I saw him at the World Juniors this year in the Czech Republic and our scouting staff was very high on him. We didn't want to trade back (in the first round) and risk losing him."
"Playing against good players made me better." – @StingHockey @Pavel_Zacha at #NHLDraft WATCH: http://t.co/6USyxWNQb8 pic.twitter.com/qpI8sYvLxu

— Canadian Hockey League (@CHLHockey) June 28, 2015
Shero also mentioned later on, when Zacha made a surprise visit to say hi to some of his new fans, that the 18-year-old who grew up with current Devil Patrik Elias as his idol, could have an opportunity to make the team out of training camp. "We'll see how camp goes and at that point it will, hopefully, be apparent to both of us the best decision where we start the season — whether it's going back to Junior for another year or with the (New Jersey) Devils."
OFFICIAL: #NJDevils acquire Kyle Palmieri from Anaheim for 41st pick in this year's Draft and 3rd rd pick in 2016. pic.twitter.com/9pNLa4ZPyk

— New Jersey Devils (@NJDevils) June 27, 2015
In his first trade as Devils GM Shero acquired Kyle Palmieri (Montvale, NJ native) from the Anaheim Ducks for a pair of draft picks; the 25-year-old winger (89 career points in 198 career games) seems to be a perfect fit for how Hynes wants his team to play — fast, attacking, and supportive. "We want to play a quick game, a fast game; an attacking game," Hynes explained during the Q&A. "When you do that it's not only just skating – it's how we want to move the puck, (how we) come up the ice together, how much time we spend on the offensive side of the redline. Whether that is with puck possession, or checking aggressively with all five guys involved."
#NJDevils GM Ray Shero and head coach John Hynes hang outside #PruCenter, meeting the diehards after today's Q&A. pic.twitter.com/EHuS6XOnlJ

— New Jersey Devils (@NJDevils) June 28, 2015
"When you look at the word support, we want to be able to play as a five-man unit even when we don't have the puck; the big change offensively is going to be that supportive word. Whether our defensemen are very active, on a rush or pinching down walls to be able to create more pressure on the opposing team." He finished by adding, " I think when you see our team play, it's going to be a little bit of a different brand of hockey; I think when you see it, over the course of time, those three words: you'll see a team that plays fast, a team that attacks and a team that's very supportive of each other and plays real well as a team."
Josefson at times, shows flashes of brilliance; will more ice-time mean more of this:
It will be interesting to see if Palmieri will be paired with Jacob Josefson on a line as both are fast players and should be slotted on the second or third line come October (barring any major changes of course); Shero has mentioned Josefson several times already publicly since taking over and referred to him as a guy that "we need to find out more about." Palmieri is a player that Hynes already knows, has experience coaching (at the Juniors level) and seems to be the prototypical player to fit in the system he will be implementing.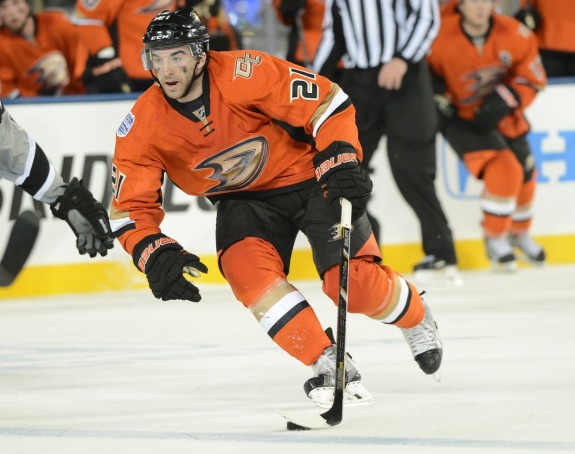 "He's a real strong player. He's a goal scorer. He has an excellent shot. I think when you look at our team, and just discussing things with Ray, he really fits the profile of the type of player that we want to have," said Hynes with a half-grin on his face. "He's younger, he does have some NHL experience, he has a lot of upside; but for us it was important to found some guys on the right side (wing) that have skill; Kyle's a goal scorer, you look at how he plays — he's a sniper. The thing I like about him too is he's strong on the puck and he's a real character type of guy. That's the profile of the type of player that we want to have."
Anaheim's GM admitted he needed to move Palmieri (who will be an RFA in the summer of 2016) because "he thinks he'll score 20 goals next season and won't be able to sign him if he does." Meaning he is trying to free up money to re-sign Ryan Kesler who will be due for a new contract next summer. From here it's a great move for New Jersey, and a great first move for Shero in trying to rebuild what was once a dominant franchise.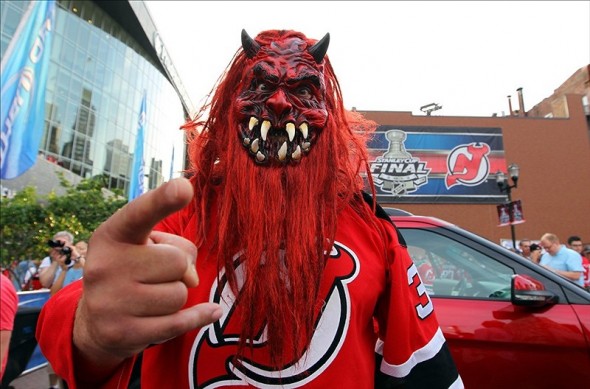 But Devils fans need to be a bit patient, as instant success wont come overnight. Sure there are great success stories of coaches inexperienced at the NHL level coming in and doing a stellar job in year one (see: Jon Cooper, Tampa; Patrick Roy, Colorado), but Hynes will need some time to implement his system, earn the players respect and trust and Shero needs to replace some aging vets with players that fit the new mantra (fast, attack, support) who won't be around two and three years down the road (Dainius Zubrus, Patrik Elias, Tuomo Ruutu). Remember….patience.
The Hockey Writers will have plenty more on the new era of New Jersey Devils hockey next month with exclusive content from their rookie/development camp.
Dan Rice can be reached via Twitter: @DRdiabloTHW or via Email: drdiablo321@yahoo.com
Dan Rice is in his 9th year of reporting for THW & has covered NJ Devils home games for 15+ years at various websites. He began his journey working for legendary broadcaster/writer Stan Fischler from 2002-04 & completed an internship at the ECHL; he also has been writing features for the NWHL (nwhl.zone) website since 2016.