Holding the number three pick in the recent NHL draft, Arizona Coyotes' general manager Don Maloney knew exactly what he wanted to do.
No matter the pressure, no matter the temptation, Maloney was holding on that pick for two essential reasons.
No trade, period.
Believing teams win with strong personnel down the middle, Maloney felt Dylan Strome represented that strength the Coyotes so desperately sought. Plus, Maloney told reporters during the draft, Strome embodies a significant part of the Coyotes' future, and there was no concession.
While Maloney indicated he entertained trade possibilities from many suitors, all were dismissed for that single reason. Maloney's core approach to the draft was building for the future, and he would not comprise on any scenario.
"This is not a short-term process," he said. "It's a balance of building for the future. Look, no one was happy about last season, and we could have made a trade which brought some very skilled players here. None was a center, and we felt that by selecting Strome, we have a strong center for the future. A skilled center is very difficult to find."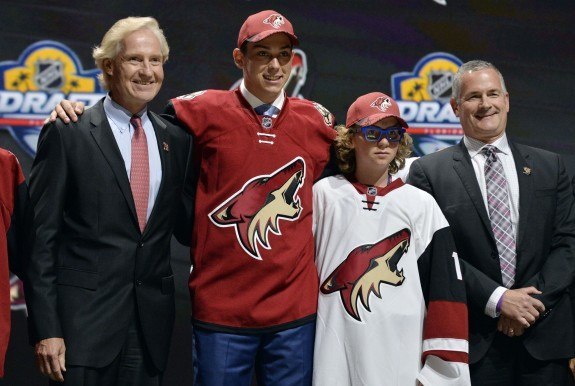 If Maloney sought to address the need for a productive center, the issue of scoring, or lack thereof, was also on his mind.
Last season, the Coyotes finished with the second-fewest goals scored, and lack of scoring remains an important concern. In addition to Strome, the Coyotes also held another, first round pick. That selection, at number 30, was acquired from the Blackhawks just before the trading deadline last March for center Antoine Vermette.
Here, Maloney used to pick to select Nick Merkley, a gritty, "chip on his shoulder" right wing. In 72 games for Kelowna in the Western Hockey League, the 5-10, 190 pound forward scored 20 goals, assisted on 50 others for 70 points. Merkley finished sixth in scoring in the WHL last season.
If Maloney was satisfied he addressed the issues of no short-term solution and acquiring a strong center at the draft, there was a bonus.
help on the blue line
At the conclusion of player selection, Maloney picked by defenseman Nicklas Grossmann from the Flyers in exchange for center Sam Gagne.
There was no question the Coyotes were unhappy with Gagne's point production.
Arriving in the desert as a result of a trade with Tampa Bay, Gagne all but disappeared for most of the season. In 81 games, and benched for one contest, he scored 15 goals, picked up 26 assists for 41 points, but also recorded a minus 28.
Maloney attempted to trade Gagne as early as a few days before the draft, and if unsuccessful, the Coyotes entertained the reality of buying out his contract.
As the deal was finalized, Gagne will make $5 million this coming season, and when the trade was made from Tampa, the Lightning retained one-third of his salary. Gagne will be an unrestricted free agent after the coming 2015-16 season.
There is also speculation the Flyers will buy out the remaining year of Gagne's contract.
With defenseman Andrew Campbell, John Moore, Brandon Gromley, Klas Dahlbeck and Connor Murphy beginning their NHL careers, Maloney's acquisition of Grossmann makes total sense.
Originally drafted by the Dallas Stars on the second round (54th overall) in 2004, Grossmann, who will be 31 next January, brings stability and strong penalty-killing ability to the blue line. More importantly, he recorded a plus eight last season, and has a plus 11 for his NHL career.
No Arizona player finished with plus-rating last season.
Last season, the native of Stockholm, Sweden, averaged 17 minutes, 39 seconds for the Flyers per game, and coach Dave Tippett, who coached Grossmann for three seasons in Dallas, is expected to give veteran blue-liner more ice time, especially killing penalties.
"We have to be better in from of (goalie) Mike Smith," Maloney said. "Grossmann is a nice fit for us."
In addition to Grossmann, the Coyotes also take on part of the financial obligation to Chris Pronger, still under contract to the Flyers.
Though Pronger will not play again, he has two years left on his contract and is owed $575,000 for each of the next two years. Pronger also carries a cap ceiling of $4.941 million for each of the next two years, and that's according to generalfanager.com.
In the case of Grossman, the defenseman will make $3.5 million this coming season, and the Flyers will pay $500,000 of that obligation. Also, Grossmann is a free agent after this coming season.
Because the Flyers retain a commitment to Grossmann, the Coyotes' obligation to Pronger will be half of the money owed. In effect, this is a gesture by the Coyotes to help the Flyers lower their salary cap by $4.5 million.
Overall, the Coyotes had a very good weekend.
Though it's likely Strome will spend next season back in juniors, Maloney is confident the selections made during the draft position the Coyotes, in the long-term, for eventual mobility through the Pacific Division and Western Conference.
"It takes anywhere from two to three years for a player to make an impact in this league," Maloney said. "We like the selection of Strome, and finally something good happened to us."
While waiting for Strome to develop, Maloney, Tippett and other Arizona decision-makers hope younger players like Max Domi, Christian Dvorak, Brendan Pelini and Anthony Duclair can be productive this season, and help ease the transition back to NHL respectability.
Follow Mark Brown on twitter @journalist193
Mark Brown is a former sports editor for daily newspapers in the Philadelphia and Cincinnati markets. He was named Best Sports Columnist, honorable mention 2004 by the Associated Press Society of Ohio. He is a contributor to major daily newspapers, including the Chicago Sun Times, Philadelphia Inquirer, Honolulu Star-Bulletin, Milwaukee Journal, Arizona Republic, Nashville Tennessean and the Associated Press. He was a Featured Columnist for bleacherreport.com and covered the Arizona Coyotes.