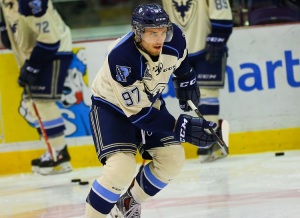 Fitting For the Future
The San Jose Sharks might not have hit a home run with their first round pick Timo Meier, but buoyed by a widely applauded second round choice in Jeremy Roy, the Sharks' 2015 draft class makes a lot of sense for their future needs.
Before the draft yours truly wrote that an ideal seven player draft would see the Sharks take two goaltenders, three defensemen and two forwards. San Jose basically did exactly that except for the fact they made two extra selections, taking two more forwards. Two goaltenders, three defensemen and four forwards makes a lot of sense. Over half of their nine picks being non-forwards is a smart dispersion of selections since their current prospect pool is strong up front. Defensive prospects are slightly weaker overall and goaltending prospects were basically non-existent.
After taking just one goaltender (Fredrik Bergvik, 4th round 2013), in the previous six drafts, selecting multiple goaltenders was expected. With NHL goaltending being more or less a crapshoot outside the top five or six elite goaltenders, building that position through the draft is much wiser than spending big money in free agency or assets through the trade market. These goalies won't be NHL ready for at least five years but continually adding a goalie prospect each draft should be the Sharks norm in coming years. Going six years drafting just one was extremely puzzling.
Big Goalies Trending
Taking goaltenders Mike Robinson and John Kupsky in the third and seventh rounds respectively is smart. Investing mid-to-low round picks is more sensible than putting goaltending eggs into one basket with a high round selection. Most NHL goalies come from later on in the draft, and skaters are easier to project to prominent success. Goaltenders rarely get selected in the first round.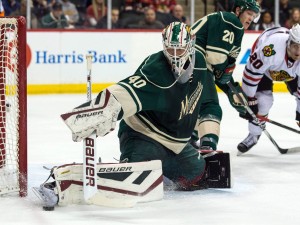 While yours truly has never seen these two young goalies play, the interesting point of note is that they are both on the tall end. Robinson is listed at just under 6-foot-three and Kupsky is listed at 6-foot-five. Recently retired long time Sharks netminder Evgeni Nabokov is six-foot, Antti Niemi is 6-foot-two but plays small and Alex Stalock is only 5-foot-eleven. The Sharks have not drafted taller goalies over the years but the league is starting to trend in that direction. Nashville's Pekka Rinne is 6-foot-five, Tampa Bay's Ben Bishop is 6-foot-seven, and Minnesota's Devan Dubnyk is 6-foot-six.
Thornton Replacement?
Taking multiple goalies, both on the taller end with one being extremely tall makes sense given the league trend in this direction and team needs. Taking a right-handed puck mover high in the draft also makes a lot of sense given the other top defense prospect is the left-handed Mirco Mueller. The only disappointment in terms of positional needs is that San Jose didn't land a top flight center prospect.
Joe Thornton still drives the Sharks' ship as a top-10 NHL center and at 36-years-old in the upcoming season, he won't be around much longer. San Jose can look to find his replacement in later drafts but Team Teal doesn't draft in the top-10 of the first round very often. That is the primary reason why many aren't overly pleased with the Meier selection. With all the top defenseman having already been taken, many hoped a center would be the ninth overall choice. Of the four forwards the Sharks selected, only seventh rounder Marcus Vela is listed as a center. Perhaps he becomes the next Joe Pavelski (also a seventh round pick back in 2003) but extremely unlikely.
Andrew has been credentialed to cover the Sharks since 2010 and the 49ers since 2012. He graduated with his BA in Broadcast Electronic Communication Arts in 2013 from San Francisco State University.