Remember 2007, at the World Junior, when Jonathan Toews scored what seemed like ten shootout goals against American goaltender Jeff Frazee in the Semifinal, leading Team Canada to the finals against Sweden and the eventual Gold Medal? I do too. But with Canada's WJC roster having ZERO NCAA College Hockey Players for a 3rd consecutive year, amazing performances from Canadian College Hockey players at the WJC are apparently a thing of the past. Why?
Canada, No Need to Cross the Border
Canada named its final roster earlier today, and agin there are no College Hockey players. That is nothing new for the Red and White, having not had a NCAA product on a WJC roster since Jaden Schwartz, Colorado College, captained the team in 2012. Not only did no College players make the roster, there were no College players even on the radar.
At Canada's 2014 summer evaluation camp for the WJC, 40 players were invited, and all them played Major Junior in Canada.
We're about 8 years removed from the showdown between North Dakota's Jonathan Toews and Minnesota's Jeff Frazee in the Semifinal of the 2007 WJC shootout-to-remember. Since that epic World Junior, Canada has only had four NCAA players on the roster from 2008-2012, Kyle Turris, Cody Goloubef, Dylan Olsen, and Jaden Schwartz. Since Jaden Schwartz captained the 2012 team to a Bronze medal, Canada has been College player-less.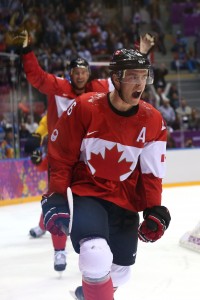 No Token College Player?
So what happened the token College Hockey player on the Canadian World Junior team?
We are in no way debating the NCAA route as opposed to the CHL route, that drum has been beaten to a pulp and will continue to be beaten for as long as the two options remain. No, everyone is well aware of young players having the option to sign with agents at the age of 14 and 15, and if they go to Major Junior they can have an agent during the early part of the career to hopefully help guide them, while if they go the NCAA route they can not. So it makes plenty of sense why young Canadian players choose the CHL route early on if they hope for a career in the NHL one day. But there are still hundreds of young Canadians who play in the NCAA.
At the beginning of the 2013-2014 NHL season, there were over 300 players who played College hockey playing in the NHL. Making up over 30% of the league. Of those 300 or so players, over 100 of them are Canadian.
College Hockey's competition and popularity has been steadily increasing in the States over the last decade, and is starting to catch on more in Canada as well with games being shown on TSN this season. And with that, the number of NHL players with College-ties have increased as well. Recruiting young Canadian players will always be a challenge for College coaches, being that they can not legally contact a player until his senior year of high school, unless the player contacts them first. While the CHL has the ability to draft these kids during their Freshman and sophomore years of high school, and contact them even before that.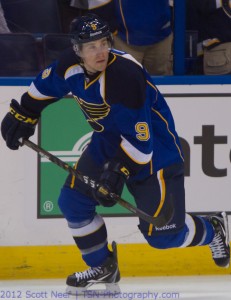 College Hockey in the WJC. The Numbers
There are currently 27 players on Team USA's preliminary roster for the 2015 WJC, seven currently play in the CHL, and 20 either are currently playing College Hockey, or are committed to play College Hockey. Three other Countries have NCAA players on their primary roster heading into next week, Sweden, Finland, and Germany, totaling seven more current and future NCAA players.
Heading South
Out of the hundreds of Canadians playing in the NCAA, yes, most of them are older than the age requirements for Junior Hockey competition. It does not look like Canada is missing any "of-age" big-time players tearing up College Hockey, that they just didn't select to their team. Canada's team is top-notch and is made up of the best Junior aged players the country has to offer. With NCAA hockey primarily being made up of 18-24 year olds, and Major Junior being made up of 16-20 year olds, it seems like Canada's World Junior team would greatly benefit from having some of their best young talent playing in a "Men's League" like the NCAA.
Couldn't hurt right? Canada's Gold Medal drought has spanned longer than ever before, and one can't help but notice that a lot of those successful teams benefitted greatly from having a few Canadians who play their hockey south of the border.
Every year I go into the WJC with the same wishes; I hope the hockey is great, and I hope to see an All-North American Final. The past handful of years I have got to see some terrific hockey, but I can't get my second wish unless both the US and Canadian players are at their best. And in my opinion, the College Hockey competition better prepares these young men for the rigors of a long and physical tournament like the WJC. That may not be the case, and I'm sure that a number of my friends up north would strongly disagree with me. But look at these three facts:
1. Canada hasn't won a medal since they had at least one NCAA player on their roster, back in 2012.
2.USA has had two Gold Medals in the last five years being made up primarily of NCAA players.
3. Sweden and Finland have NCAA players on their preliminary roster, and have combined for 4 medals in the last 3 years.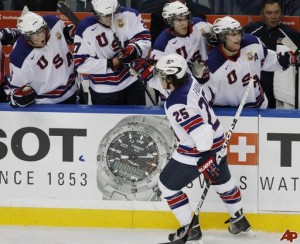 Final Thoughts
The young Canadian players are no doubt talented and are some of the best players in the world, and the majority of them will have successful careers in the NHL or pro hockey some day, NHL scouts don't just draft players in the 1st round just because they are from Canada. These kids can play, and will 100% be one of the favorites in 2015. But if I'm building a team for a tournament such as the World Junior, I want as many players as possible who play against fully developed men on a nightly basis, like the NCAA players do. I may be wrong, but the NCAA in recent years has readied their players for the NHL, and is comparable to any junior or amateur league in the World in this regard. And that is because of the level of competition. If I'm a young Canadian hockey player with options, I am strongly considering heading down south for a few years to develop. And that just may be what the Canadians need to start another "Drive-for-Five" Gold Medals at the WJC.
Bill is a 2012 Graduate of Franklin Pierce University, where he played D3 NCAA Ice-Hockey. He covers Atlantic Hockey and D3 for the USCHO. He covers College hockey for THW.