Who would have thought that a made-up team designed to even out the groups and manufacture intrigue in the World Cup of Hockey would capture everyone's hearts the way that it has? Team North America, with their wide-eyed optimism, blazing speed, and youthful abandon, quickly became the story of the tournament and no one wanted it to end. On Thursday afternoon, hockey fans collectively became Team Finland fans, as a Finnish victory would secure North American's inclusion in the semi-finals, and a date with Team Canada. But in life, as in sports (except for soccer, that is), things rarely go according to the script.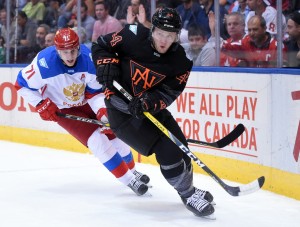 Canada vs. North America Would Have Been Something
Since their first game in the pre-tournament, the young North American squad was a sight to behold. So much talent, so much speed. Exactly how the game in today's NHL looks at its best. No one really knew what to expect from these kids, though. Like how they would respond to adversity, and how their defence would hold up. One bad period against Team Russia (thanks to an injury to Matt Murray) ultimately spelled their demise. (Losing top defenceman Aaron Ekblad to a cheap shot didn't help either).
As a result, North America had to await the result of the Russia/Finland game to decide their fate. Finland, who hadn't won a game yet, didn't put up much of fight against the Russians, much to dismay to hockey fans who aren't from Russia. Will the epic battle between Sweden and North America be the last we see of them? Considering how much excitement they generated, I'm thinking no. (Though they may have to do it without captain Connor McDavid.)
Even though he would still be under 24 in 4 yrs, Connor McDavid says his preference would be to play for Team Canada next time. Makes sense

— Pierre LeBrun (@Real_ESPNLeBrun) September 22, 2016

The prospect of the young guns and their dazzling talents up against the methodical, experienced Canadians made hockey fans drool. There is a lot of collective disappointment from the hockey world that we won't be able to see it. In a one-game, winner-take-all, could you imagine the North Americans coming out victorious? It wouldn't have been impossible. Canada hasn't been perfect in this tournament, and I wonder how their defence would have fared against those young legs. The North Americans would no doubt open things up from the get-go, forcing the Canadians to engage in a track meet.
Canada/Russia is a quality consolation prize. The hockey will be good, but the fun factor just took a big hit with NA soon sent packing.

— Darren Dreger (@DarrenDreger) September 22, 2016
Amazing how a Canada vs. Russia matchup is being viewed as a letdown to so many. That's what Team North America did in this tournament.

— Dan Rosen (@drosennhl) September 22, 2016

Canada has the forwards to keep up with that speed, and they have the ability to shut down the neutral zone if need be. I wonder if Team Canada was secretly cheering for Russia because the thought of Carey Price getting undressed by Nathan MacKinnon wasn't something they'd like to have seen. Having said that, Canada wouldn't verbalize who they'd rather play because you always have to be careful what you wish for. Russia is a dangerous team. And now that the North American dream is dead, it's time focus on the big red machine.
Russia Will Give Canada All They Can Handle
The Russians controlled their own fate in this tournament, and they took care of business. It feels as though they're just beginning to hit their stride, and that forward group contains a boatload of firepower. But it's not only guys like Alex Ovechkin, Artemi Panarin, and Vladimir Tarasenko that Canada has to worry about. Sergei Bobrovsky is having a fantastic tournament and is more than capable of stealing a game. Although Russia's blueline is seen as their weakness, goalie Bob is a formidable last line of defence.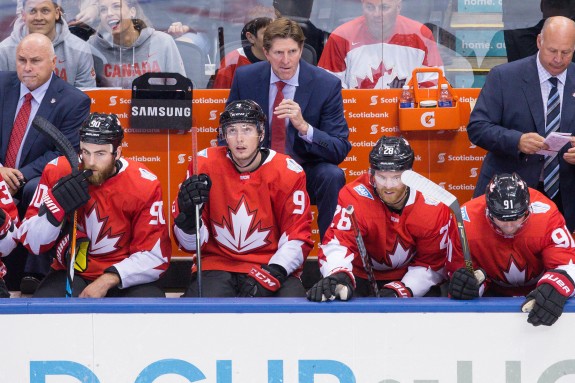 Team Canada will have their hands full with Bobrovsky, who is on top of his game and looking as good as any goalie in the NHL. That said, Jaroslav Halak looked unstoppable for Europe and the Canadians were able to put four past him in their round robin game. The key for Russia will be confidence. If they score first, or if Bobrovsky makes a huge save in the early going, they can really carry that momentum and settle into the game.
Russia's forwards have plenty of speed in their arsenal, but they certainly didn't deploy that against Finland. They can play with an explosive style, but they don't. The question for them is whether or not they'll have to adapt their style against Canada and whether or not they're going to. Russia still plays with an old school system, a philosophy that hasn't worked particularly well in recent International competition. Canada may force them to have to open up, and they'll put a lot of pressure on Russia's defence.
Canada will likely be labeled as the favorite in this contest, but a win isn't a given by any means. Canada has had its sloppy moments in this tournaments. They haven't played as sound defensively as Mike Babcock would like. If you give Russia too many chances, they're going to bury you. Canada absolutely has to pay attention to detail and fix up the loose ends in their game. A few mistakes and their tournament will be over. In order for Canada to win, Carey Price has to out-duel Bobrovsky, and they can't get into penalty trouble. Canada is the better overall team, but in a one-game showdown, anything can happen. Will this be a classic Russia/Canada match-up? Stay tuned.
---
The Hockey Writers coverage of the World Cup of Hockey 2016 is being brought to you by PrimeSport, the official Fan Travel & Hospitality Package Partner of the World Cup of Hockey 2016.