For the first time in two decades Patrik Elias is not a part of the New Jersey Devils training camp – at least not yet, but with their last link to any of the franchise's championships nearing the end, the team is preparing for what could be an exciting season with a few questions to be answered when they step on the ice for the first time on September 23.
Gone are Adam Larsson, Jordin Tootoo, Bobby Farnham, Stephen Gionta, Jiri Tlusty, Stefan Matteau, Lee Stempniak and Tyler Kennedy from last year's roster. Doesn't seem like a lot on the surface, but that's nine players.
New Faces in New Jersey Jerseys
New faces are abounding with Taylor Hall, Beau Bennett, Ben Lovejoy and Vernon Fiddler joining New Jersey this summer, and Devante Smith-Pelly will be a part of his first camp with the team after being acquired at the trade deadline. Where will they all fit in? Everyone has assumed all summer that Hall would ride shotgun with Adam Henrique on the team's top line, but who fills the right-wing slot?
http://gty.im/516743186
Mike Cammalleri, who was the team's leading point producer at the time of his season-ending hand injury? Smith-Pelly is another option, as even though it was a small sample-size he fit into coach John Hynes' system immediately and was one of their most consistent scorers over the season's final months. Bennett is listed as a right-winger, and is a former first round pick (Pittsburgh), would he get a look?
While we're at it, who will play alongside (again what we all expect at least from the start) leading scorer Kyle Palmieri and Travis Zajac on the second line? Could they keep 2015 first rounder Pavel Zacha and if they do where does he slot in? Will he play center or wing? All indications are with the construction of the roster, that Zacha is here to stay in New Jersey and that he'd have nothing to gain by going back to Sarnia in the OHL for another season.
Among the forwards we can assuredly say that Hall, Henrique, Cammalleri, Palmieri, Zajac, Smith-Pelly, Bennett, and Fiddler are pretty much locks to make it; we'll even add Zacha to that group for the reasons mentioned above. That's currently the Devils' top-nine forwards.
.@BeauBennett19 signs his autograph and new #8! pic.twitter.com/l0vyog4Gwz

— New Jersey Devils (@NJDevils) September 22, 2016
Bottom Battle
That means there is a battle for the final 4-5 spots – the fourth line and 1-2 spares – between Sergey Kalinin, Joe Blandisi, Jacob Josefson, Reid Boucher, Luke Gazdic, Miles Wood and possibly John Quenneville. For the last two names mentioned, would it make more sense to have them play sparingly in New Jersey or possibly receive top-line minutes with the AHL-affiliate Albany Devils?
When we spoke with Wood following Development Camp in July, he wanted no part of Albany, but that may be a reality soon. "My goal is to make this team. It's been a dream of mine since I was a kid; my goal is not to play in the minor leagues," he told The Hockey Writers. "I'm a very competitive kid and I'm going to do whatever it takes to make this team."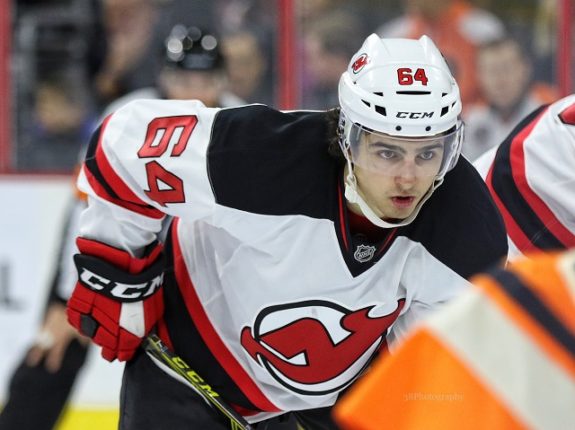 Best guess is that Josefson, Kalinin, Blandisi, and Boucher are the final four – but that all depends on who performs well in camp. There will certainly be some competitions among all the forwards and that is exactly what management is constantly looking for throughout the organization since the new regime took over.
All of those forwards we named and not one was the leading goal, assist and point producer in franchise history…not sure that an older, compromised version of no. 26 is a legitimate option. At this point in time. Things can change quickly though in the NHL as we all know.
Defense Reboot
New Jersey's defense lost a major piece when they shipped Adam Larsson to Edmonton for Hall, and one of the many reasons the club felt okay sacrificing him in the trade has to be belief in the progression of Damon Severson and Steven Santini who both are expected to be part of the defense corps for a while. Alongside veterans John Moore, Lovejoy and captain Andy Greene they will try to protect the crease as well as chipping in with the occasional goal or assist.
But let's not kid ourselves: there are no major point-producers back there like PK Subban or Kris Letang. That's probably the one piece that GM Ray Shero is still trying to add with Anaheim's Cam Fowler and St. Louis' Kevin Shattenkirk as the most-talked-about options. But at what cost?
For now, the final two defense spots will likely be occupied by Jon Merrill and Seth Helgeson, with a push coming from a few European imports – Yohann Auvitu, Vojtech Mozik – and Brandon Gormley who was signed late in the summer and likely starts in Albany.
Jon Merrill debuting new flow for 2016-17! pic.twitter.com/07f2l9rl5v

— New Jersey Devils (@NJDevils) September 22, 2016
Backup to the Backup
In goal, the questions are fewer, but there are still some. Obviously, Cory Schneider is the number one goalie. Who's number two? Keith Kinkaid or Scott Wedgewood? Whoever isn't number two is likely number three (I like simple math), so who is number four? Ken Appleby or Mackenzie Blackwood? Also added to the mix is now Anders Lindback, who was added on the eve of camp on a PTO.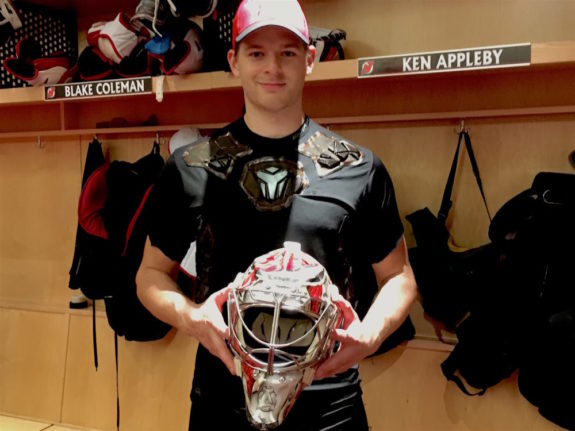 Does his appearance mean a trade is imminent? Is he here solely to scare the other goalies not named Schneider who have only a handful of NHL experience? Either way, a little competition is always good and as we stated earlier this is an organizational philosophy.
The games start for real on October 13 when New Jersey opens the season in Sunrise, Florida against the Panthers. So in less than a month we will likely get the answer to all these questions and possibly more. Who said preseason hockey isn't fun??