Jonathan Drouin's tenure with the Montreal Canadiens has had ups and downs, but mostly downs. These downs were not necessarily due to anything in Drouin's control. Having dealt with a long list of injuries, all of which have either halted or considerably slowed his progression and always happening at a time when he seemed to finally find his game and become productive.
Related: Canadiens' Denis Gurianov Finding His Game and a Home
Another issue is the expectations placed upon him. Being acquired in a deal with the Tampa Bay Lightning in return for then-top Habs prospect Mikhail Sergachev, former general manager (GM) Marc Bergevin had made comments about finding the next local star player, putting the pressure on Drouin to produce immediately, and when he didn't, that caused significant issues in the fan base. After six seasons in Montreal, there is a long list of issues. While individually none would likely mean the end of the marriage, however, the sheer amount of issues over the tenure will lead to a divorce with the Canadiens.
Canadiens and Drouin: Past Problems
Part of the problem was the expectations placed on Drouin by former GM Bergevin. Another part is the fact that Mikhail Sergachev has become a quality top-four puck-moving left-handed defenceman for Tampa Bay, something the Canadiens have been in dire need of. It's almost as if a segment of the fans blame Drouin for the former GM's decision to trade for him.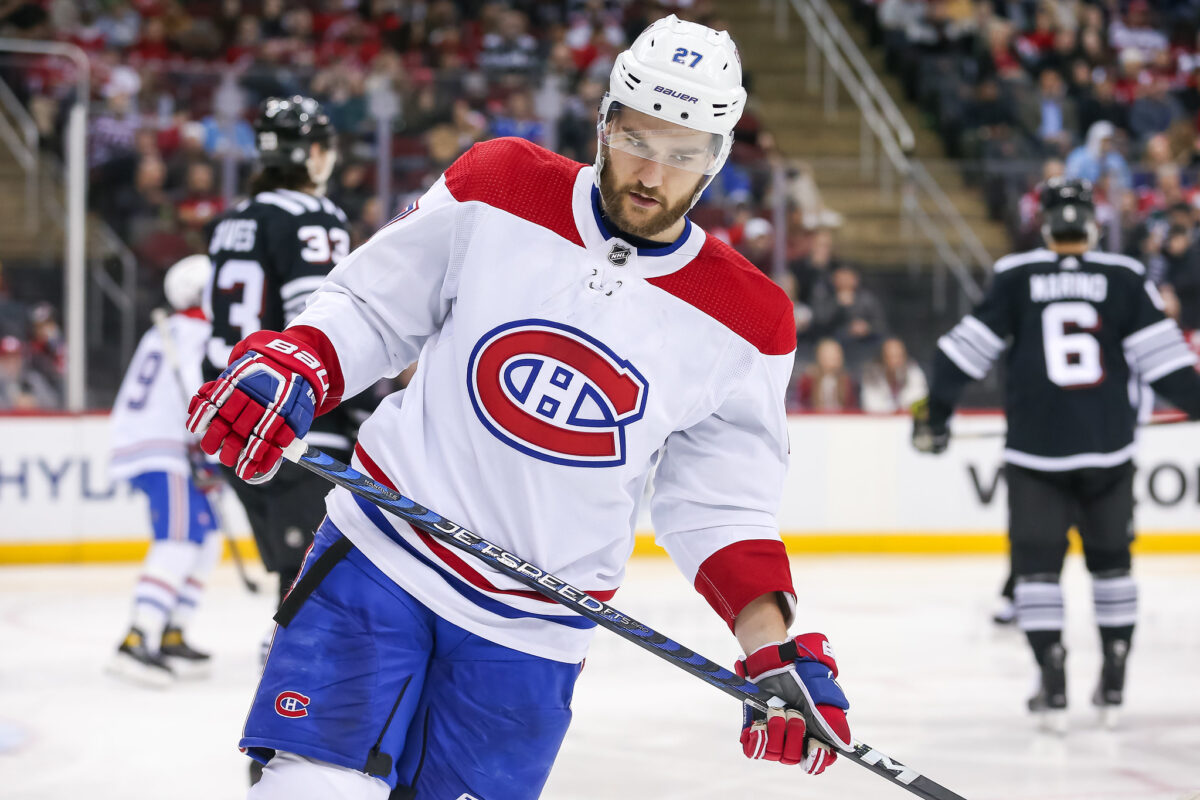 This atmosphere has bred contempt for the left-winger, and this pervasive anger seen in print and social media was at the core of his need to take personal leave and miss the entire 2021 Stanley Cup Playoffs. Even if it weren't, the pressure on local francophones who play for the Canadiens is ever-present.
The largest problem for Drouin in a Habs sweater has been his long list of injuries, the most recent being another wrist injury. Despite that, he's been one of the Habs' most consistent offensive contributors, on pace for 33 points in 53 games played. At that pace, he would have produced 47 points over a complete 82-game season, which is near his career's highest production pace.
Canadiens and Drouin: Current Problems
Despite his production and the best efforts of current GM Kent Hughes to trade Drouin at the recent trade deadline, his play did not get any interest from any playoff-bound teams, thus leaving Drouin to play out the season, hoping to prove he deserves another NHL job next season. While injuries aren't in his control, his work ethic and professionalism are, and a recent incident caused him to sabotage his efforts.
---
Latest News & Highlights
---
With the Canadiens going through a difficult season based on a rebuild where they are giving so many young players opportunities to develop, it is key for management and coaching staff to set a standard and build a culture of accountability that they want to be followed. Part of that is setting personal accountability for adhering to the team schedule, especially for meetings following a bad performance. So when Drouin missed the start of the video session meeting to break down the problems head coach Marty St. Louis identified in that game, it was important to make an example of Drouin, even if he was only two minutes late. 
"Marty was pretty upset that he was late. They were rushing out to go to practice and Jo (Drouin) came up and the two of us met. We talked through it, and Marty called back after practice and said, "Listen, this is what I decided to do." Jo was great about it. I have to give him full marks. He understood that this wasn't just an issue about Jo Drouin; it was an issue, as you said, about our culture and expectation, not just for all the players in the locker room … but also for the players in Laval and the young prospects to understand that there's certain standards that we expect here."

– Kent Hughes (The Athletic, LeBrun: How the Canadiens are approaching the Bedard lottery, Caufield contract and more, with Kent Hughes, 22 March 2023)
Drouin's response in words and deeds following his benching in Tampa Bay was important not only for this season but also for the impression that he is ready to become responsible for himself. He was matter-of-fact about his actions that led to his benching and then spent time on the ice after practice to work on his game. He then sat on the bench for the entire game without complaints.
Doing all of this put the brakes on any rumors that could have caused harm to the reputation of the team or himself. Returning to play the next game and performing well, as Drouin did, helps as well as he is playing to prove he deserves an NHL contract for the 2023-24 season.
This leads to the next season. Teams such as the Arizona Coyotes, Columbus Blue Jackets, and Anaheim Ducks (among a few other clubs) could have an opening for Drouin to fill a middle-six forward role, which includes time on the power play. If he is willing to sign a one-year deal for $1 million or less, it will provide them an incentive to give him a chance and an option to trade him to a contender where he can further prove himself worthy of a long-term NHL deal somewhere.
Even though Drouin doesn't seem to fit with the long-term plans of a team in rebuild mode, there has been speculation among the fanbase that the Canadiens could re-sign him. But after six seasons in Montreal, there's been far too many issues, be it injuries, poor play, or personal problems, to allow for both sides, player, and team, to reconcile. This will all lead to an amicable divorce from Montreal.
---
---