The Montreal Canadiens received favourable news about an important member of the roster on Wednesday afternoon.
Forward Paul Byron was listed as day-to-day with a shoulder injury prior to the team's practice in Raleigh. The Canadiens face-off against the Carolina Hurricanes on Thursday and head coach Claude Julien did not rule out the possibility of Byron suiting up.
"He's here and he's banged up as you well know, but I'm not going to write him off for tomorrow," said Julien following practice on Wednesday. "We'll have to re-evaluate him tomorrow. There's always that possibility [of Byron playing], but we'll see how he handles tomorrow."
Byron was injured late in Tuesday's game against the St. Louis Blues when he was pushed into the boards by Colton Parayko. Byron skated off the ice in visible discomfort and did not return for the remaining 2:34 of the game. The Blues' defenceman received a major penalty for the hit and the Canadiens scored on the ensuing five-minute power play.
Through 50 games, Montreal has lost the second highest number of players to injury in the NHL, with key members of the team including Shea Weber, Andrew Shaw and Phillip Danault already sidelined. The Habs were therefore fortunate to receive a pleasant diagnosis in Byron's case since a significant injury would have hurt more than the team's depth.
"It's annoying playing against him because of his speed," said Jonathan Drouin. "He's always the first man on the puck, and something always tends to happen when he's around the play.
Versatility in the Habs Lineup
Byron's speed makes him a highly-versatile player. With Shaw and Danault injured, along with Drouin's inconsistent play at centre, Julien has been required to use Byron down the middle on several occasions. Playing at centre in five of the past seven games, he's won over 50 percent of his draws in three games and 43 percent of his faceoffs were positioned in the neutral or defensive zones.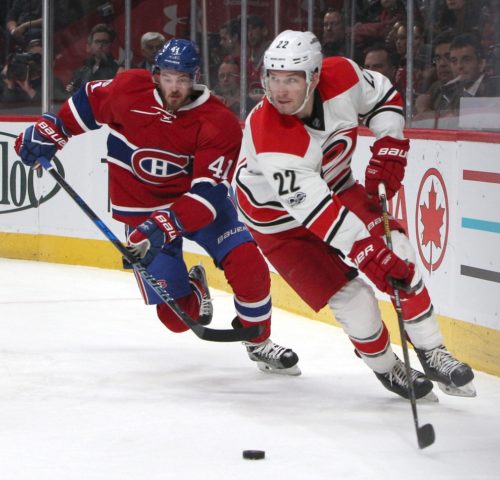 "It's a position that's very difficult," said Byron. "I've played against some really good centreman like [David] Krejci, [Patrice] Bergeron, [Matthew] Barzal, and [Nicklas] Backstrom, so it's difficult and you have to always be ready. If I'm patient with my speed, I can use it a lot because there's a lot of ice to skate."
Byron's adaptability has not gone unnoticed by his coach.
"He's been decent on faceoffs for quite a while," said Julien. "He's played centre and being able to take some draws and help out in that areas, it's been okay."
Byron's Scoring Success
With 13 goals this season, the 28-year-old is third on the Canadiens in goals behind only Brendan Gallagher (18) and Max Pacioretty (16) and is on pace to score at least 20 goals for a second consecutive season. Byron also ranks first on the team in shooting percentage (18.1%), second in even-strength goals (12), fifth in points (23) and seventh in scoring chances for (290).
"He's been really good," said Pacioretty, Byron's linemate. "For the most part, he's been down low, and he's done a great job at it. He skates terrific. I like the way our line (with Charles Hudon) has been going. We've played some good games, and hopefully, we can keep going like that."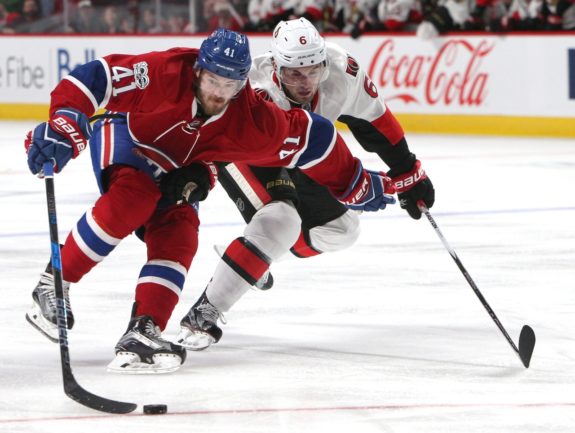 Byron's contract status cannot go unnoticed, either. With an annual cap hit of $1,116,667 million, he is first in goals and second in points among NHL players with a cap hit between $1 million and $1.75 million. Players earning more than Byron this season include Derek Ryan, Ryan Reaves, and former-Canadiens centre Torrey Mitchell.
It's easy to appreciate Byron's value to the Canadiens and how fortunate they are that his shoulder injury is not significant. The 2017-18 season has not gone the way most had planned it would, but Byron is focused on the present and doing whatever he can to keep getting better.
"We know each passing game we don't win, you fall further and further behind," said Byron. "Every game is pretty important for us. We've just got to win hockey games."
I cover the Montreal Canadiens and Laval Rocket for The Hockey Writers. I am currently a student at the University of Concordia studying journalism in the hopes of one day becoming a full-time sports reporter. I have previously covered the Indianapolis Colts of the National Football League for Pro Football Spot.