The Montreal Canadiens are in rebuild mode, but already have many key future components in place. Just look at all of the young defensemen like Kaiden Guhle, Jordan Harris, Justin Barron, Arber Xhekaj and Jonathan Kovacevic, who are already playing well at the NHL level. Add in prospects Lane Hutson and Logan Mailloux over the next year or two, and the team has the makings of an incredibly deep blue line.
Related: Canadiens Prospect Report: NCAA Class
They also have a handful of wingers who have the potential to be in the team's top nine soon. Cole Caufield and Josh Anderson are already there, while Juraj Slafkovsky and Sean Farrell should be playing big roles in the near future. Filip Mesar and Joshua Roy look promising and represent the next wave on the wing.
Down the middle of the ice is where things are a little thin. Nick Suzuki and Kirby Dach appear to have cemented big roles for the foreseeable future, but Christian Dvorak has not played well in his time with the Canadiens. A quick look at the team's pipeline reveals there are not many center prospects ready to make the leap to the NHL any time soon. Owen Beck is a possibility, but he hasn't really impressed after a midseason trade to the Peterborough Petes.
Kidney Climbing Canadiens Prospect Rankings
One center prospect who has been shooting up the team's prospect rankings lately is Riley Kidney. The Enfield, Nova Scotia, native was a second-round draft pick of the Canadiens in 2021 after a short, but successful season with the Acadie-Bathurst Titan of the Quebec Major Junior Hockey League (QMJHL). He scored 13 goals and 38 points in 33 regular season games, but stepped it up in the 2021 postseason, piling up 15 assists, and a couple of goals in just nine playoff games.
The incredible playmaking in the playoffs was a small sample size, but Kidney has since proven that it was no fluke. Last season, the Titan acquired Washington Capitals first-round pick Hendrix Lapierre early in the season and Felix Lafrance, who was leading the league in scoring at the time, at the trade deadline. Initially, it was thought this pair of centers would push Kidney down the depth chart a bit, but the Canadiens prospect just continued to play better and pile up points until he earned back his first-line center role.
Kidney finished his 18-year-old Junior campaign with 30 goals and a league-leading 70 assists for 100 points. The Titan had a great team on paper, but it didn't materialize into much in the playoffs. They fell behind 2-0 in the Best-of-5 opening-round series before coming back to win three straight and advance to the second round. Kidney's game-winning goal in triple overtime of Game 4 played a big role in the comeback.
100 points pour Riley Kidney!

🚨 Isaac Belliveau | @penguins
🍎 Riley Kidney | @CanadiensMTL
🍏 Vincent Maisonneuve #goOLgo♠️ pic.twitter.com/mQ9QTIJsO6

— Olympiques de Gatineau (@OlympiquesGAT) March 16, 2023
However, the Titan, who appeared to have a tremendous offense, lost to the Charlottetown Islanders in three straight games in the second round, scoring just a single goal in each contest. The team just never gelled after a few midseason trades brought over skilled players, and their promising season ended with a thud. Though Kidney did score eight points in the team's eight playoff games, more was expected from him and the rest of the squad on what should have been a deeper playoff run.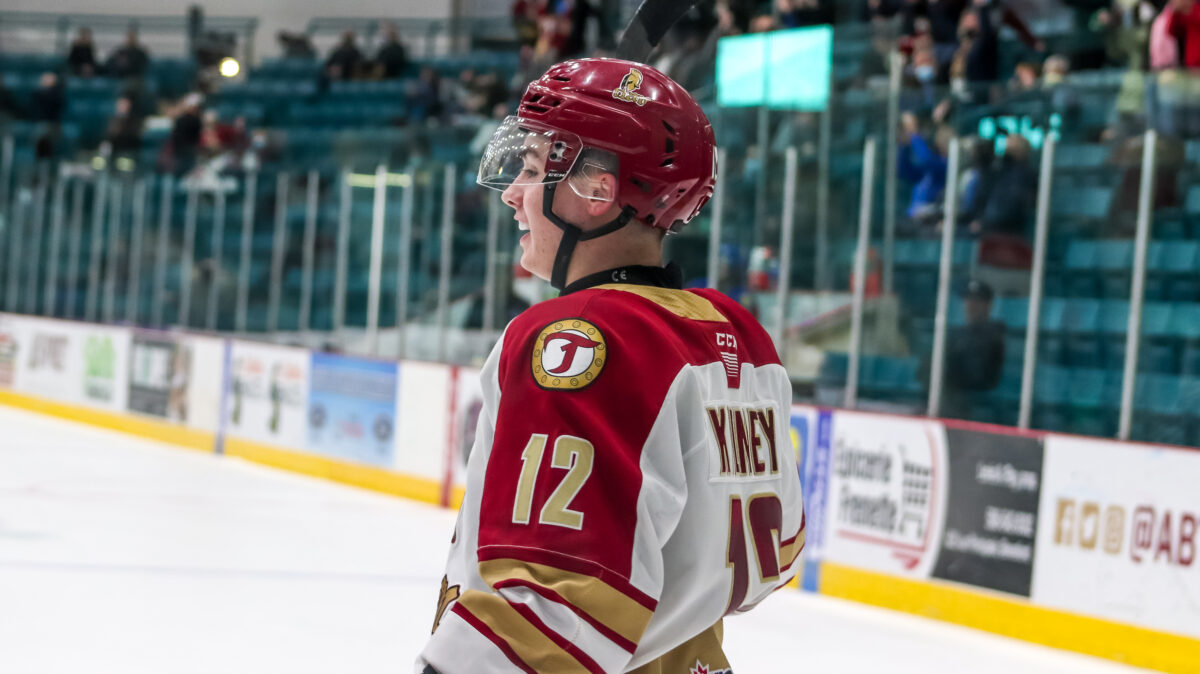 While the 2022 postseason did not go as expected, Kidney did catch the eye of Team Canada, who invited him to their camp for the summer World Juniors. He made the team, though he was a depth piece for them, and played three games to help Canada win a gold medal.
As is the cycle of Junior hockey, the Titan entered this season expecting to be a bottom feeder after going for it last season. Kidney was on a much less talented roster, but still put up 14 goals and 45 points in 31 games to begin the season. He was invited back to Team Canada's World Junior camp for the 2023 tournament which was held in Halifax, Nova Scotia, practically Kidney's backyard.
Kidney Turned World Junior Disappointment Into QMJHL Domination
Unfortunately for the Canadiens' prospect, he was injured at the World Junior camp and left off the roster. It would have been quite the experience for him to play for another gold medal a short drive from where he grew up, but an ill-timed injury robbed him of the opportunity. If he was upset at not having that opportunity, it is quite clear he decided to take it out on the rest of the QMJHL.
---
Latest News & Highlights
---
Following a trade to the Gatineau Olympiques early in the new year, Kidney has been on fire. He was held scoreless in his first game with the Olympiques but has points in each of the 23 games he has played since then. A lot of points. In those 23 games, he has scored 12 goals and 55 points to be exact, which is 2.39 points per game.
That means, combined with the 45 points he had in Bathurst to start the season, Kidney has reached the 100-point plateau for the second consecutive season. This time, he did it in 11 less games and is sure to continue adding points in Gatineau's final five contests. The Olympiques continue to chase down first place in the overall standings and are currently on an incredible 19-game winning streak.
In total, the Olympiques' record since acquiring Kidney is 22-2-0, and it put them a single point ahead of the Sherbrooke Phoenix for first place in the QMJHL's Western Conference. They now sit just three points back of the Quebec Remparts and Halifax Mooseheads for first overall in the league.
Kidney's Game Leads to Team Success
Teams seem to do a lot of winning when Kidney is on their roster. He plays a big role in that with his incredible playmaking, vision and hockey sense. He isn't a huge physical presence at 6-feet and 175 pounds, but he plays a smart, responsible two-way game that limits chances for the opposition and creates plenty of opportunities for his linemates to score.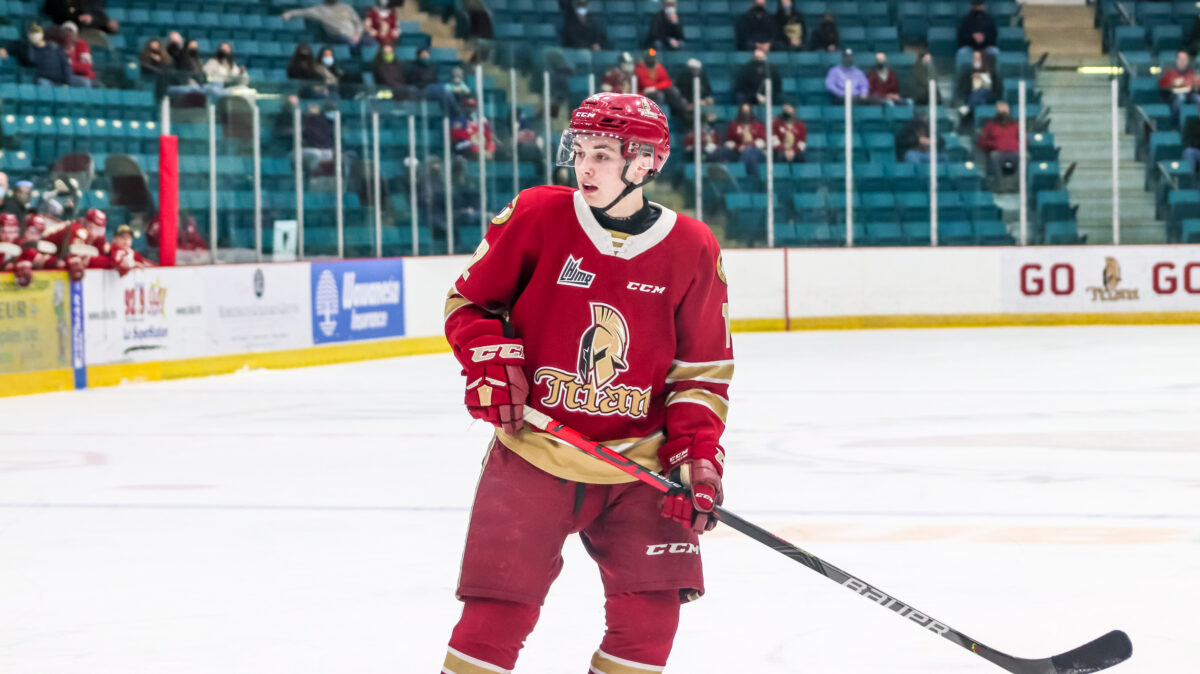 When he was selected, Kidney's ability to find a teammate with a pinpoint pass was not in question. However, his skating and willingness to battle and get into the tough areas of the ice were questioned. While he is still not the fastest skater in Junior hockey, he has taken great strides in this area of his game in the past two seasons and has shown an inclination to cut to the middle of the ice and drive the net like never before.
It has resulted in him being one of the most dangerous offensive players in the league, landing him second in the league in assists and fifth in points. Only Jordan Dumais of the Mooseheads has more points than Kidney since his trade to Gatineau.
Even after his 100-point 2021-22 season, there were questions about whether or not Kidney would be an impact player at the NHL level in the future. Would his game translate well after Junior, or was he a step too slow and too much of a perimeter passer? This season, the Canadiens prospect has shown his game is far more ready for the pro-style than ever before. If he can keep improving his skating and continues to work the middle of the ice when there is an opening, Kidney could very well slot in behind Suzuki and Dach in a couple of seasons and be a valuable two-way centre on the Canadiens' third-line.
---
---