The Montreal Canadiens still have a varied portfolio of prospects playing at different levels across several leagues around the globe. The World Junior Championship (WJC) took the attention of Habs fans thanks in large part to the Canadiens having seven prospects participating in the tournament, including four who earned medals. Because of this, some prospects may have slipped out of view, and because of that, we look to the others that deserve our attention.
Emil Heineman – Left Wing/Right Wing, Leksands IF (SHL) 
Let's start with Emil Heineman, who had a late start to his season due to injury. He arrived at the Canadiens' main training camp and looked very good. Some would say he was ready to play in North America professionally. Unfortunately, he suffered an injury and was unable to play in any games in Habs colors, instead, he is now on loan to Leksands IF of the Swedish Hockey League (SHL). Since arriving there, he has had three goals and five points in 15 games played.
Habs fans should be excited to see him play when he returns next fall for training camp. He is a player that is unafraid of the physicality of the game, adept at using his speed on the forecheck, and enjoys winning puck battles in the corners and playing at the front of the net. The highly competitive 6-foot-2, 194-pound forward already has NHL size and an NHL shot. His strength is his offensive game.
All that being said, his game isn't one built on flashy plays, he uses his smarts and his speed to play an effective and direct offensive game. The knock on him has been his defensive play, but that seems to be less of an issue now. 
"I would actually disagree with that [defense is a weakness]. He is a very coachable player and he does what he's told. I would not say it's a weakness. His upsides and pros are definitely offence because of his shot, and his ability to position himself to shoot the puck. But I'm not saying it's a weakness, maybe it's not a pro."

– Björn Hellqvist (Leksand IF head coach) 
If given a full season back home playing in the SHL, under a coach that Heineman trusts, he could return to Montreal for training camp ready to compete not just to join the American Hockey League (AHL) Laval Rocket, but possibly even for an NHL roster spot. Especially if the Habs allow unrestricted free agents like Evgeny Dadonov or Jonathan Drouin to walk away. Or, move some contracts out of town over the summer months. 
Riley Kidney – Center, Gatineau Olympiques (QMJHL) 
Catching up with Riley Kidney. Over the holidays, he was traded to the Gatineau Olympiques, joining a much more competitive team, which will give him the opportunity to play some playoff games. He has quickly stepped into the role as their top-line center. He has also been producing, especially when it counts, netting game-winning goals.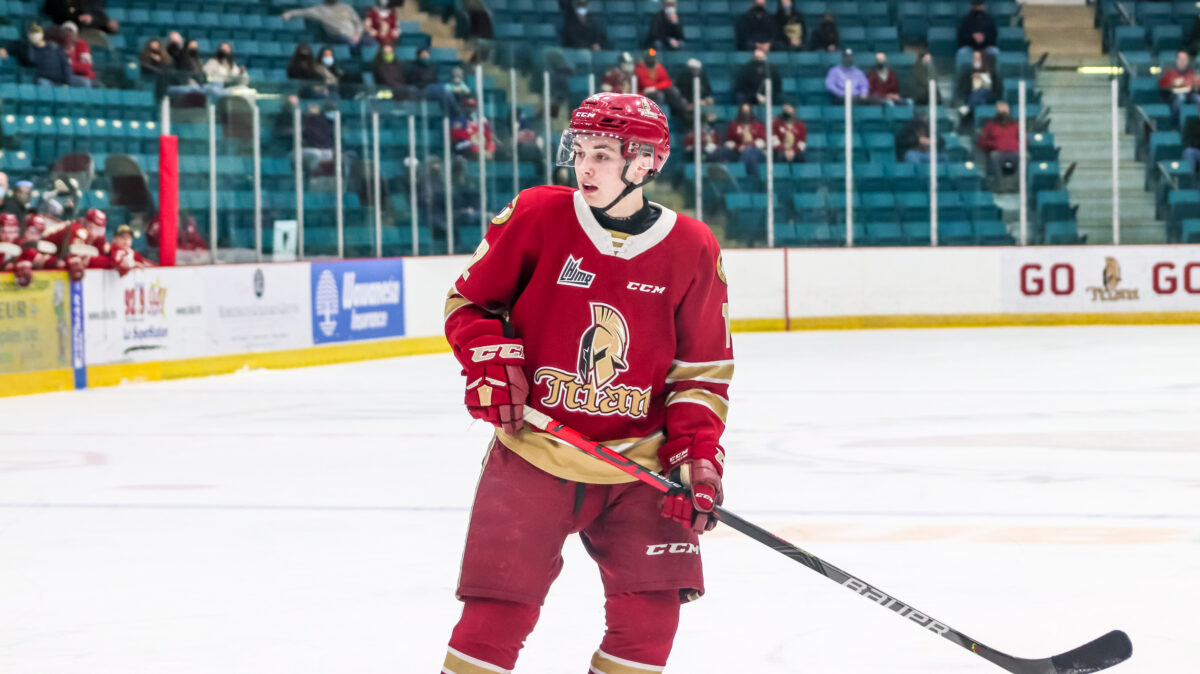 Despite missing time with injuries and at Team Canada's selection camp for the 2023 WJC, Kidney is top 15 in scoring in the Quebec Major Junior Hockey League (QMJHL) with 15 goals and 48 points in 33 games played. 
Cederic Guindon – Left Wing, Owen Sound Attack (OHL) 
The 18-year-old left winger sits second in points on the Owen Sound Attack with 12 goals and 41 points in 36 games this season and is on pace for a 78-point campaign. He is highly versatile as well as he can play center, or, play on a line with team captain, and top 2023 Draft prospect Colby Barlow. Guindon's aggressive style in attacking the puck on the forecheck complements his playmaking abilities (he now has 100 assists in the OHL) as his hockey IQ not only allows for him to create offense once he gains possession, but also play a highly effective defensive game.
Related: Canadiens' Player Development Changes having a Big Impact 
---
Latest News & Highlights
---
Guindon is also incredibly disciplined, evidenced by his grand total of eight penalty minutes. His style of play should translate well into the Canadiens system in the future, as he enjoys playing at a high pace.
Logan Mailloux – Right Defense, London Knights (OHL) 
For Logan Mailloux of the OHL's London Knights, skating and strength are not an issue. He is a player that loves to play a physical and highly offensive style of game, scoring 12 goals and 26 points in 28 games played.  
"He's a really big threat with the man advantage. He can shoot it or pass it and other teams really have to focus on him. It's huge for our power play."

– Rick Steadman, London Knights assistant coach (from 'Amid Shane Wright trade speculation, London Knights win (yet again), Ryan Pyette,' London Free Press, 8 Jan 2023) 
On the surface, that type of point production on a perennial contending team like the Knights points to a sure-fire NHL defenseman. In Mailloux's case, it isn't certain he will be able to make the leap to the NHL any time soon as he played far too little during the pandemic to polish his game. The concern is his defensive play. He will need consistent work on his positioning and decision-making in all three zones to optimize his offensive skills while minimizing defensive errors. He has had issues with keying on his responsibilities in his own zone and making the right choices on when or when not to jump up into the play. His lack of discipline could also be an issue, as he just finished a three-game suspension.
That does it for this week's edition of the Canadiens Prospects Report. Stay tuned, as each week we will provide updates on some of the young prospects making their way up the Habs' depth chart. 
---
---