As the 2020-21 NHL season approaches its halfway point, teams are beginnings talks with their most important players in the hope of agreeing to contract extensions. The Vancouver Canucks are one of the teams that have to make some major and sensible choices as free agency opens, but the fans are not getting their hopes up. General manager Jim Benning has constantly reiterated that he wants to make decisions as the season progresses and that he will start some contract talks after the trade deadline. He addressed the media Friday morning, and his vague responses caused some concern.
Canucks fans had hoped that Benning would answer one important question: are Elias Pettersson and Quinn Hughes going to be extended? Both players are considered the cornerstone in making the Canucks a consistently playoff-bound team, but they are pending free agents who need clarification over their futures. It seems that Pettersson and Hughes are not the only two Canucks who have not discussed new deals. Benning was asked many times about possible trades and new contracts for certain players during his press conference, and his failure to give detailed answers has left the fans wondering about the true direction of the franchise.
Benning Is Not Being Proactive With Re-signing Players
Benning has had to deal with several different issues that have affected the Canucks over many seasons. These issues include head coach Travis Green's job security, the chances of Jake Virtanen being traded, and why the team has struggled to improve greatly throughout Benning's tenure as a general manager. While other teams have started to make plans for next season in an attempt to improve, Benning has taken a reactionary approach for the remainder of the season. He told the media that the team lives day to day and that he will not speak to Pettersson or Hughes until after the deadline on April 12. This is concerning because the organization is not doing enough to keep its best players, especially since Benning admits that Tyler Toffoli left because contract talks began too late.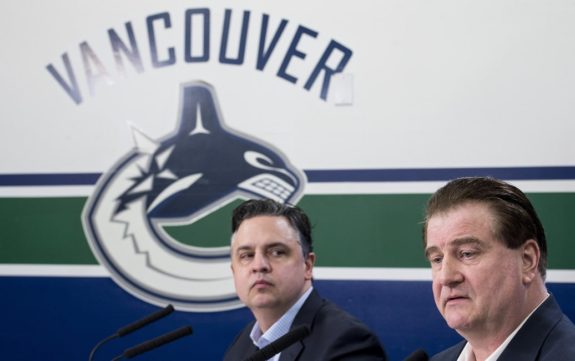 Forwards Tanner Pearson and Virtanen could potentially be traded in the next month. Benning has spoken highly of Pearson's playing qualities and role in the team, stating that the 28-year-old is setting a good example for younger players. Virtanen has been inconsistent since he joined the Canucks, and many fans have asked that he be traded. Benning previously stated that he expects Virtanen to show more potential, but the general manager plans to be patient with the player following a two-goal game against the Toronto Maple Leafs. It has become clear that Virtanen has been given many chances to make an impression and has not taken them, and the fans do not see the point in keeping him.
There is a possibility that the Canucks may not decide to use free agency as a way of finding new players. Benning has blamed the ongoing pandemic for any lack of productivity and says that other teams may add players in order to boost playoff contention. Vancouver, on the other hand, could turn to its roster depth and some prospects to give the team more options. Benning failed to give clear explanations regarding free agency and re-signing the team's best players, and this leaves some players worrying about whether they will remain in Vancouver past this off-season.
Benning Uses Pandemic as an Excuse for Canuck's Setbacks
The COVID-19 pandemic has caused major changes to the league over the last year, changing the 2020 playoffs format and restricting the 2020-21 season to 56 games. The newly-formed North Division was set up for the league's Canadian teams, with each team playing a series of games against a Canadian opponent within the same week. Benning mentioned that the pandemic had some effect on Vancouver's fortunes this season, but his answers sounded more like excuses than justifications.
Benning appeared to blame the pandemic for limiting trade options. He said that any player who arrives from an American team would be "three weeks away from playing" and that the Canucks would resort to internal solutions to strengthen the team. Benning also claimed that he needed to be given two more years to make the team competent Stanley Cup challengers, even though he has been in Vancouver for seven years and the team has made the playoffs twice in that time frame. Deciding not to discuss contract renewals and refusing to plan for the long-term future of the Vancouver Canucks has been very evident this season, and it suggests that Benning is going to make a short season feel like a long ride.
---
---