Despite making an impressive playoff run in 2020, the Vancouver Canucks had to deal with past mistakes this offseason. Due to bad contracts, the organization lost a few key players, including their MVP last season in Jacob Markstrom. Although general manager Jim Benning has overpaid a few players, among those poor contracts, he has signed a few key players to excellent deals. The Canucks have three especially valuable contracts heading into the 2020-21 season:
3. Brock Boeser
Brock Boeser signed an extension with the Canucks before the 2019-20 season. Benning extended the forward at an average annual value (AAV) of $5.875 million for three seasons after he posted a career-high with 56 points in 69 games. In the first year of his new contract, Boeser struggled to find goals.
In his first two full seasons in the NHL, the American winger surpassed the 25-goal mark but only managed to score 16 goals in 2019-20. He struggled to convert on his 169 shots, finishing with a 9.5 shooting percentage, down from 12.4 percent the previous season.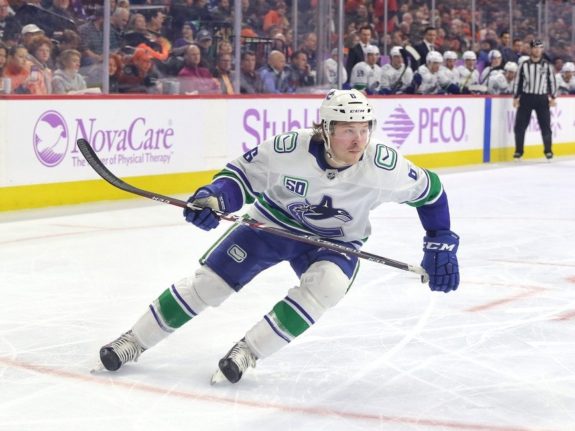 Although Boeser struggled to score last season, he was on pace to post a career-high in assists. He had 29 assists in 57 games, which put him on pace to finish with 35 assists if he played the remainder of the season. Also, he was on pace to post 55 points. Boeser will likely bounce back from his scoring struggles, and the forward can be expected to step up come next year. He has the potential to be a 30-goal scorer and a 60-point player in 2020-21.  
His three-year contract is a bridge deal and gives Benning and the Canucks a better idea of how much they should offer the forward once his contract comes to an end. Boeser's AAV of $5.875 million is one of the best on the Canucks' roster due to his upside. 
2. Bo Horvat
After Bo Horvat's third season, the Canucks signed him to a six-year, $33 million contract extension. Since signing the extension, Horvat has improved every season. In 2017-18, he scored 22 goals and 44 points in 64 games and followed up by scoring his career-high with 27 goals and 61 points in 82 games.
Before the 2019-20 season, Horvat became the 14th captain in Canucks history. He finished with 22 goals and 52 points in 69 games, which gave him a career-high in points per games played at 0.77. Horvat also led the Canucks to the playoffs for the first time since his rookie season in 2014-15. Not only did the captain lead the team in playoff goals with 10, but he also held the league lead in playoff goals until Brayden Point surpassed him two rounds later, in the Stanley Cup Final. 
Horvat has three seasons remaining on his deal at an AAV of $5.5 million. So far, his contract has been a steal for the Canucks, especially compared to some of the other players Benning has signed. Horvat has proved to be worth more than his AAV due to his impressive playoff performance and consistent play during the regular season.
1. J.T. Miller
Benning acquired J.T. Miller from the Tampa Bay Lightning last offseason. At the time, the trade was controversial among Canucks fans since the team traded away a first-round pick and allowed the Lightning to unload some salary cap at the same time. Miller had previously signed a five-year contract, with an AAV of $5.250 million.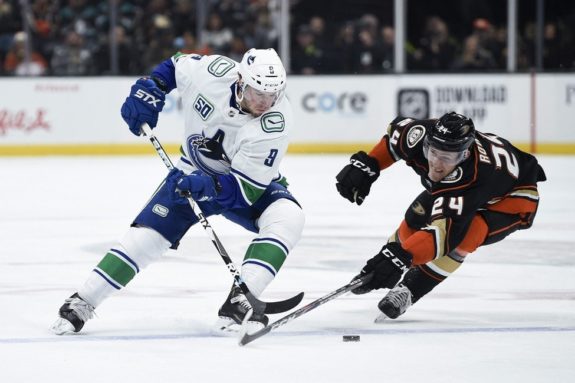 In his first season with the Canucks, Miller posted career numbers in goals and points. He scored 27 goals and posted a team-leading 72 points. Miller instantly proved to be worth more than his contract pays him and a steal for Benning. Similarly to Horvat, he has three seasons remaining on his contract, and if he continues to produce at the same rate for the remainder of it, he will be a home run acquisition for the Canucks. 
Too Many Overpaid Contracts
The Canucks have a few of their best players signed to team-friendly deals, but those contracts are outweighed by the poor ones. The bad contracts include those given to players who do not play on the main roster, such as Sven Baertschi ($3.366 million) or overpaid players like Loui Eriksson ($6 million). Having Boeser, Horvat and Miller signed to team-friendly deals should leave room to add other high-end players, but instead, the Canucks have spent their cap space to overpay the bottom six.
---
---