The Vancouver Canucks have been embroiled in trade rumours ever since they started the season 0-5-2. Everyone from Brock Boeser, Bo Horvat, J.T. Miller, Oliver Ekman-Larsson, Conor Garland, Tyler Myers, and even Thatcher Demko has been subject to it, and there's seemingly no end in sight as the team continues to flounder at the bottom of standings. With the trade deadline getting closer by the day and press conferences like the one held by president Jim Rutherford on Monday (Jan. 16) throwing more fuel on the proverbial fire, it seems like only a matter of time before the other shoe drops and a major trade is consummated.
As time goes on, it's only logical to assume that Horvat will be wearing another jersey at some point. Rutherford basically said as much when he told the media, "I believe we've taken our best shot (on Bo Horvat). With the offer we have on the table right now is fair value for what he's done up to this year…We're in a pickle here. He's had a career run and he's looking for his money."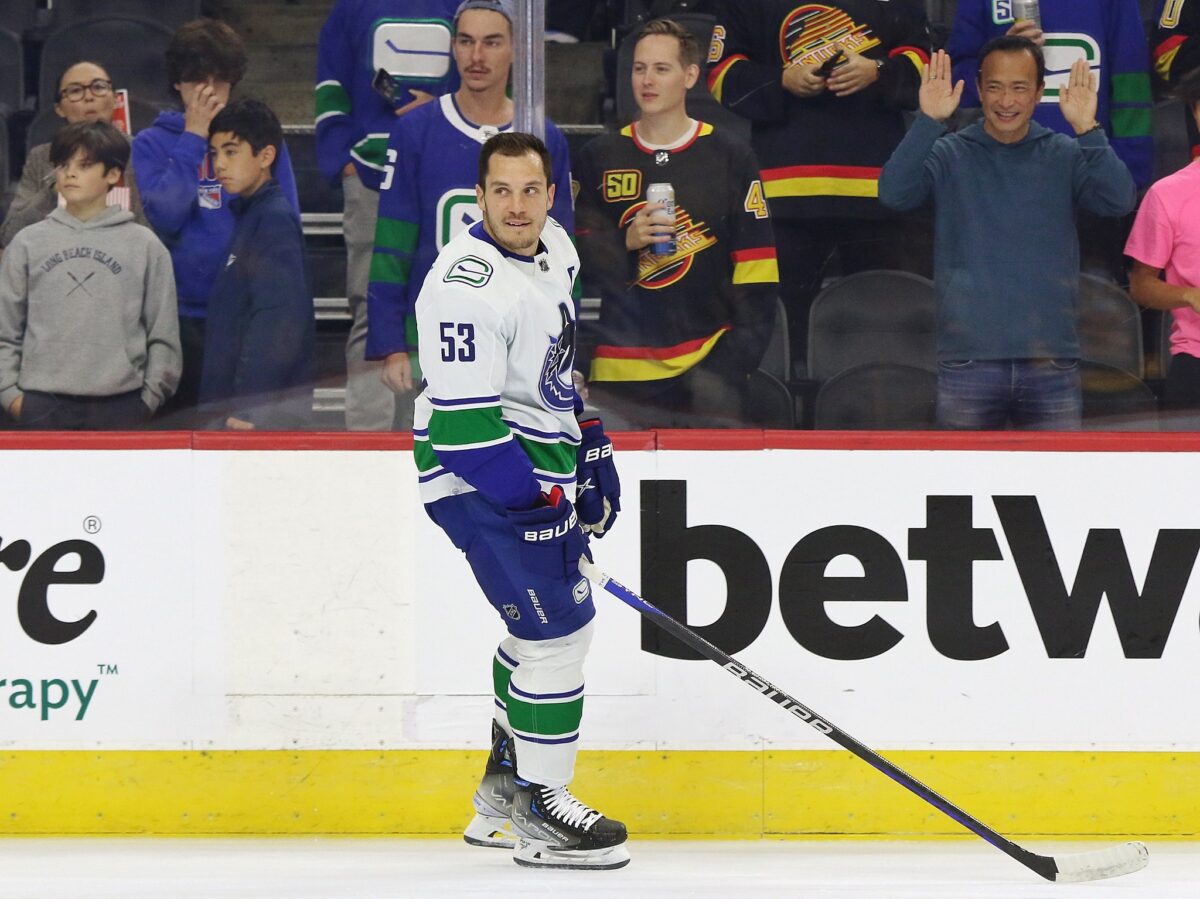 One team that has emerged in rumors lately is the high-flying Boston Bruins, who are currently sitting in the Presidents' Trophy spot with a superb 36-5-4 record. Without Horvat, they're an elite team, with him, they might be hands-down Stanley Cup favorites. In fact, THW's Scott Roche believes they should go "all-in" for the Canucks captain and do whatever it takes to get a deal done. With that said though, Rutherford and Patrik Allvin should only consider it if at least two pieces are included. Let's take a look at them now.
Fabian Lysell
Even though Rutherford stated that he wants to retool and not rebuild, I think a Horvat trade should involve at least one blue-chip prospect. After all, you can't have long-term success without a few of them, and the Canucks right now arguably only have one – Jonathan Lekkerimaki. Enter Fabian Lysell.
Lysell, who the Canucks should know very well from his days with the Vancouver Giants, is a lightning-fast skater armed with creativity and an NHL-caliber shot. Selected 21st overall by the Bruins in the 2021 Draft, he is now playing for the Providence Bruins in the American Hockey League (AHL) after a single, very successful campaign in the Western Hockey League (WHL) where he put up 22 goals and 62 points. He also dominated the competition in the playoffs, pushing his underdog team past the high-powered Everett Silvertips and into a matchup with Logan Stankoven and the Kamloops Blazers in the second round. He ultimately finished with an impressive four goals and 21 points in 12 games.
Related: Bruins Prospects Finish 2023 WJC With Mixed Results
---
Latest News & Highlights
---
Transitioning to the AHL in 2022-23, Lysell has continued to produce with eight goals and 21 points in 25 games. The only blemish on his resume thus far is a goalless and pointless effort in the 2023 World Junior Championship (WJC) in Moncton and Halifax, where his only stats were 29 penalty minutes and a minus-1 in the plus/minus column. He was also ejected in Sweden's final game of the tournament after a major penalty for a check to the head. Since returning from the festivities, he has two points in five games.
Putting aside Lysell's performance at the 2023 WJC, his development has been positive so far. He still has a ton of potential in the NHL as a top-line winger and could eventually become a perennial 30-goal scorer. While the Canucks don't necessarily need wingers right now, if Brock Boeser and Conor Garland get traded – as is expected – they will need someone to ride shotgun with Elias Pettersson. Could we see an all-Swedish top-line of Lekkerimaki – Pettersson – Lysell someday? If the Canucks play their cards right, that could be a reality in just a few short seasons.
2023 First-Round Pick
In addition to Lysell, the Canucks should be asking for the Bruins' 2023 first-round pick. It will likely be a late selection around 30-32, but in a draft that is supposed to be deep with elite talent until the second and third rounds, that pick could be as valuable as a 15-20 pick from the 2022 Draft. With some intriguing right-hand defencemen projected to go in that range like Lukas Dragicevic (Peter Baracchini – 32nd) and David Reinbacher (Sportsnet – 29th), they could get their elite or superstar center (with any luck Connor Bedard) and their potential top-pairing right-handed defenceman before the first day is in the books.
Lysell or No Deal
If I was Rutherford and Allvin, I would hang up the phone if the Bruins weren't willing to include Lysell in the return package for Horvat. Unfortunately, considering the fact that he is an unrestricted free agent after this season and free to sign with anyone once July 1 comes around, general manager Don Sweeney will probably say no to the above package without an extension in place beforehand.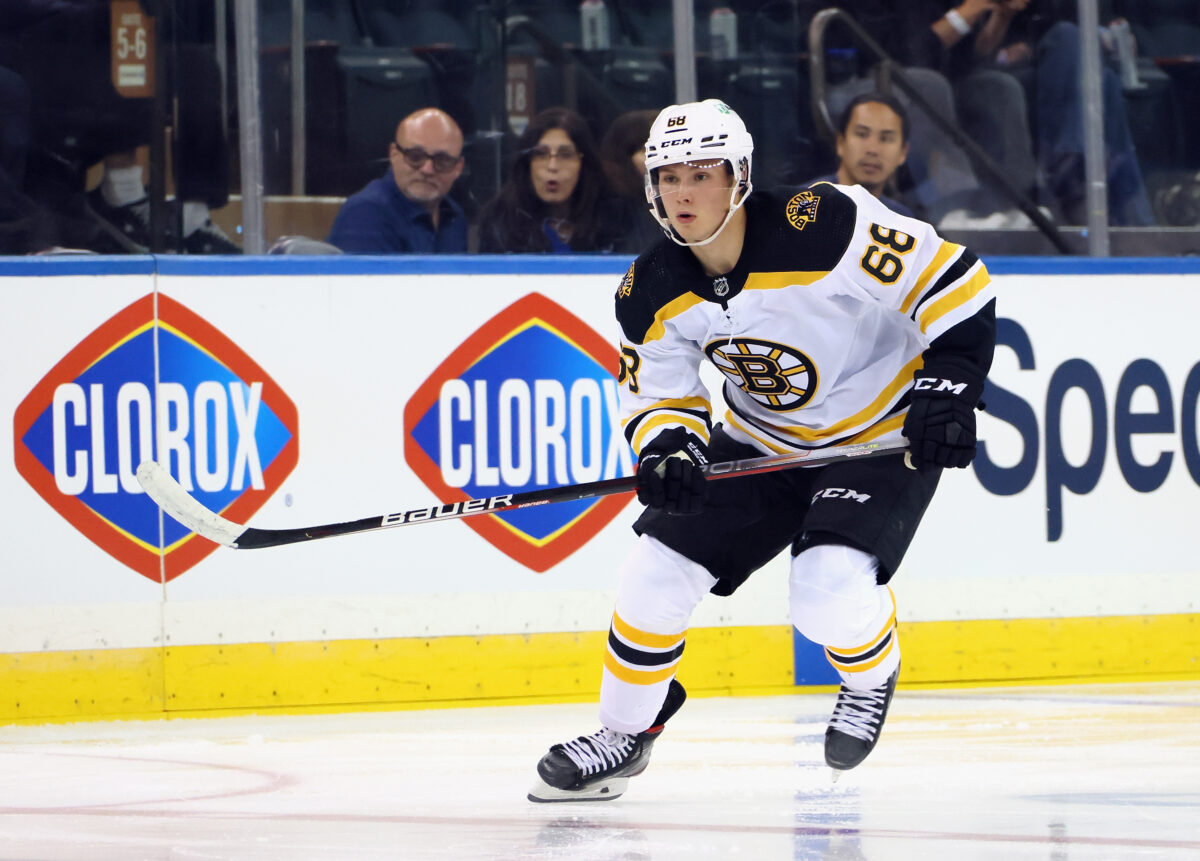 Horvat's value to the Bruins goes beyond this season as he could be the answer to a future without Patrice Bergeron and David Krejci. They aren't getting any younger, and there's no guarantee that they will be around in 2023-24. In order to convince Sweeney to give up his top prospect and a first-round pick in the deepest draft in recent memory, it will require a guarantee that Horvat will be in his lineup for the foreseeable future. That's easier said than done though since Horvat will be demanding at least $8 or $9 million in average annual value (AAV) and Sweeney still has superstar winger David Pastrnak to re-sign as well (which will probably take at least $10 million AAV to get done).
Related: Canucks Potential Return in Horvat Trade with Kraken
In the end, the Bruins may not be the best partner in a trade for Horvat – unless Lysell is the centerpiece, that is. With interest levels growing by the day, Sweeney doesn't have as much ammo as a team like the Detroit Red Wings, Seattle Kraken, or Carolina Hurricanes in terms of top prospects, 20-25-year-old youngsters and draft picks. He also doesn't have, in my opinion anyway, significant pieces to fulfill the rumored asking price of three players – including a top prospect (which in this case would be Lysell). Having said that, I am not part of the Canucks' front office. Maybe the Bruins have what they are interested in. We won't know until Horvat is ultimately traded, and that day is coming up fast.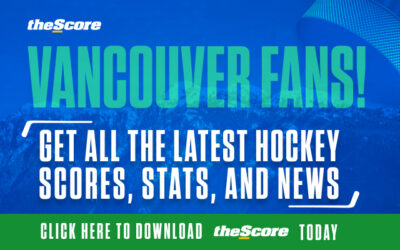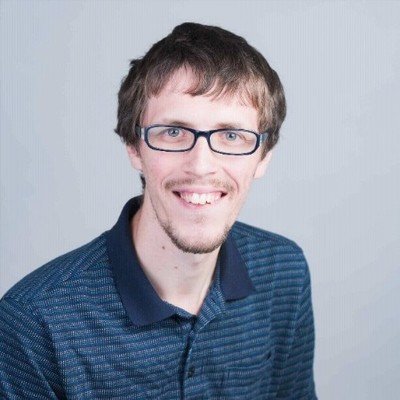 Matthew Zator is the assistant managing editor at THW and a writer who lives and breathes Vancouver Canucks hockey, the NHL Draft, and prospects in general. He loves talking about young players and their potential. Matthew is a must-read for Canucks fans and fans of the NHL Draft and its prospects. For interview requests or content information, you can follow Matthew through his social media accounts which are listed under his photo at the conclusion of articles like this one about Tyler Motte.
Matthew also co-hosts The Hockey Writers Prospect Corner on YouTube.