In the most subtle manner possible, the Vancouver Canucks made a pretty significant splash on Free Agent Frenzy Day.
Whether those moves are for better or worse, can only be proven with time. General Manager Jim Benning, Team President Trevor Linden, and the rest of the management staff were pretty clear about their moves today- they want to create opportunities for young players to earn spots while maintaining some character and veteran stature in the locker room.
In an interview on the Canucks' website, Linden said "we've talked a lot about character and dependability and having players you can count on" and went on to reference the influx of young players on the team and the need for a guy like Brandon Prust in the room to mentor the younger players on being true professionals.
"We are trying to open up spots for our young players." Hear GM Jim Benning talk free agency. http://t.co/uFYkdpYbXK pic.twitter.com/vboIDu9Kev

— Vancouver #Canucks (@Canucks) July 1, 2015
UFA/RFA Signings:
No seven year, $50-million deals in Vancouver this year, but the Canucks made considerable noise in the depth market by completing deals with some strong young depth to compliment their youth movement. Most of the deals make sense although a few of the signings are majorly to fill roster spots in Utica.
Matt Bartkowski (Defenseman): Matt Bartkowski was signed by the Canucks on a one year-one way deal worth $1.8 million for the upcoming season. Bartkowski was originally a player that Benning had scouted and courted while working on the management team in Boston and had only good things to say about the player. "He's good defensively, what I call a transition defensive defenseman…being in the Western Conference will suit his game real good" said Benning during post-free agent day press in Vancouver.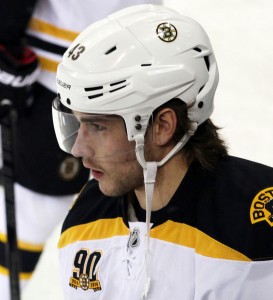 Bartkowski gives the team a shutdown defense option after the departure of Kevin Bieksa via trade. He hasn't been able to fully acclimate himself in the NHL and the fresh start in Vancouver will probably give him some fire to prove himself with his second chance. He more than likely will start the season on the second or third pairing. Bartkowski does have pretty strong upside and is poised for either a do or die season. If Bartkowski can find a match for his play on the Canucks he may earn himself a new long-term home.
Taylor Fedun (Defenseman): More than likely a depth signing, Fedun gives the Canucks another defender that can step in and fill some games that will without a doubt be lost to injury. The 27 year old has spent most of his professional career in the American Hockey League but has played 11 games between Edmonton and San Jose and has recorded 2 goals and 4 assists. Fedun is still young enough that he has the possibility of filling a legitimate role should injuries call for it.
Richard Bachman (Goaltender): In five seasons of NHL play, Bachman has only collected 41 games and has boasted a career save percentage of .904% and a goals against average of 2.93. Nothing spectacular but the reality is Bachman was brought in on a two way deal to help mold Joe Cannata in the American League and give the Canucks a third option that has some NHL experience.
Like Fedun, Bachman is 27 and has the ability to recreate himself as a useful piece if given the chance.  Bachman's upside is little to none, but he would be a comfortable option to come in and assist in a backup role temporarily. The two year deal is a bit conspicuous judging he is definitely going to spend most the year in Utica but can't be overthought too much.
Linden Vey (Forward): Once touted as part of Los Angeles's future, Linden Vey found his way to Vancouver when Willie Desjardins was announced as coach. In juniors, the two had a great relationship and Vey was a vital piece to Desjardins' Medicine Hat time. The past year with the Canucks was a tough one for Vey who began the season as a regular and struggled to find ice or even roster time come the second half of the year. However, Vey is young and has the raw talent and hockey sense to be a very effective player in the Canucks system. At just 23, Vey needs to make some minor adjustments to his game and will find himself becoming a mainstay in the lineup. He more than likely will fill the fourth line center role to begin the season.
Jacob Markstrom (Goaltender): Obviously, when Eddie Lack booked his ticket to the American South, it was clear that Markstrom became the beneficiary of Miller's ticking time clock. Markstrom will inherit the team as the club's number one, if not this year then next. The contract details were not disclosed, but due to his lackluster NHL statistics and slim to no experience it has to be a small cap hit.
Benning and Linden have expressed their unwavering trust in his ability to carry this team and belief that his future is in Vancouver. He had a stellar season in the American League with Utica posting a .934 save percentage and a 1.88 goals against average. He carried his club to the Calder Cup Finals and earned himself respect as more than just a farm team 'tender.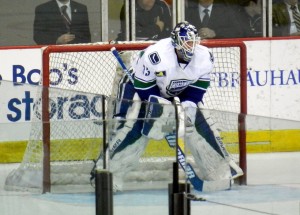 Yannick Weber (Defenseman): When the Canucks announced that they had sent qualifying offers to a handful of players and Weber wasn't included on the list it was a shocker. Luckily it was because Weber and his agent were determining whether or not to enter arbitration. The club and Weber came to a modest agreement on a one year $1.5 million deal that takes Weber into his UFA status next season. Weber had a career year and was one of Vancouver's brighter aspects this past season. He posted 21 points including a team-defense leading eleven goals in just 65 games.
Weber is what Jason Garrison was supposed to be for this club, an actual replacement for Sami Salo's departure a few years back. If Weber can continue his production and development next season he will earn himself a long term contract with a considerable raise. His upside for this club is massive after being a low depth signing a few years back. He has clawed his way into the top six and should get a look on the powerplay to begin 2015-2016.
Trades:
It seems like climate change has begun impacting the makeup of professional sports franchises because the landscape of the Vancouver Canucks is changing quickly and erosion of the eras past has sped up considerably. Benning and co. have cleared out some household names in Vancouver in favor of giving depth and youth chances at filling roles on the 2015-2016 team.
Vancouver sent G Eddie Lack to the Carolina Hurricanes for 2015 3rd rd. pick and 2016 7th rd. pick: Controversial and highly disliked among the Canucks nation, fan favorite and arguably the best goaltender in the system was dealt on day 2 of the draft for a few draft picks. This deal has garnered a ton of criticism but essentially came down to this; Benning and Linden had to decide between Lack and Markstrom because they completely jumped the gun on the Miller contract, and it was just far too expensive to either buyout or unload his contract on another team. Lack will more than likely split time with Cam Ward in Carolina this year while the picks gained from the deal are TBD for their long term value.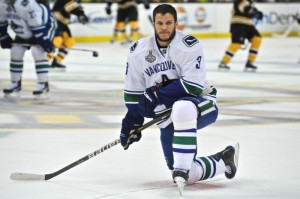 Vancouver sent D Kevin Bieksa to the Anaheim Ducks for 2016 2nd rd. pick: After over 10 seasons with the Canucks organization and becoming one of the most popular players in franchise history, according to the management Bieksa's time in Vancouver was up. Unfortunately for whatever reason Bieksa didn't fetch near what his actual value was bringing the Canucks a measly 2nd rd. draft pick.
So, after sending out a top-4 defender and a starting goaltender the Canucks recieved 3 picks, only one of which was in the first two rounds. Unless the Canucks are planning to become the next Detroit Red Wings in terms of developing late round players into NHL stars, they more than likely just gave away a huge asset(s) for…well…nothing.
Vancouver sent F Zack Kassian and 2016 5th rd. pick to the Montreal Canadiens for F Brandon Prust: Linden and Benning claimed the need for two things- a left winger and a character veteran in the room. Zack Kassian did not satisfy either of those and in reality, the Canucks were fed up with trying to develop him into an impact player. Unfortunately, what they got in return wasn't even close to the value they sent out east. Montreal received a young power forward with the opportunity to become a star and a pick, while Vancouver got an overpaid 4th line grinder that has no offensive upside and has made most of his career as a hitter/fighter.
It has been a busy week for the Canucks in what has seen them make significant changes to their personnel. In a Vancouver press conference, Benning said there is nothing significant left on their table, but they will continue to field offers and look to better the team. Let's hope Benning knows how to rebuild because the Canucks have been stripped down to their foundation, and are in for a long ride if they don't make careful choices from here on out.