A few days ago it seemed that barring any last-minute changes, Thatcher Demko would be promoted to the Vancouver Canucks' starting goalie next season. Unfortunately for Demko, changes have come in the form of a former Vezina Trophy winner and 2018 Stanely Cup champion, Braden Holtby, who signed a two-year contract worth an average value of $4.3 million on Friday, October 9, 2020.
With Holtby likely to assume the 1A role, this begs the question if Demko could have handled the role as starter? Let's find out.
Last Season's Performance
Looking back at how Demko was thrust into the starting role a year ago, it's easy to see that it was a premonition of what was to come. In October 2019, Jacob Markstrom left the team for personal reasons, giving the Canucks no choice but to turn to an alternative. This propelled Demko into the role that he may still be destined for, the team's starting goalie. 
The first time he was called upon, Demko helped the Canucks defeat the Detroit Red Wings 5-1. Okay, maybe the Red Wings are not world-beaters, but soon after that, Demko and the Canucks travelled to St. Louis where they defeated the defending Stanley Cup champion, St. Louis Blues, in a shootout. 
Throughout the 2019-20 season, Demko played in 27 games (starting 25) and earned a 13-10-2 regular-season record. The backup faced 822 shots and begrudgingly allowed 78 past him, with this, the 24-year-old American ended the season with a save percentage (SV%) of .905.
Let's be honest, three wins over .500 doesn't inspire confidence. But when you compare these numbers to the 30-year-old Markstrom, they're not that bad. Markstrom, who was exceptional, started 43 games and went 23-16-4 with a SV% of .918.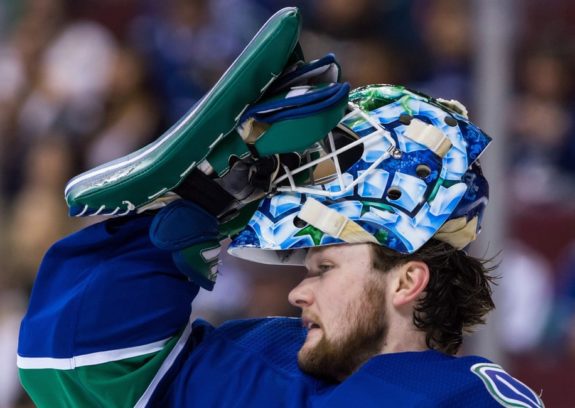 Now, if the Canucks give Demko a chance to step up and find his groove alongside Holtby, the youngster could replicate or even surpass Markstrom's 2019-20 performance that earned him 4th place in Vezina Trophy voting.
Demko's 2019-20 performance compared to Markstorm's, leaves hope that the Canucks will be able to roll with Demko as their 1B, and by the end of the season, punch their ticket to the 2021 Playoffs.
Playoff Performance
After an injury to Markstrom, Demko was again called upon when the team needed him most, and for the most part, he exceeded expectations en route to a second-round, Game 7 loss to the Vegas Golden Knights in the Edmonton hockey bubble.
In four games, Demko was leaned on without fans in the stands and went 2-1, facing 130 shots and only letting two get past him, including a mesmerizing 48-save shutout performance in Game 6 to force Game 7. The jury is still out on whether the Golden Knights figured out Demko's tendencies that night, and used it to defeat him the very next day.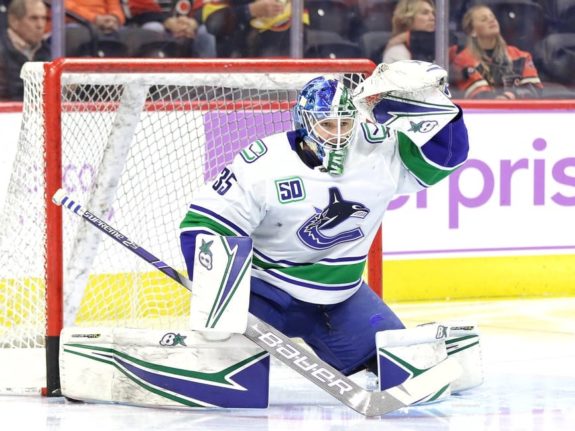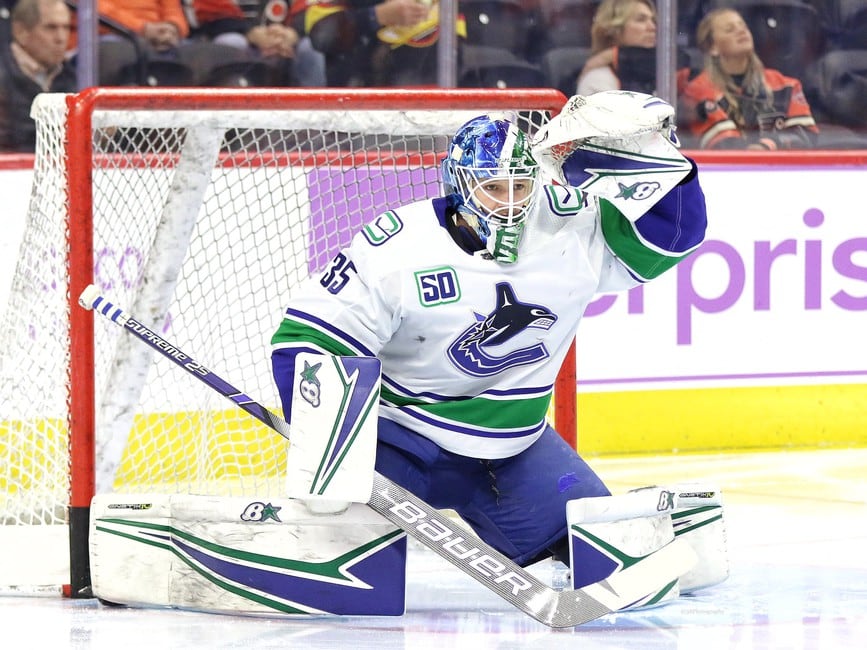 The Game 7, game-winning goal came off a double screen with a little over six minutes remaining in regulation. But let's not gloss over the fact that Demko put on a show in that second back-to-back game and was technically only beat once (the box score says 3-0 but two of those were empty-netters).
Will the Bubble Burst?
Going forward, Demko deserves a the added playing time that comes with being the 1B goalie.
This promotion of added playing time requires an intangible we have yet to see from the 24-year-old: how he handles pressure. The Canucks enter the 2020-21 season as arguably Canada's best shot at hoisting the Cup, and that's a high expectation to put on a young man who will be splitting starts with a former champion.
How will Demko handle it? To keep some of the pressure off his shoulders and build his confidence, the Canucks should allow Holtby to not only share the workload but also mentor him.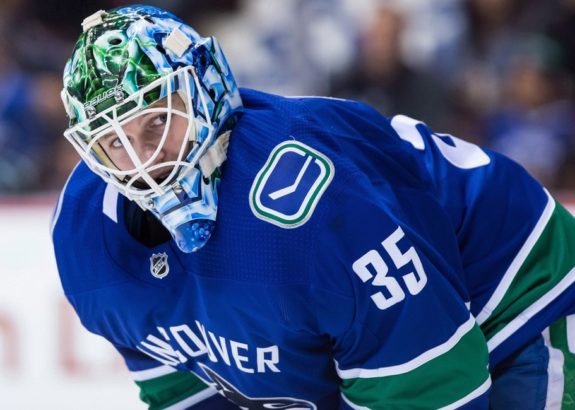 To keep his bubble from bursting, the Canucks should balance this tandem by rewarding the hot-hand who is willing to put his ego aside and do what's best for the crest. Another option may be bringing in a familiar face, Cory Schneider.
The former Canuck is no longer with the New Jersey Devils after the team put him on unconditional waivers. This buyout could be just what that Canucks need as an affordable insurance option to their 1A and 1B. Given Schneider's decline, a swan song season in Vancouver could rejuvenate him and it wouldn't overshadow Demko's development, nor would it be a distraction for Holtby.
In the end, Markstrom's departure, just as it was in October 2019, has opened the door for Demko to take on a larger role. Pair that with the acquisition of Holtby, and the Canucks have arguably the best goalie tandem in the league.
Demko likely could have handled the role as a starter, but if the pressure happened to burst his bubble, that could stall his development. Now, the Canucks will benefit from their tandem; Demko will be rewarded with added starts and mentorship from a potential Hall of Famer; Holtby, whose contract does not include a no-movement clause, has a chance to add to his already impressive resume.
Lastly, with the Expansion Draft looming, the Canucks will only be able to protect one of these goalies, and barring another last-minute change, it seems likely that the end of the 2020-21 season will signify the beginning of the Demko era in Vancouver.
---
---