Not many were thinking about Markus Granlund when the Vancouver Canucks 2016-17 youth movement took off. He was an afterthought on the Canucks roster last season, and didn't show much scoring promise during his first 16 games as a Canuck.
Jake Virtanen and Emerson Etem were garnering more attention during training camp. Those two have played a combined 13 games in the NHL this season.
Meanwhile, Granlund has managed to be a bright spot in an otherwise dismal season for the Canucks. With many Canucks coming to try and prove their worth this season, 23-year-old Finn has stood out.
He was the Canucks best player in their loss to the Edmonton Oilers on Saturday, March 18, his last game before season-ending wrist surgery . He registered seven shots and looked dangerous in his first game with Bo Horvat and Sven Baertschi.
As per @TommiSeppala, Markus Granlund broke ligaments in his wrist on Oct. 25th vs. Ottawa. #Canucks

— Canucks Now (@CanucksNow) March 22, 2017
To take one out of John Tortorella's books: It's not great news for the Canucks that Horvat, Baertschi, and Granlund make up the first line, but it's good for Granlund that he's able to shine in that position.With Granlund now out for the season, he will narrowly miss hitting the 20-goal mark in his surprise campaign. He is second on the Canucks with 19 goals, just behind Horvat's 20. Granlund can still look back on this season, knowing he's positioned himself to be a main contributor for the Canucks next season.
Second-Half Success Story
Part of it has to do with the Sedins' decline, but Granlund has emerged as one of the Canucks' top scorers since the All-Star break. He registered 12 points in last 19 games, and led the Canucks with seven goals in those games.
Seven goals to lead the team over a quarter-season stretch is pretty brutal for any team, but good on Granlund for grabbing the offensive spotlight. He's scoring the most, and shooting more than any Canuck except Daniel Sedin.
His possession stats are also among tops on the team. Granlund's Corsi percentage is 50.5% at even strength, according to puckalytics.com. Brendan Gaunce and Loui Eriksson are the only other Canucks' regulars over 50% on the season.
Granlund has also improved that number over the course of the season. He's was the best Canuck in ten games prior to his injury with a 52.7% Corsi at even-strength. His versatility has been key, and he gave an offensive jolt both the Sedin line and the Horvat line.
.@DTSN1040: Markus Granlund showing an ability to mesh smartly with Sedins #canucks https://t.co/iMiMaSuvKB

— TSN Radio Vancouver (@TSN1040) March 14, 2017
Perhaps Granlund's greatest ally on the Canucks is Willie Desjardins. The Canucks head coach has given him ample ice time throughout his 85 games as a Vancouver Canuck.
In Granlund Willie Trusts
Granlund's stellar play is a bit of a double-edged sword for Desjardins. While the product of Oulu, Finland has stepped up, he has been gifted an abundance of ice time by the Canucks head coach.
It leads back to last season, following his trade from the Calgary Flames. With the Canucks, he saw a spike in his ice time from 12:58 to 15:23 per game.
Despite the warning signs, some still expected Granlund to centre the Canucks fourth line heading into the season. He ended up as a winger on the third line with Brandon Sutter, averaging more than 16 minutes per game. Granlund looked overmatched in that role, and his he was getting scored on more than any Canuck in the early going of the season.
His goals against number still don't look good. He's been on the ice for 2.97 goals against per 60 at even strength, which is worst among the Canucks regular forwards. Only Erik Gudbranson and Derek Dorsett are one the ice for more even-strength goals. Despite his strong Corsi numbers, Granlund has a 47% scoring chance differential at five-on-five. Part of that could be from playing with Sutter, who is sitting at an underwhelming 42%.
It's clear that Granlund struggled in his own end early on, but Desjardins' patience and belief in the young winger has seemed to pay off. His usage of the young winger goes against his mantra of young players earning ice time, but I suppose it's hard to argue with the result on the ice.
What the Future Holds
Granlund's strong season has vastly changed his future outlook in the organization. For a player who once looked like a fringe NHLer, he has now solidified himself as part of the solution next season.
The question now becomes, will Granlund slide into a top-six role? He primarily found himself in that spot during his second-half of the season. His goal scoring totals suggest that he belongs there next season, unless someone is able to bump him out of that spot.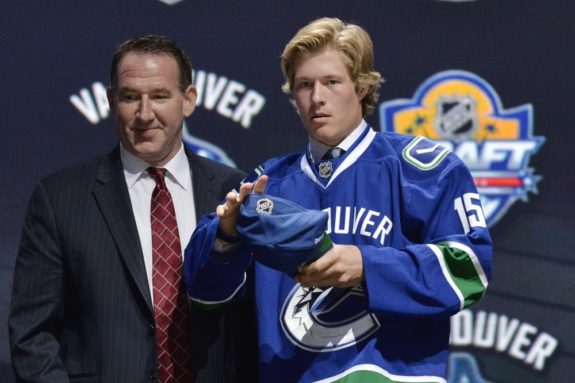 The Canucks should create some competition for that right-wing spot with a glut of wingers vying for more ice time. Loui Eriksson has truly had an unlucky season, and a bounce back for him could come at Granlund's expense. Reid Boucher's underlying numbers and goal-scoring touch could have him vying for a top-six role. Don't sleep on rookies Brock Boeser or Nikolay Goldobin either.
Next year will be a contract year for Granlund, so it will be important to him to elevate his game even further. He comes in at a bargain $900,000 in 2017-18. It will be an absolute steal for Vancouver if he can solidify himself in the top-six next season.