Dan Girardi returned to the lineup after a 12-game absence on Saturday.
One night later, Henrik Lundqvist (eight games) and Kevin Klein (14 games) also were back in the lineup.
For the first time in a long time, the New York Rangers are complete.
Now what?
The Rangers have six games remaining on their regular season schedule, own a magic number of two for clinching their seventh consecutive playoff berth, and are all but locked in to the top wild card spot in the Eastern Conference, meaning a crossover into the Atlantic Division when the post-season begins in two weeks.
The idle @NYRangers can clinch a berth in the #StanleyCup Playoffs with help from three teams tonight. pic.twitter.com/tazHN0gGRG

— NHL Public Relations (@PR_NHL) March 27, 2017
Still, there is work to do and things to accomplish before another run at Lord Stanley's Cup commences.
Back in the Groove
Klein and Girardi both missed roughly a month of action due to injury. Lundqvist sidelined a little more than two weeks with a hip ailment.
All three need to shake the rust off their games and find their top form in the last two weeks of the regular season.
This is especially so for Lundqvist, who will start again Tuesday in San Jose, and should get at least five of the final six starts in goal, if not all six, to make sure he is playoff-ready.
Even at age 35, during the most inconsistent season of his storied career, Lundqvist is still the key to the Rangers playoff hopes. Alain Vigneault must make sure Henrik is peaking when the puck drops on the opening-round series against either Montreal or Ottawa.
Sunday in Anaheim, Lundqvist returned with a mixed effort in a 6-3 loss to the Ducks. Lundqvist made some spectacular saves — none better than his first-period one on one glove save to rob Rickard Rakell– and was victimized by a pair of tough bounces that ended up in his net and some shoddy play by his teammates in front of him; but he was scrambling at times, too.
Girardi played more than 20 minutes alongside Ryan McDonagh in Saturday's 3-0 win over the Kings, but spent much of his time chasing the opposition in his own end, pinned far too often and unable to quickly get the puck out of the defensive zone.
Klein fared better on Sunday, also paired with McDonagh, playing a similar 20 minutes, though he's got plenty of work to do, as well.
Find Consistency
The Rangers have not won consecutive games since early March, and are just 6-6-2 in their last 14 games.
Too often the Blueshirts are turning the puck over and struggling in their own end, relying on Lundqvist or Antti Raanta to bail them out. Not often enough are the Rangers dictating play and controlling the game off the rush, though they did have a pair of gorgeous goals off the rush Sunday against the Ducks.
Quite simply, the Rangers must find consistency in all facets of their game, starting from the goal on out.
Part of that will be Vigneault's settling on forward line combinations and defense pairings down the stretch, though that is far from the complete answer to what ails the Blueshirts.
It appears AV likes these four line combos:
Kreider-Stepan-Zuccarello
Vesey-Zibanejad-Nash
Grabner-Hayes-Miller
Buchnevich-Lindberg-Fast
With Grabner and Hayes having slowed down offensively, that line with Miller needs to recapture its chemistry and success because when that threesome is going right, they form, perhaps, the best third line in the entire league, creating some big mismatches in the Rangers' favor.
Stepan and Nash are scoring again, good time for that to happen. However, Stepan, Zuccarello, and Kreider were more than a little deficient defensively again on Sunday.
Vigneault will use the last six games to settle on his six defensemen and three defense pairs, as well. As stated before, it likely will shake out this way:
McDonagh-Girardi
Staal-Holden
Skjei-Smith
But that is far from etched in stone because — get ready for that word again –the Rangers need more steady consistency from all the d-men.
Garden Gains
Finally, the Rangers need to start winning games on home ice at Madison Square Garden.
While it's all well and good — terrific even — that the Rangers lead the league with 27 road victories, one shy of equaling the franchise record, they need to stop balancing that out by losing at home.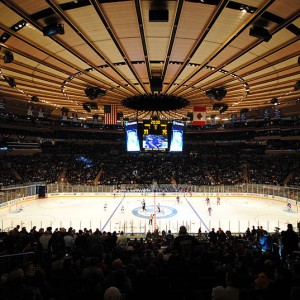 The Blueshirts have dropped seven straight decisions at MSG (0-5-2), and have not won at home since Feb. 19. They are just 19-16-3 this season at The Garden.
Historically, when the Rangers struggle at home, you can feel the tension in the air, the fans uneasy waiting for the next crucial mistake or failed opportunity. It creeps into the players' collective sub-conscious. And the Blueshirt Faithful, even during an uplifting season such as this, are known to turn on their heroes.
So, before the ugliness carries over into the post-season at 33rd and 7th, the Rangers need to string together some better performances and win some games at MSG.
It won't be easy, though.
The Rangers have three home dates remaining on the schedule: two against the Pittsburgh Penguins and another against the Philadelphia Flyers, not easy games in the least.
Perhaps, though, that's exactly what the Rangers need. Tough divisional games against arch rival opponents often bring out the best in a team like the Rangers.
No matter the opponent, though, it is imperative that the losses start to become victories, and soon, at MSG.