Call it coincidence, or call it addition by subtraction (in that the removal of Taylor Hall's contract meant the Oilers were able to address more pressing needs). Any way you slice it, the Edmonton Oilers first appearance in the postseason since 2006 came in the first year that Taylor Hall was gone.
Poor Taylor Hall. Another year at rock bottom. #nhl

— Dieter Wentzel Ⓥ (@DieterWentzel) March 27, 2017
The Oilers could clinch a postseason berth as early as Tuesday, something that will no doubt send fans into a frenzy. For the former Oiler and current New Jersey Devil? The feelings are a little more bitter-sweet.
Hall Just Wants to Be in the Playoffs
Taylor Hall is a competitive player. He wants to win, and he wants to be the best. Unfortunately, through no fault of his own (no matter what some may believe), he's once again part of a terrible team, with dreams of the playoffs all but squashed for this season.
"Now that I'm seven seasons in, it's tough to watch, knowing that I haven't experienced a playoff game yet." – Hall told ESPN's Pierre LeBrun. "It's tough. I'd love to be in a playoff race," he said. "I don't even think I've played meaningful games in the last 10 games of the season at any point in my career. To say that it is tough, yeah, for sure. But what am I going to do? I still have to come out and produce, I still have to come out and play well."
Hall may not get sympathy from a lot of people, but it's hard not to feel for the kid. He worked hard in Edmonton, and he didn't want to leave. Now he's faced with questions about the Oilers impending playoff run. The Devils have some good pieces, but they aren't close to being a contender. Though he said all the right things about his team and desire to win with them.
"Hopefully, next year we can really make a step," he added. "I just want to be on a good team. The area in Jersey is great, and there's great guys in this room, but I just want to be on a great team, a playoff team that has a chance to win a Cup here pretty soon." [ESPN]
Hall is tied for the team lead in points despite playing in just 65 games. He could easily finish the season as the Devil's points leader. But individual accolades are the last thing on his mind. Team success has always been the most important aspect of the game, something that has eluded him so far in his NHL career.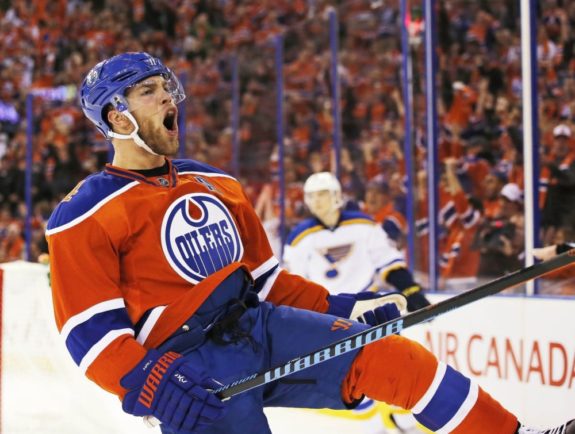 Hall Isn't Cheering for the Oilers
As much as he wants to see his friends have success, watching the Oilers go deep would sting. Hall and his former teammates stay in touch as much as possible, and he's hoping see continued individual glory for his ex-roommate, Connor McDavid.
"He's an easy guy to root for. His success isn't surprising anyone," Hall said of the Art Ross Trophy leader. "He's put that team on his back, him and Leon [Draisaitl]. The way they produce this year, night in and night out, playing against the top lines for the first time in their careers, it's pretty incredible. I'm happy for them." [Sportsnet]
But as for rooting for the team as a whole? That's where he draws the line.
"In the playoffs? No," Hall smiled. "I won't be rooting for them. You're happy for your friends, that they're doing well and they're going to experience the playoffs, but you can't help but be a bit jealous."
Hall wishes he was in the playoffs, but even more so wishes he could have finished what he started in Edmonton. But that opportunity was taken away, a decision that obviously wasn't his. As much as everyone should put the past behind him, the Oilers success will be in his face until the playoffs are over. Or until the Devils get there themselves.