It seems we can't escape the term controversy this season when it comes to the Pittsburgh Penguins and their goaltender situation. The team is blessed with two talented netminders in 22-year old Matt Murray and veteran Marc-Andre Fleury — which is a problem everyone else would love to have — and of course, every time one of them struggles it raises questions as to whether or not the other will assume the starting role. Normally, it's brushed aside quickly, as the Penguins are committed to Murray.
However, this time, head coach Mike Sullivan may have fueled the fire a bit.
The Penguins were embarrassed on home ice Sunday night at the hands of their cross-state rival, the Philadelphia Flyers. Pittsburgh took a 1-0 lead when Matt Cullen scored a powerplay goal, put together a solid first period but couldn't sustain any sort of momentum in the final two frames. Ultimately, Murray allowed five goals on 32 shots, the Flyers added an empty netter and all of a sudden, everyone wonders what to make of Murray's grasp on Pittsburgh's crease.
Of course, Sullivan was asked about it during his postgame media availability. He did very little to stymie the idea of Fleury finding his way back into the starting rotation.
Goalie Rotation Dictated by Performance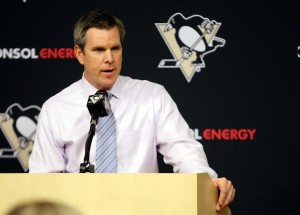 Is it possible the goalie rotation could change?
"Sure", said Sullivan when asked that exact question following the Penguins loss to the Flyers. "It's like any other position. Performance is always the dictator."
Over their last 10 starts, there's been a noticeable difference between Pittsburgh's goalies. Murray hasn't necessarily struggled, but he seems to be fighting the puck recently, and playing far less aggressive than normal. Fleury is just opposite, and it seems the weight of the world was lifted off his shoulders when the trade deadline came to a close. He's boasting a .923 save percentage, a 5-2-3 record and backstopped Pittsburgh to a few important 'loser' points in overtime and shootouts. He looks confident and as if he's having a lot of fun again.
The same can't be said for Murray.
Recently, Murray used the word "mediocre" to describe his own play. His .910 save percentage backs up that assessment and it's goals like Jordan Weal's tying tally on Sunday night that are worrisome. They're becoming a trend.
Murray has his angle, he and defenseman Ian Cole play the two-on-one perfectly but Weal simply beats him through the seven hole. A fairly common area of weakness for Murray, and something that opponents seemingly target. As a goaltender — approaching intermission with a 1-0 lead — that's a save you have to make. It changes the entire complexion of the game, and possibly keeps momentum en route to an important two points in a very tight Metropolitan Division. There's plenty of blame to go around for Sunday night's loss but a save on this shot, at this moment, would have been a big deciding factor in the outcome.
So, back to the important question at hand.
Is This a Controversy?
The easy answer is… Not yet. Outside of the obvious benefits that come with having two world class goalies, the Penguins are also fortunate that they are both open to the position battle it entails. Fleury has proven that his reputation as a great teammate and all-around professional is well warranted, and Murray has been open to learning from one of the best. That's an important aspect of this situation as we head down the stretch toward the postseason.
The Penguins deployed three goalies during last season's playoffs. The grind of an 82-game season, combined with the wear and tear of a deep postseason run means both netminders could very well see the ice as Pittsburgh embarks on their title defense in a few short weeks. It's the reason general manager Jim Rutherford was set on keeping Fleury in the mix this season and both individuals understand the dynamic of having a tandem this good.
Also, both individuals know that at some point — they'll both get an opportunity to help this team win.
If the decision to keep Fleury in Pittsburgh extends past this summer, though, things may get a bit more difficult. Even Sullivan and his ability to lead this group will struggle to keep both parties happy. At some point, Murray will want 'his team' and Fleury will want to be 'the guy' but that's looking into the future. For now, the Penguins aren't dealing with a controversy. They aren't negatively impacting their locker room and Sullivan isn't rustling any feathers with his recent comments. They'll do what's best for the team, and both Fleury and Murray will play their respective roles.
It's time to eliminate the word 'controversy' from the vocabulary of those who cover and watch the Penguins. At least for the next couple months.