It hasn't even been a month since Kevin Shattenkirk joined the Washington Capitals, but upon first glance, it doesn't seem that way.
In fact, the 28-year-old blueliner didn't take long to adjust to his new team at all. At Friday's practice, Shattenkirk was going through the routine drills with his teammates, a smile on his face. In such a short time, he has fit in perfectly, acting just as a player that the Capitals needed.
Following team practice this past week, I joined Shattenkirk in the Capitals locker room at Kettler Capitals Iceplex to discuss his adjustment to his new team, almost a month in.
"So far it's been great," Shattenkirk said. "I think it can be a little daunting to go into a new locker room, but the guys have been really welcoming with open arms and made it feel like home here and the transition off the ice has been pretty smooth as well."
The reason that Shattenkirk has fit in so well is perhaps because he is exactly the type of player Washington needed. The Capitals have a stacked blueline, but before Shattenkirk, only two defensemen were right-handed. Now, they have one right-hand shot on each pairing and further depth down the defensive corps.
Not only that, but Shattenkirk is a puck-mover with an offensive edge to his game, so not only can he backcheck efficiently, but can also create scoring chances and help start the breakout.
Working With Orpik
Right now, the Capitals have Shattenkirk slotting in on the bottom defensive pairing alongside former Olympics teammate Brooks Orpik. The two have already shown chemistry, and according to Shattenkirk, he enjoys having the 36-year-old veteran as his partner on the blue line.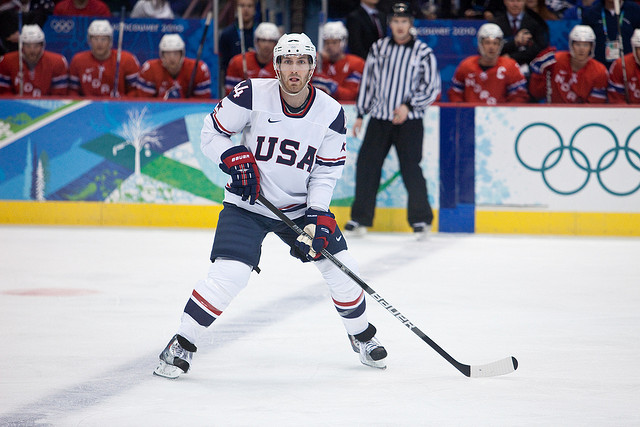 "It's been a lot of fun," Shattenkirk said. "Now to be able to really play all of my major minutes with him, it's great. It's great to see how he operates."
When speaking about Orpik, Shattenkirk had nothing but praise.
"For what I do offensively, he's a just a rock defensively, and that really helps me out," Shattenkirk said. "Sometimes you need that balance. We move a lot and interchange and that type of movement creates a lot of havoc for defending players. I think people just see him as a stay-at-home guy who makes simple plays, but he's got a lot of patience with the puck, he makes the right play at the right time and he has the ability to make some big plays when you need it."
Power Play Prowess
Not only has Shattenkirk added stability and insurance on the backend, but he has been vital on the forecheck as well. The Capitals needed another power-play quarterback to come in and enhance the impressive top PP unit, and Shattenkirk has fit in well. Though he is still in pursuit of his first goal with the team, Shattenkirk has already picked up eight assists through his first 11 games with the Capitals. Four of those helpers have come off the man advantage.
Still, Shattenkirk sees his adjustment to the Capitals' special teams unit as a "growing process."
[miptheme_quote author="Kevin Shattenkirk" style="text-center"]"The first few games, I think I was a little too tentative, and I was just worried about who I would give the puck to. The last few games, I've been shooting a little more, and I've started to realize that shot really opens everyone else up."[/miptheme_quote]
He also added that he is focused on setting up his shot from the top, getting one-timers across to Alex Ovechkin and opening up more space for Nicklas Backstrom along the half-wall.
Overall, Shattenkirk brings an offensive edge to Washington and will help the Capitals maintain their top acumen on the man advantage. Their 21 percent success on the power play is the seventh-best in the league. They've scored a power-play goal in three of their last four games, and a lot of that success can be owed to Shattenkirk's puck-moving ability as the point man on that first unit.
A Winning Team
Obviously, the Capitals are incredibly driven toward the playoffs, so much that it has taken over the team's mentality at times. Coming from the Blues, who are currently holding onto the eighth seed in the West, Shattenkirk was pleased to come to a winning team, especially one that held a sizable lead over the rest of the NHL.
After joining the Capitals, Shattenkirk realized right away the urgency the team has toward the playoffs and that each game is vital; not for the sake of points, but for the sake of preparation.
"We want to be preparing right now," Shattenkirk mentioned. "With games that are pretty much like playoff games, that's how you build your team."
At the beginning of March, the Capitals saw themselves suffering slight setbacks, which led them into the tight Metropolitan Division race they are in now. Prior to this four-game winning streak, the Capitals dropped four of five decisions and found themselves in a three-game losing skid following consecutive losses on a mid-March California road trip.
With the team finally clicking, Shattenkirk believes they are ready for the postseason that is just a few weeks away.
"It's crucial to build great momentum going into the playoffs, and I think we're doing that right now," Shattenkirk said. "We're finding our chemistry. Once [Burakovsky] came back, that was great for the forward lines and obviously, the d-pairings are starting to get into the groove."
This is not the first time the New York native has looked for the Stanley Cup. Last season, Shattenkirk helped the Blues reach the Western Conference Finals, posting two goals and 11 points in 20 playoff games, as well as 32 hits and 31 shot blocks. He knows what it takes to make a deep playoff run, and he is hoping to carry that knowledge to the Capitals as they seek their first Cup.
"I think you have to use that experience the best way you can," Shattenkirk said. "I think the one thing we learned last year was even getting that far, there are ups and downs. There's a lot of them, and how you react to them is very important."
The most important part of it all for Shattenkirk, however, is sticking to the script.
"We had a lot of tough series and we played in a lot of tough environments," Shattenkirk said. "…Sticking to your structures, sticking to the game plan when things are at their hardest, that's where winning teams will start to prevail."