The Los Angeles Kings enter the All-Star Break feeling pretty good about themselves. However they're facing one of the most important decisions of their season leading up to the Mar 3 NHL Trade Deadline. This decision will have lasting ramifications for many seasons to come.
---
---
Quietly, the Kings are one of the best teams in the Western Conference. They have a chance to not only win the Pacific Division, they could make a run for first in the West. GM Rob Blake and staff deserve credit for the team they're building.
But if you watched the Kings in their last game before the break, you knew something was missing with them. That missing element has been following them all season. This time it reared its ugly head at the worst possible time.
The Kings needed saves. Tuesday night in Raleigh against the Carolina Hurricanes, the Kings didn't get the saves they needed. They blew a 4-1 lead as a result. They wasted a four-goal second period and didn't find two points.
Kings Deadline Plans
While teams like the Toronto Maple Leafs and Edmonton Oilers have been seen all over the rumor mill in recent weeks, the same can be said for the Kings. They've been reportedly in on every available left-handed defenseman.
However after Tuesday night's meltdown, one thing became clear. If the Kings are to make something good out of this season, they must address the crease. Luckily for them, they have some juicy options available.
---
Latest News & Highlights
---
First, a quick recap. See what I did there? The Kings' goaltending situation has been inconsistent. They've done well enough to be in the playoff race. But then there are maddening moments where it feels like they'll never figure things out.
One look at the season numbers tells the whole story.
Jonathan Quick: 8-12-0 record, 3.41 goals-against average, .881 save percentage.
Pheonix Copley: 15-3-1 record, 2.92 goals-against average, .897 save percentage.
Copley has had the better performance, but sub .900 goaltending isn't going to get teams very far in the playoffs. This doesn't include the demotion of Cal Petersen from earlier this season.
The Kings are tied in points with the Seattle Kraken at the top of the Pacific Division. They trail the Dallas Stars by three for best in the West. Not only do the Kings need to address their goaltending, they must make it their number-one priority. There's a team and a situation that is perfect for them to take advantage of. Enter the Vancouver Canucks.
Canucks Can Fill the Kings' Need
The Vancouver Canucks' situation is well documented. From a terrible season on the ice to the way things worked out with former coach Bruce Boudreau, to say the Canucks are a mess doesn't give it enough justice.
When their management is on record as saying major surgery is needed, that tells you everything you need to know. With the exception of their established core, most everyone else is potentially available in a trade.
This even includes goaltender Thatcher Demko. Who would have seen this possibility two seasons ago?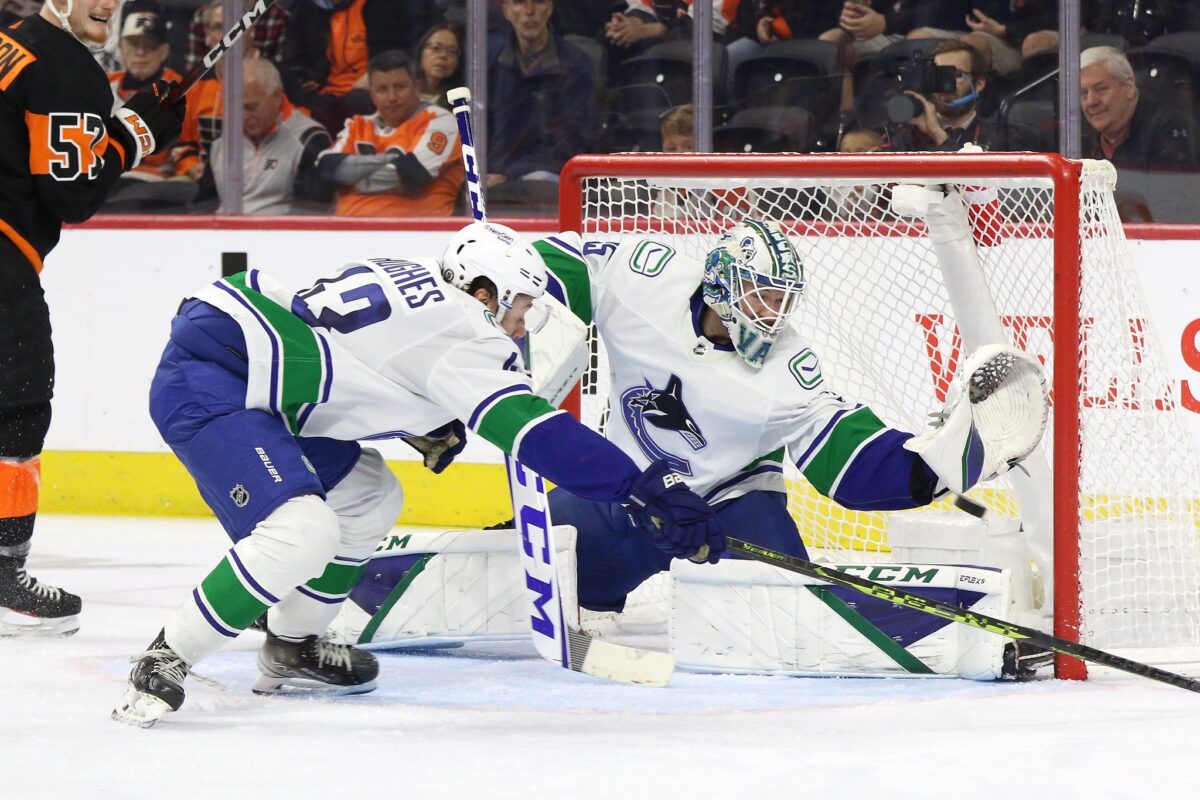 Once thought of as the goalie of the future for the Canucks, Demko is reportedly available. There have even been some rumblings that Demko doesn't like it in Vancouver and wants out. If that's true, that really puts the Canucks in a pickle.
However that's also music to the ears of the Kings who could use a goaltender not only this season, but in future seasons too. Demko would not be a rental. He's got three more seasons at $5 million. He'll generate a lot of interest given his term and cost certainty.
When right, Demko is one of the toughest goalies in the NHL to beat. This season has been nothing short of a nightmare. He has just three wins in his 15 starts. But then in early December, Demko suffered a lower-body injury and has been sidelined. He was expected to miss six weeks. However he could be out another three weeks yet. GM Patrik Allvin said it's "hard to give an exact timeline."
While there is certainly risk involved here, the Kings should be all over this. They will not be alone. Teams who need a goalie upgrade who are on the way up will look to the Canucks. The Sabres immediately come to mind.
What This Trade Could Look Like
This is where things can get tricky. The Kings have plenty to choose from in terms of draft capital and prospects to make a deal. Teams would try to target some of their top prospects and young players.
The Canucks would be trading low if they do make this deal. If Demko does want out, they'll have no choice but to make the deal. What would both sides be happy with here?
With both teams being in LTIR, money would have to balance out. Does this mean the Kings would need to include Quick in the deal? He's a pending UFA after this season with a cap hit of $5.8 million.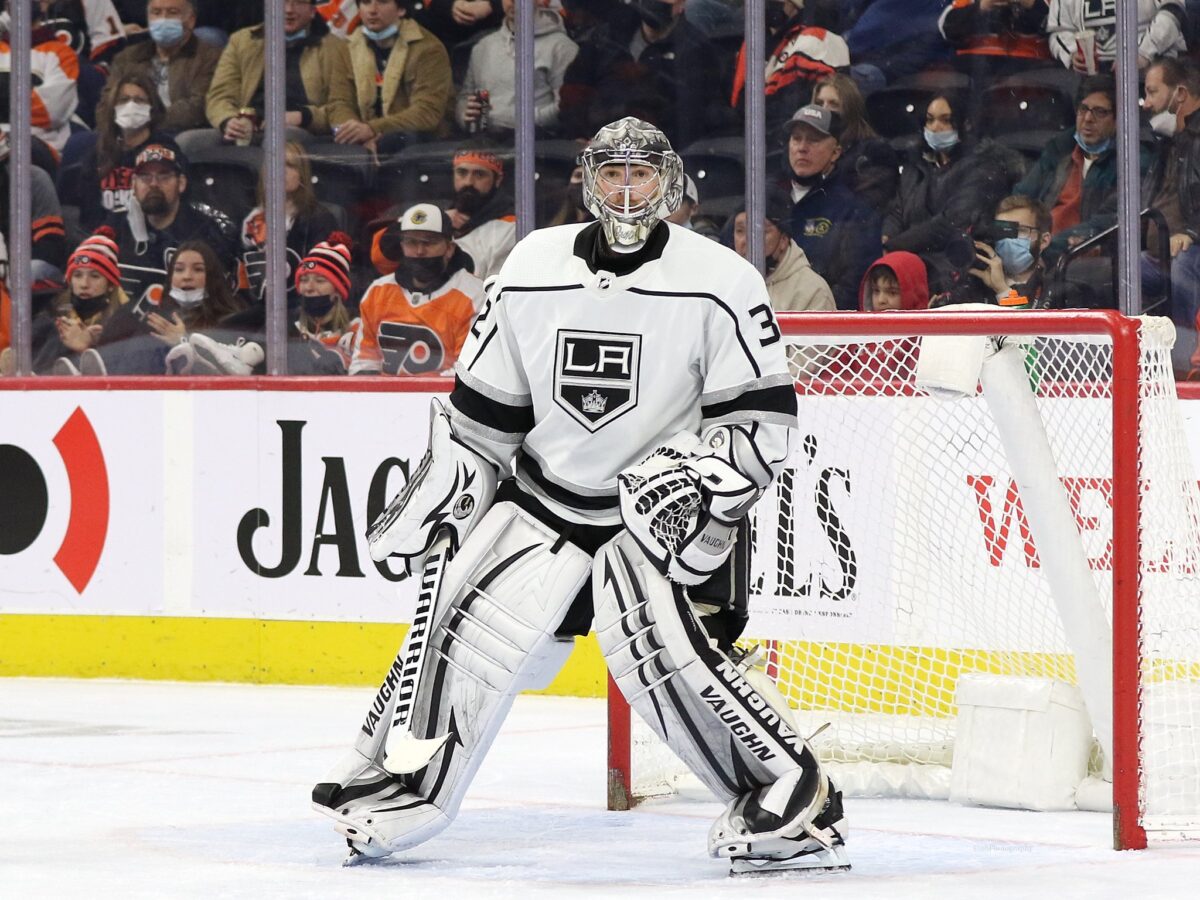 This trade can be completed in a couple of different ways. The Kings could deal picks to the Canucks while having to shed salary somewhere else. They have an abundance of right-handed defensemen they could look to move. Or the trade could be completed with roster players and prospects involved to balance out the dollars.
You Might Also Like
The Canucks could choose to target players like Sean Durzi, Gabriel Vilardi, Samuel Fagemo and others. The Kings have an abundance in their pool to make this work. Demko presents one of the few times where dipping into the pool makes sense. The Kings also have all of their high draft picks available as well. They are in a great situation with an abundance of assets to make the Canucks seriously think about it.
Can the teams find an agreement both sides are happy with? That's the ultimate question. Would the Canucks be willing to trade in division? The Sabres at least present an option to send Demko to the other conference. The Kings might need to pay more. It would still be worth it given the possible reward.
Tuesday night showed why the Kings must address their goaltending. The Canucks have an enticing option in net. They have the means to make this blockbuster work. We'll see soon if it becomes reality or not.