Pittsburgh Penguins general manager (GM) Ron Hextall has some work to do before the March 3 trade deadline. The Penguins are far from a complete team and their many holes are being leaked throughout the first half of the 2022-23 season. Hextall needs to make a significant move to upgrade the roster and one team to watch as a blockbuster trade partner would be the Arizona Coyotes.
The Coyotes are in complete sell mode and will talk trade on just about all of their players. With the Penguins fighting for their Stanley Cup Playoff lives in the Eastern Conference and with the Coyotes a basement dweller in the Western Conference, these two teams have serious potential to become trade partners.
Coyotes Have Several Pieces Who Fit Penguins Needs
Coyotes GM Bill Armstrong has been receiving a ton of trade calls these past few weeks as the team continues to try and sell their assets. Here's who would be a fit in Pittsburgh:
Jakob Chychrun
Coyotes defenseman Jakob Chychrun remains one of the best defensemen available on the trade market. He'd fit in perfectly for the Penguins.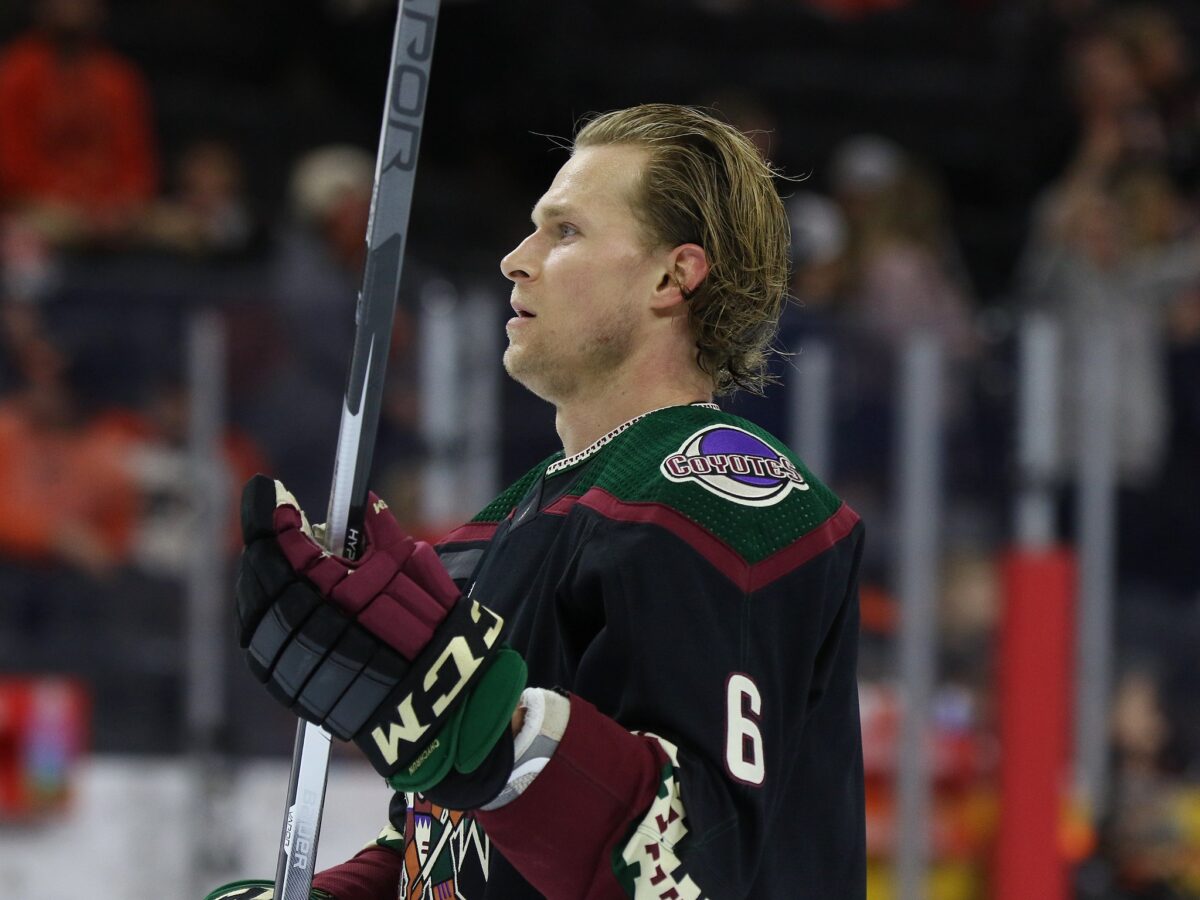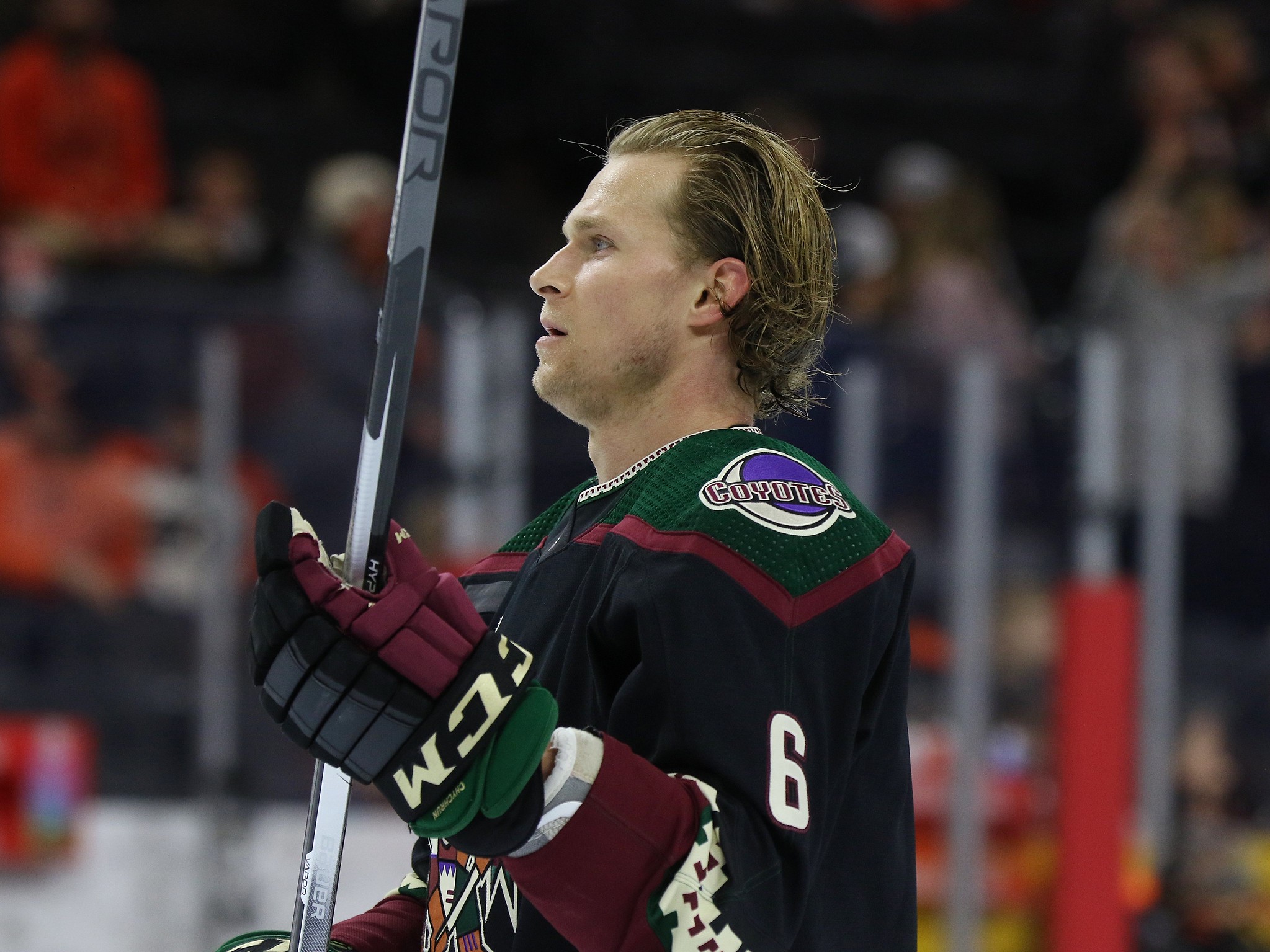 Chychrun is a top-two defenseman who can play in all situations. His hockey sense is off the charts, he's capable of one day reaching 60-point seasons and with a cap hit of only $4.6 million through the 2024-25 season, Hextall needs to seriously consider meeting the demands of Armstrong and the Coyotes.
Chychrun wants to play for a Stanley Cup contender and if he's added to the Penguins, they are exactly that. At 24 years old he'd quickly become one of the franchise's core players and would be one of the players who could take over the reigns for the likes of Sidney Crosby, Evgeni Malkin and Kris Letang, once they decide to hang up the skates.
Related: Penguins & Oilers Emerging as Potential Trade Partners
---
Latest News & Highlights
---
The price tag here is significant and would likely cost the Penguins defenseman Ty Smith and top defensive prospect Owen Pickering. Pickering is a towering 19-year-old prospect who the Pens selected in the first-round in 2022. The Coyotes are after first-round picks or recent high draft picks, and with Smith being only 22 years old, he fits the bill as there's still ton of potential in his game.
Karel Vejmelka
Recently, beloved hockey insider Elliotte Friedman tossed around the idea of the Coyotes listening to trade offers on goaltender Karel Vejmelka, and if that is indeed the case, the Penguins need to strongly consider landing the southpaw netminder.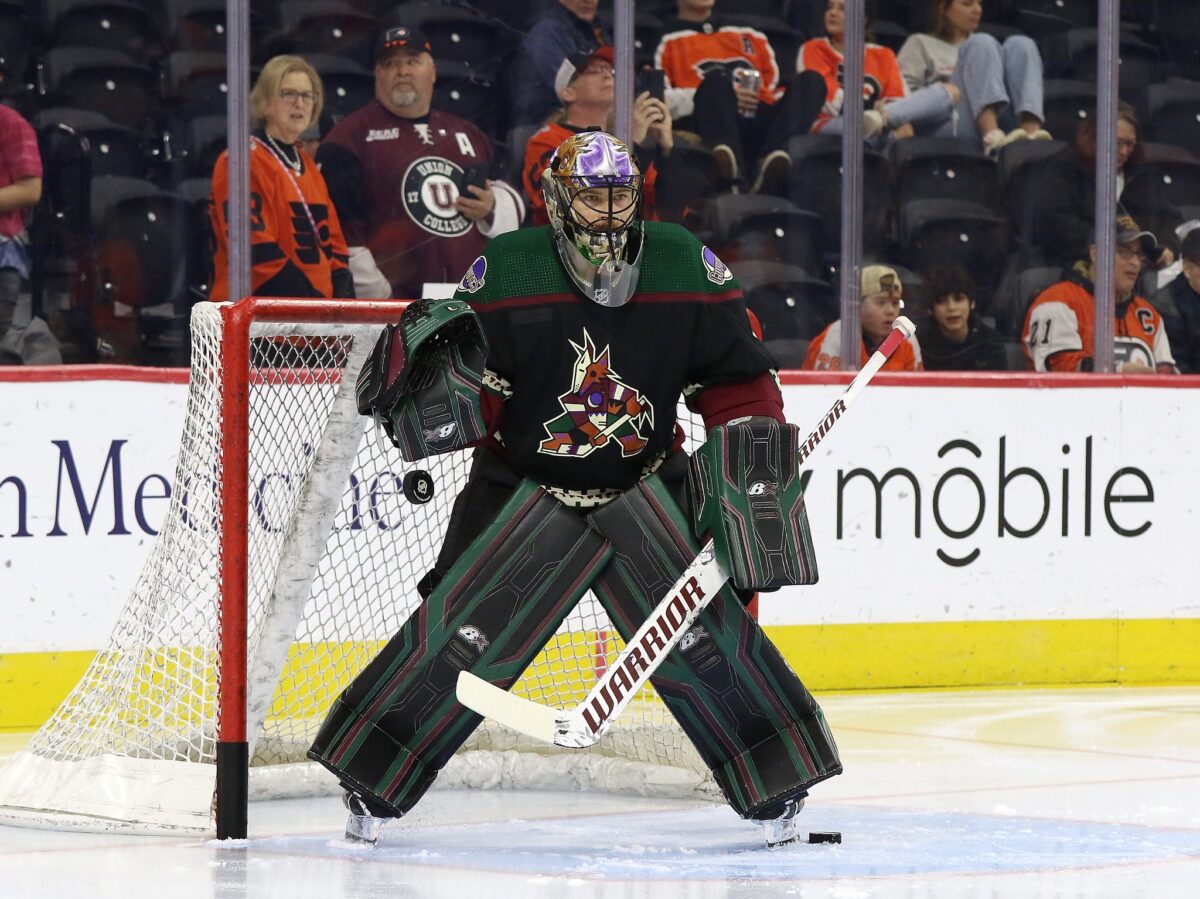 Vejmelka is 26 years old, in the prime of his career, and is one of the best backstops in the league. Night after night for a struggling team in Arizona, Vejmelka keeps them in hockey games and the best part may be his salary.
Vejmelka is signed through the 2024-25 season at a very reasonable $2.7 million against the cap. Like Chychrun he does not hold any trade protection and can be moved at will. Because of his salary being so low, Hextall could potentially keep Tristan Jarry out of this trade and include Casey DeSmith instead. Arizona isn't looking to win games down the stretch and would be much better off giving themselves the best chance to draft generational talent Connor Bedard. As long as they get the 'futures' package they're looking for, sounds like the Coyotes will take on just about anyone. I mean, they did trade for Zack Kassian.
As for Vejmelka, he could easily become the Penguins number one netminder or work in tandem with Jarry. The Penguins still need to sign Jarry to a contract extension, so it would definitely take off the pressure of getting the deal done and would allow Hextall to work a hard bargain with Vejmelka already signed for a couple more seasons. If a trade goes down between these two clubs, Pittsburgh should do whatever it takes to have Vejmelka included in the package.
Nick Ritchie
The Penguins need to find some more depth for their bottom six and more specifically, players who can move up the lineup should an injury take place down the stretch. Coyotes forward Nick Ritchie fits the bill and would bring some much needed sandpaper and toughness to the Pens lineup.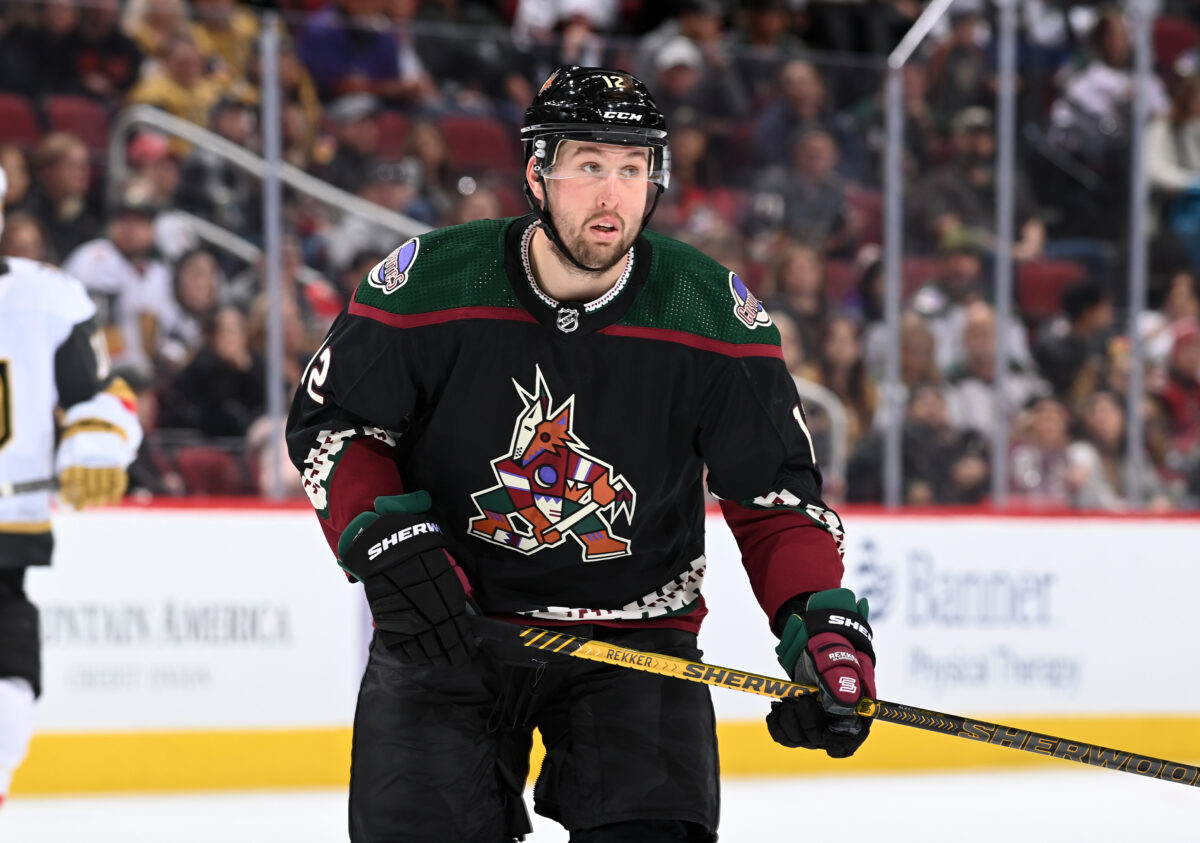 The 27-year-old is a pending unrestricted free agent and basically would come with little risk or commitment. Ritchie's a big body at 6-foot-2 and over 220 pounds and he's not afraid to lay a big hit or drop the gloves to stick up for himself or a teammate. He's underrated offensively and would help the Penguins second power-play unit.
Ritchie has recorded 21 points in 47 games this season and in 2021-22, scored 10 goals in 24 games with the Coyotes after a trade from the Toronto Maple Leafs. He's best suited as a net-front presence and someone who can chip in with some offense from the third line. Another great fit for the Penguins and someone Hextall should consider trading for.
Penguins GM Has Options With Trade Package
Again, the Coyotes showed with the Kassian trade, they're ok with taking on a bad contract if it means they receive a trade sweetener in the deal. Hextall should use this to his advantage and offload a couple of bad contracts in forward Kasperi Kapanen and veteran defenseman Brian Dumoulin. While Dumoulin is only signed for the rest of this season, his $4.1 million would help balance the books for this blockbuster and his minutes could easily be taken up by Chychrun. He does hold a 10-team no-trade clause, would he be willing to approve this deal?
Kapanen on the other hand, he's been in and out of the coach's dog house this season and getting more opportunity on a struggling team could do his game wonders. The Penguins would love to free up the $3.2 million salary next season, meanwhile Kapanen could play a top-six role in the desert.
Hextall's trade chips would likely include Kapanen, Dumoulin, DeSmith, Pickering, goalie prospect Taylor Gauthier, a first-round pick in 2023 and a second-round pick in 2024. The pressure is on for the Penguins GM to make a move after the New York Islanders, who are chasing the Pens, landed Bo Horvat. Now is not the time for Hextall to sit on his hands.
In any trade with the Coyotes, the pot will need to be sweetened for Arizona's taste and in this potential deal Pittsburgh would be adding an elite defenseman, a starting-caliber goaltender and someone they can plug and play into their top-nine forwards. Potential for a win-win here? That will be for Hextall and Armstrong to decide sometime before the March 3 trade deadline.