It looks like the NHL is back. According to several reports, league officials hope to kick off a 56-game season on Jan. 13, 2021, three and a half months after Game 6 determined the Stanley Cup champions. As the season approaches, here's a look at some individual milestones within arm's reach of some Vancouver Canucks.
Games Played
Alex Edler needs 27 more games played (GP) to reach 900 in his NHL career. His 873 games with the Canucks rank sixth in franchise history. By reaching the 900-game plateau, he would leapfrog Marcus Naslund (884) and Stan Smyl (896) into fourth place. A reliable defenseman who's stayed relatively healthy throughout his career, this shouldn't be too difficult for Edler, even in a shortened season.
Jay Beagle has played 583 NHL games, 17 shy of 600. Unlike Edler's, most of Beagle's games were played outside of Vancouver. Nonetheless, look for the Calgary native to reach this milestone early on.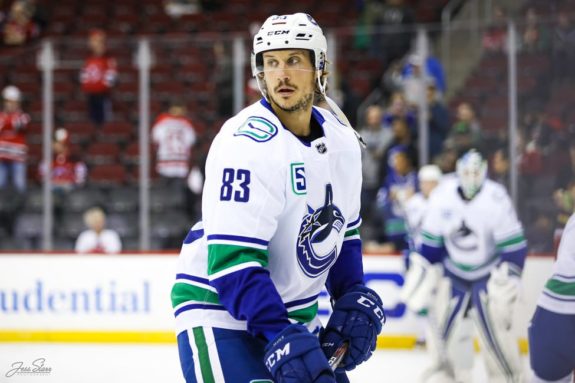 Where has the time gone? Bo Horvat is entering his seventh season in the league, and his second with the "C" on his chest. The Ox has missed more than one game in a season only once since 2015-16, racking up 446 GP in his career. He will need to play in at least 54 of the expected 56 games this season to reach 500. The COVID-19 pandemic and the uncertainty of the season threaten to prolong reaching this milestone, but it is possible.
Like Horvat, Tanner Pearson is also looking to reach 500 games in 2021. The nine-year veteran has 457 GP. Pearson reaching 500 isn't a guarantee, but it's more feasible than Horvat.
The newest member of the Canucks' blue line should reach a milestone in the first week and a half of the season. Nate Schmidt will play his 400th NHL game in the green and blue after playing his first 396 with the Washington Capitals and Vegas Golden Knights.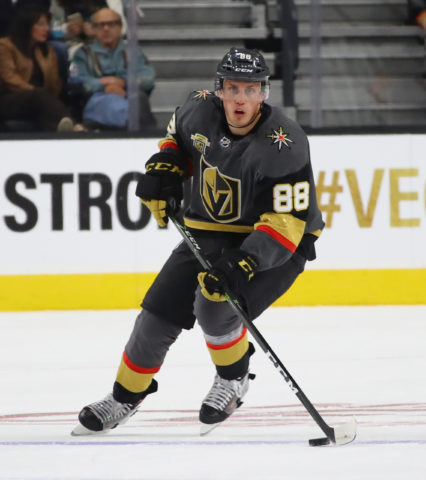 A few of the young guns have GP goals in their sights for next season. Jake Virtanen is 21 games away from 300, Brock Boeser is three away from 200, and Quinn Hughes is 27 away from 100.
Goals
Brock Boeser has scored 75 goals in his NHL career, leaving him 25 shy of 100. Scoring 25 times in a 56-game season is a tall mountain to climb for any player, especially considering Boeser's so-so 2019-20 regular season. But he lit the lamp 29 times in 62 games in 2017-18, which comes out to a .47 goals-per-game average. Assuming Boeser dresses for all 56 games, if he scores 25, he will reach a .45 goals-per-game average, so it can be done. Considering he is due for a bounce-back season, reaching 100 goals could come as the 2020-21 season winds down.
Alex Edler is also aiming to score his 100th career goal. Unlike Boeser, Edler's is essentially a lock as he is sitting with 99.
Assists
J.T. Miller dished out a personal-best 45 assists last season, putting his career mark at 187. He needs 13 to reach 200, so it's simply a question of when not if.
Elias Pettersson has tallied 77 assists following his freshman and sophomore seasons in the NHL. If he is to reach 100 in his junior year, he will need at least 23. He averages .55 assists-per-game, so look for the Swedish star to reach 100 in the second half of the season.
Also looking to reach 100 career assists is Jordie Benn. Sitting at 94, the Victoria native needs only six to reach the milestone. Benn had six assists in 44 games last season, so similar production in the shortened 2020-21 is expected.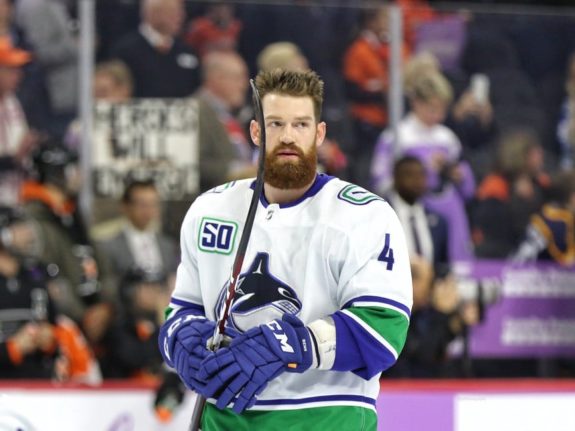 Brock Boeser is the third Canuck going for 100 career assists. With 86, the 23-year-old should have no problem reaching the century mark.
Quinn Hughes, Jake Virtanen, and Adam Gaudette all have the opportunity to reach 50 career assists this season. Hughes needs only two more, so that could happen on opening night. Heck, with an exceptional season, he could even reach 100. Virtanen needs five, so he'll get there a week or two into the season, depending on his start. Gaudette's path to 50 won't be as easy; sitting at 28, he would need to post 22 assists in 56 games. He put up 21 in 59 games last year, so he would need a slight uptick in production to meet the milestone.
Points
Alternate captain Brandon Sutter is 23 points away from 300 in his time in the NHL. The main obstacle in reaching this milestone is his health; he's missed 165 games in five seasons with the Canucks. If the 12-year veteran can avoid injuries and continue to produce at the pace he has managed throughout his career, Sutter could reach 300 by season's end.
Tyler Myers is sitting at 286 points in the big leagues. The towering defender has put up less than 14 points only twice in his 12-year career: once in a 48-game season in which he also missed nine games due to injury in 2012-13, and again in 2016-17 when he played in only 11 games. Considering he will have an expanded role after Chris Tanev's departure, Myers should easily reach 300 this season.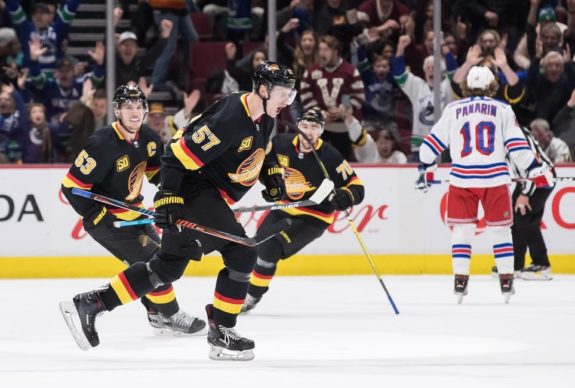 Bo Horvat is another player looking to hit 300 career points. With 275 under his belt, notching 25 this season should be a piece of cake.
Elias Pettersson is 68 points from 200 going into his third season. He's put up 66 in each of his first two campaigns, but he only has 56 games to work with this year. While it's a long shot, don't be surprised if the youngster takes a massive step into true NHL superstardom and gets to 200.
Also approaching the 200-point plateau is Brock Boeser. His path to this milestone is a bit easier than Pettersson's, as he only needs 39 to get there. Boeser had 45 in 57 games last year, so there's no reason to think he can't do 39 in 56.
Known for his physical play, Antoine Roussel finds himself only 15 points away from 200 in his career. Barring injury, the Frenchman's career production indicates he should reach the milestone.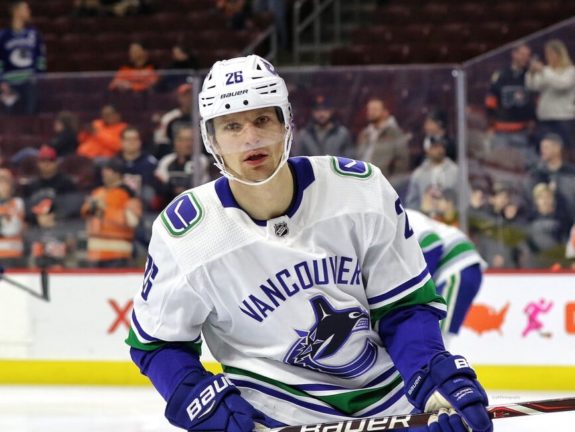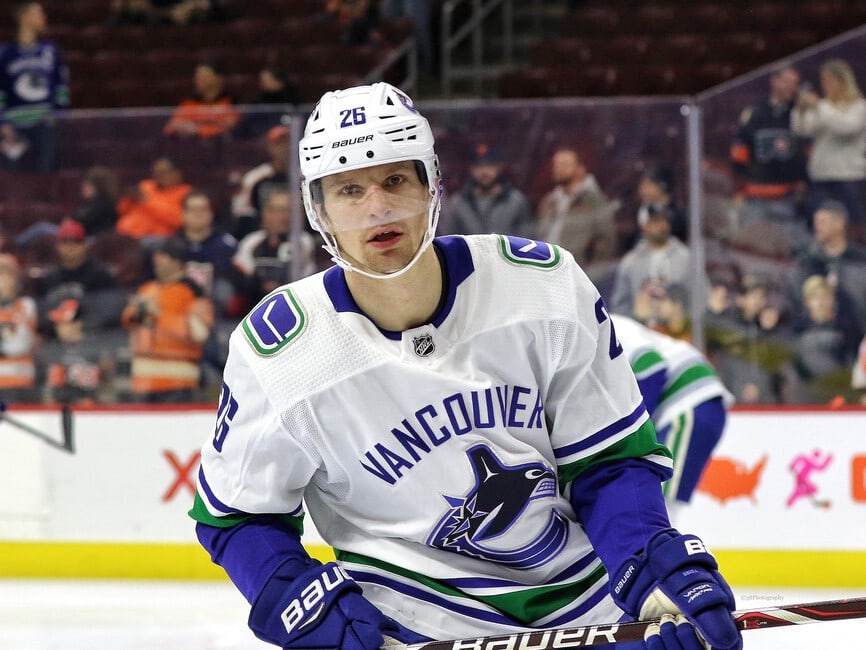 Jake Virtanen has tallied 95 points in his career, putting him five out of 100. Like his assists, this one is a lock and should come fairly early in the season.
Quinn Hughes, currently with 56 career points, is also looking to reach the 100-point mark. If the 21-year-old can produce at the same pace he reached in the first 73 games of his career, putting up 44 points in 56 games is a definite possibility.
Goaltending
Braden Holtby has 282 career wins, 18 away from 300. He may have to share the net more than he's used to this season, so getting to 300 in a shortened season won't be easy, but it's not out of the question.
If Holtby gets to 300 wins, he will make history in the process. The fastest goaltender to reach 300 wins in NHL history is Jacques Plante, who did so in 528 games. With 468 career games, he needs only 18 wins in 60 tries to achieve this incredible feat. This is a race that fans around the league will be monitoring closely this season.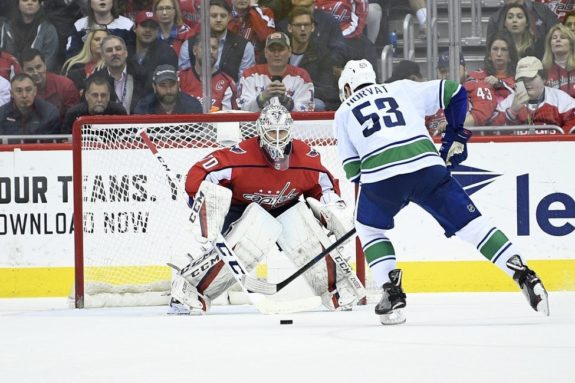 We are living in uncertain times, and there are several factors that could result in many of these milestones not being met. However, after the NHL pulled off the 2020 Playoffs with zero positive COVID-19 tests, there is reason to believe the league can run a safe and successful 2020-21 season.
---
---
Howdy, I'm Aidan and I cover the Washington Capitals here at The Hockey Writers. I recently received my bachelor's degree in English with a minor in literature from Christopher Newport University, where I also played on the Division lll club hockey team. I can't get enough puck, whether it be writing about it, watching games, competing in men's league or playing NHL 21. I'm always down for some hockey talk, so feel free to leave comments and feedback on my work!