Braden Holtby was the most decorated goaltender in free agency which showcased a plethora of quality netminders. The five-time All-Star won the Calder Cup in 2010, the Vezina Trophy in 2016, and the Jennings Trophy in 2017. He was named to the NHL's First All-Star Team in 2016 and Second All-Star Team in 2017 and won a Stanley Cup in 2018. He is also tied with Martin Brodeur for having the most wins in a single season, was the second-fastest goalie in NHL history to reach 200 wins, and has arguably the most iconic save in Stanley Cup Final history.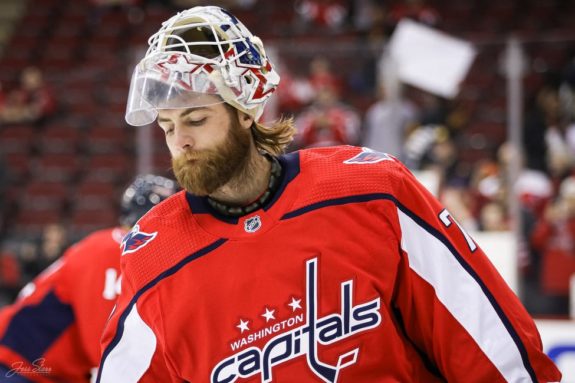 While extremely impressive, these accolades mask what has been a lackluster past three regular seasons. The Saskatchewan native posted a 3.11 goals-against average (GAA) and a .897 save percentage (SV%) this past season, both career worsts, and a 2.82 GAA and a .911 SV% the prior season. It's also easy to forget that Philipp Grubauer was Washington's starting goalie at the beginning of their Cup run.
The Vancouver front office was undoubtedly aware of Holtby's recent struggles. However, they clearly feel he can recapture his elite ability that he showcased in his first seven seasons. Upon a brief examination of his career stats, the formula for success quickly becomes clear.
More Starts Equal More Success
Holtby has started over 60 games in three straight seasons, from the 2014-15 season through 2016-17. During this stretch, he became the third goaltender in NHL history to record three consecutive 40 win seasons. Holtby also earned 21 of his 35 career shutouts in that span. Now obviously more starts equate to more opportunities to earn wins and shutouts. But take a look at this scatter plot.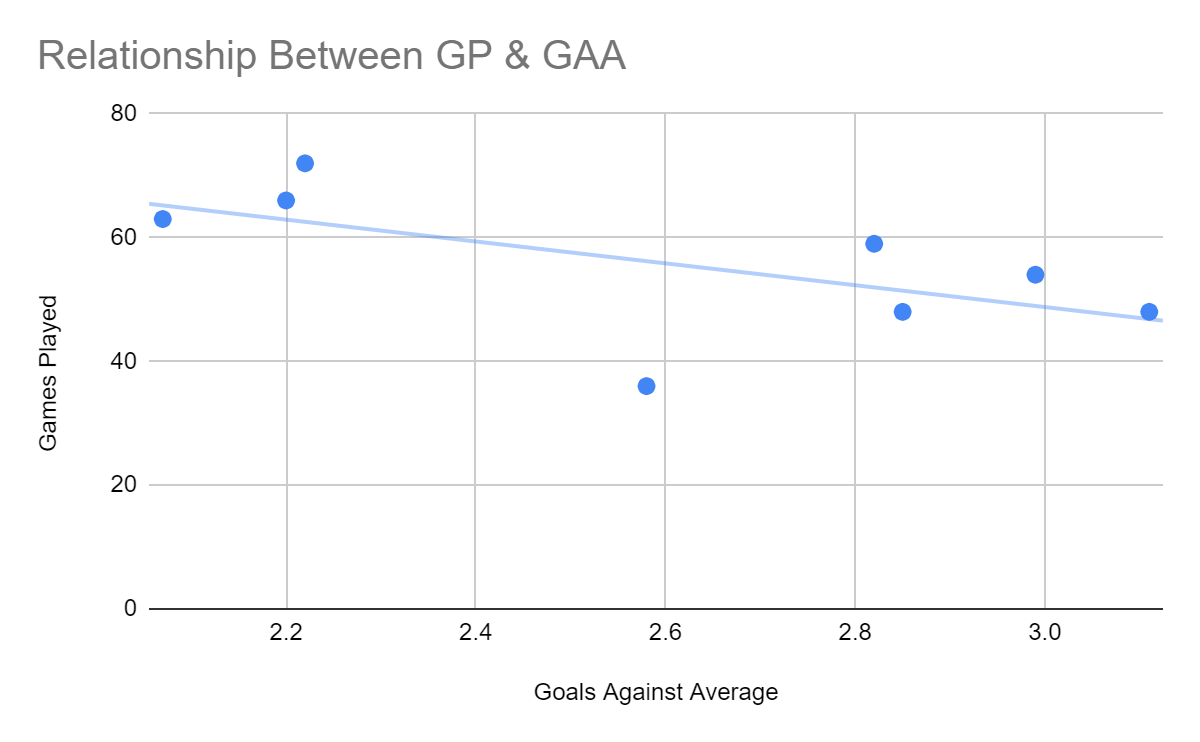 You don't need to be a statistician to decipher from the graph that Holtby plays better the more he is thrown in the cage. In those three seasons with over 60 appearances, he posted GAAs of 2.22, 2.20, and 2.07 chronologically. In seasons with less than 60 starts, his GAA was below a 2.82 only once; the one exception was the lockout-shortened 2012-13 season.
Some goalies simply thrive off of heavy workloads. Brodeur posted Hall of Fame numbers annually starting over 70 games a season. Holtby is also one of the great postseason performers of all time, which shouldn't come as a surprise considering the playoffs entail playing essentially every other night.
The Problem with Riding Holtby
It is almost certain that Vancouver's newest netminder will not reach the magical 60 game mark for two reasons. First, the talk around the league is indicating that the 2020-21 season will be anywhere from 48 to 65 games. So one goalie starting 60 games is out of the question, especially given who the other goalie is, which brings up the second problem.
Thatcher Demko made a name for himself in last year's playoffs, and Vancouver has big plans for him moving forward. This season is crucial in the development of the youngster, and head coach Travis Green will need to give him a healthy workload to ensure they have a franchise goaltender.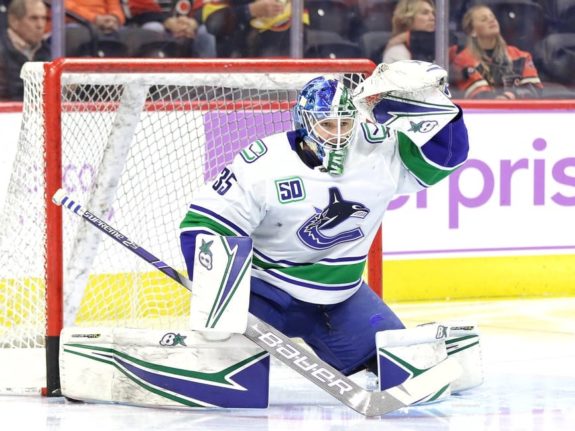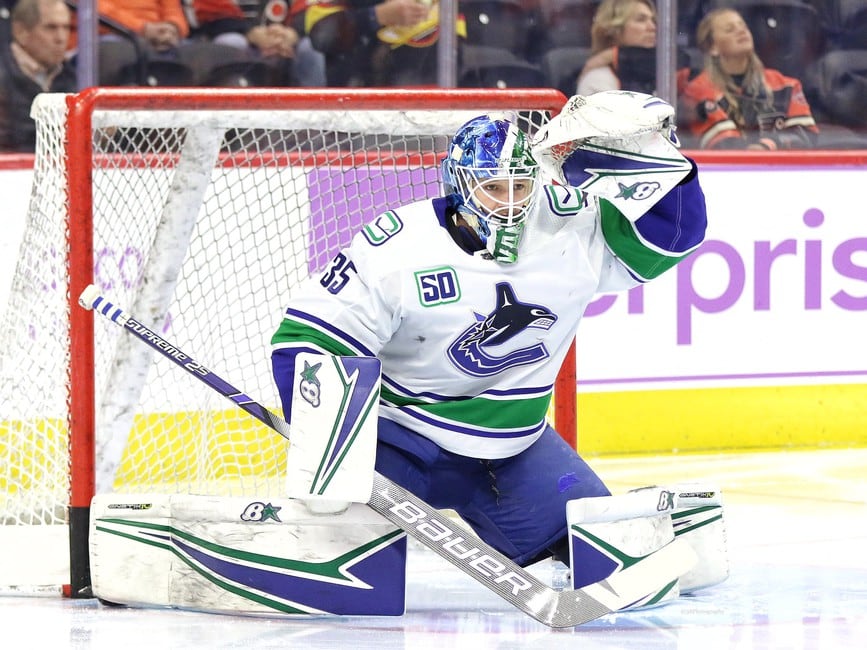 General manager Jim Benning has tiptoed around questions of who the starting goalie will be, but with two netminders with something to prove, expect to see a 1A/1B approach, at least to start the season.
The Ian Clark Effect
There is hope that Holtby can be effective while playing only 25-35 games. From 2014-17, Holtby worked with legendary goaltending guru Mitch Korn, who also contributed to the stardom of Dominik Hasek, Grant Fuhr, Pekka Rinne and Robin Lehner. While Korn resides on Long Island, Benning believes the parallels between he and Canucks goalie coach Ian Clark will benefit Holtby:
"Braden had Mitch Korn in Washington for a while and thrived under him and Ian Clark comes from that same school of thought as far as goaltending is concerned. I expect Ian to do an excellent job with him and I think he's gonna have a real good season for us."
The Vancouver native has worked with several big names, including Roberto Luongo, Marc-Andre Fleury, Cam Ward, and Sergei Bobrovsky. Clark was also instrumental in Jacob Markstrom's development and success. With a young goalie with 37 regular-season appearances and a veteran looking to turn his career around, he will be heavily relied on this season to produce a tandem that the Canucks can count on.
No matter how many games the 2020-21 season will contain, Holtby is still in a position to succeed. He is joining a rejuvenated franchise with a solid backend. He will be coming off the longest offseason of his career. He will have a proven goalie coach tweaking his game throughout the season. He has the element of competition with a rising star. Even the change of scenery and being back in his home country could have a positive impact. All signs indicate that the Hotlbeast should regain his form in his first year in the green and blue.
---
---
Howdy, I'm Aidan and I cover the Washington Capitals here at The Hockey Writers. I recently received my bachelor's degree in English with a minor in literature from Christopher Newport University, where I also played on the Division lll club hockey team. I can't get enough puck, whether it be writing about it, watching games, competing in men's league or playing NHL 21. I'm always down for some hockey talk, so feel free to leave comments and feedback on my work!