There is growing expectation in Vancouver that Jake Virtanen and Hunter Shinkaruk will make serious attempts at earning an opening night roster spot on with the Canucks – but are those two players along with the collection of other young talent in Vancouver's pipeline really ready for that kind of responsibility? The short answer: no.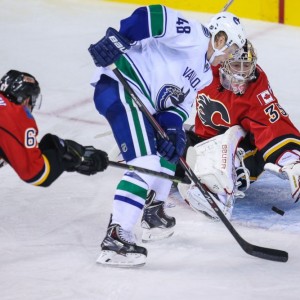 Development is sometimes a convoluted concept in the National Hockey League. Teams often employ the services of exceptionally young players because it gives them a player with potential for a bargain price. The only problem is that when a young player is thrown into the fire too early, it can cause him to fizzle out, if you catch my drift. In the Vancouver organization they are dangerously close to stunting the growth of two of their most promising prospects (i.e. Jake Virtanen and Hunter Shinkaruk).
Both Shinkaruk and Virtanen have endured unfortunate injuries that have no doubt slowed their development. Nonetheless these two players both have very bright futures ahead of them if Vancouver deals with them correctly.
The AHL Is There for a Reason
The American Hockey League arguably plays a more prominent role in hockey as a farm for the big league, than does any other minor league in any other sport in North America. You can see the benefit in teams with perennial success, like Detroit. Patience with young players is vital in maintaining their steady and sustainable growth – not dissimilar from how the development of any employee in any business works. Steady growth is much easier to control and utilize than is extreme growth.
In the past two seasons 241 players made their NHL debuts after playing in the American League. It's obvious that with the right focus and attention, the league is a fantastic primer for NHL time, but quality development comes with meticulous planning, not hasty budgeting. In 2014-2015 Shinkaruk played 71 games for the Utica Comets (Vancouver) and recorded 16 goals and 15 assists. Not bad for his first go at the professional game, but honestly, not nearly impressive enough to instigate his promotion to the NHL. Imagine if Shinkaruk stayed healthy and played the entire year in Utica again. Earning top-six minutes he would be able to produce upwards of 50 points and have another year to progress his strength.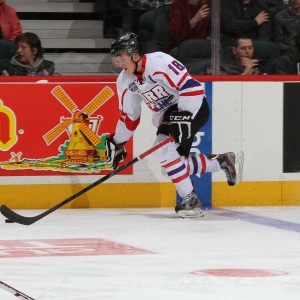 The story is even more frightful for Virtanen, who is being given every chance to crack the NHL squad come October.
Virtanen was limited to just 50 games in the Western Hockey League this past season and recorded 52 points. That is great production, but essentially nothing that should even come close to implying he is physically ready to skate next to NHL bodies. The Canucks could simply tell him,  "you're going to play in Calgary this year, earn a lot of minutes, get some power play time and build your strength and health back up". That way he's set, he knows he's going to play a ton of hockey, be a dominant player and have the time to get back to his game. Not to mention he won't feel like there is unnecessary pressure on him.
Jim Benning and Trevor Linden are playing their cards as they wish and have made it transparent that the Canucks are going to be youthful for the coming years. Youthful doesn't have to be irresponsible, though. Instead of promoting phenomenal youngsters Shinkaruk and Virtanen, the club could give players like Alexandre Grenier a shot at a bottom-six role with the club. In fact, a player like he might have the biggest upside in a rebuild season.
If Shinkaruk and Virtanen Make the Cut…
If the Canucks decide to move forward with one or both of Shinkaruk and Virtanen in their lineup there are ways they could minimize the developmental damage to their futures. The most important would be to make sure those players are surrounded by long-serving Canucks veterans (think Jannik Hansen, Alexandre Burrows, Dan Hamhuis etc.). Having a mentor is a huge part of entering the NHL at a young age.  The Canucks need to learn from Edmonton's mistakes. They should be able to see that a talented but yet to be groomed youngster can be a deadly risk if they aren't mentored properly by a proven veteran.
The other thing the team can do is limit their ice time and make sure the club is working with them diligently off the ice. Too many times you find a young player on a roster who is given far too much responsibility and respect before earning it. The unwarranted fame and long leash given to young players can be a lethal injection to their ego, something that can ruin a player's mindset permanently. If a young player is not performing, they should miss time as easily as any player should.
If the Canucks are smart, they will find a way to keep Virtanen and Shinkaruk off of the opening night roster. If they follow the pattern they have shown this summer, they will need to find a way to limit their ice and teach them how to be a professional before giving them the reins to the future.