We're still two months away from training camp, but with veteran additions made this offseason, the San Jose Sharks lineup is rather easy to project. Assuming there are no surprises, the Sharks probably roll out opening night with the following group of forwards (perhaps different lines), defense and goaltenders.
Joe Pavelski—Joe Thornton—Joel Ward
Patrick Marleau—Logan Couture—Tomas Hertl
Matt Nieto—Chris Tierney—Tommy Wingels
Barclay Goodrow—Ben Smith—Melker Karlsson
Marc-Edouard Vlasic—Justin Braun
Paul Martin—Brent Burns
Brenden Dillon—Matt Tennyson
Martin Jones
Alex Stalock
Talent wise, the Sharks finally look like a team with some quality depth both up front and on the blue line. Between the pipes, Jones and Stalock should make for a solid 1-2 combination. However, throughout this lineup there are a few variables to consider. The following five guys are the biggest question marks.
Brent Burns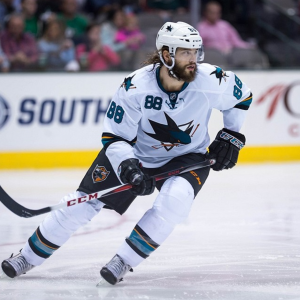 Brent Burns made the All-Star team in his first year back as a defenseman last season, but the numbers don't lie. The Sharks were far better with him at forward over the last few seasons than they were with him as a defenseman. However, in his first year as a Shark (2011-12), Burns played tremendous at even strength as a defenseman, finishing with a 54.8 goals-for percentage. He had fewer even strength points that year than he had last season, but his differential was far better than last year's 47.8 goals for. With Paul Martin already penciled in as his partner, there is a good chance you see Burns back in the positive as an even-strength defenseman. The 30-year old may in fact put up a big, big number in that category because Martin is a stud shut-down defender. While I was very critical of Burns' defensive play last year, having a full season to acclimatize back to the position might be enough to get his defensive play back on track. If this team is to make a deep playoff run, they need Burns to be a difference maker at evens.
Tomas Hertl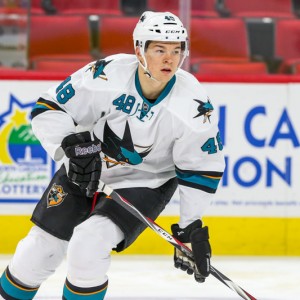 Everyone remembers how Tomas Hertl jumped onto the NHL seen with that four-goal game against the New York Rangers as a rookie in 2013-14. However, unless you are a Sharks fan or follow the Pacific Division closely, you probably didn't notice him last season. Hertl suffered a sophomore slump as he never quite looked the same coming back from the knee injury that cut his rookie season short at just 37 games. After posting 25 points in his first year, Hertl managed only 31 in Year 2, despite playing a full 82-game schedule. Hertl was never a speed burner but his skating stride looked significantly weaker last season than when he scored multiple highlight-reel breakaway goals as a rookie. The fact Hertl did manage to stay healthy enough to play 82 games is a good sign though. Moving forward, the Sharks need the 21-year old to be closer to what he was as a rookie if they want to make a strong run at the Stanley Cup.
Chris Tierney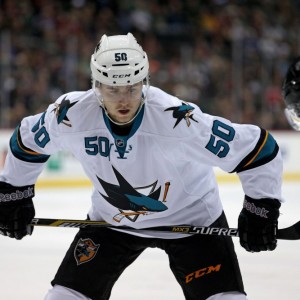 Chris Tierney opened up last season with the big club as the third line center. He started out pretty good but then hit the wall and was sent down to AHL Worcester. After regaining his confidence, Tierney came back up a much better player. Down the stretch of the season, Tierney was arguably the main reason the Sharks stayed in contention as long as they did. San Jose had a horrid month of February, but Tierney's efforts in March and April (14 points in final 18 games) as the third-line center kept the Sharks afloat. Big things are expected from the 21-year old next season. Tierney started showing Joe Thornton-like play-making skills the last month of the season. It would be asking a lot for him to continue the 14 in 18 pace over 82 games (would be 64 points), but 45-50 isn't out of the realm of possibilities. Even if he remains on the third line, he will have at least the same wingers he had down the stretch, if not better ones. Plus at third-line center, he will likely see a lot of third defense pairs. Time will tell though, as he could very easily take a step back in his second year like Hertl and Matt Nieto did last season.
Brenden Dillon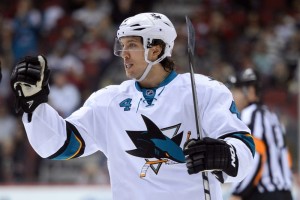 Acquired last year in a defense-for-defense swap in November for Jason Demers, Dillon had a difficult time adjusting to his new surroundings. The Sharks showed him faith this offseason though, signing him to a five-year deal with a $3.27 cap hit. That's a good chunk of change for a defenseman who was average at best last season and is slated to start on the third pair next year. Dillon finished last season with a terrible 40.8 goals-for percentage and a minus-13 rating. All that said, Dillon's above-average Corsi-for of 51.6 and extremely low PDO rating of 96.5 (combined on-ice save percentage and shooting percentage, largely attributed to luck) indicate a big turnaround could be in Dillon's future. He has the makings of a top-four shut-down defenseman. Still, he could still use his big frame better defensively and can do a much better job getting his point shots through traffic instead of being blocked out high. This season will be big for Dillon, as he is 24 going on 25 and is entering his fourth year in the league. If he ends up playing mostly third-pair minutes, Dillon needs to crush his competition. He has the talent to do so.
Patrick Marleau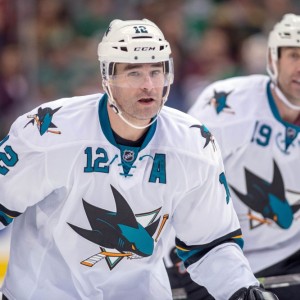 Factoring in the lockout-shortened season of 2012-13, Patrick Marleau had effectively scored 30 goals in six-straight seasons going into 2014-15. Despite criticisms from many (including yours truly) for being soft and at time appearing streaky, Marleau has been money in the bank each season. That is until last year when some terrible shooting luck coupled with a bit of a performance regression saw Marleau score just 19 goals and 57 points, for his lowest full season totals since 2007-08. His minus-17 rating last year is eerily similar to his disappointing 2007-08 season of 48 points and a minus-19. Marleau clearly bounced back from that poor season and is capable of doing it again. That said, he is going to be 36-years old this upcoming season. Father time catches up to everyone and that time could be very soon for Marleau. However, Marleau's 233 shots last year are well within range of the 251 total he's posted twice in the last six years of that 30-goal streak. Those two years, he scored 38 and 30 goals. With the team having a win-now attitude once again under a new regime, Marleau can definitely bounce back. If he has another 30-goal season, chances are the Sharks will be a serious force to be reckoned with once again.