Canucks center Elias Petterson just keeps conjuring more magic early in his rookie season, scoring two goals and three assists Friday night in a 7-6 overtime victory over the Colorado Avalanche at Rogers Arena in Vancouver.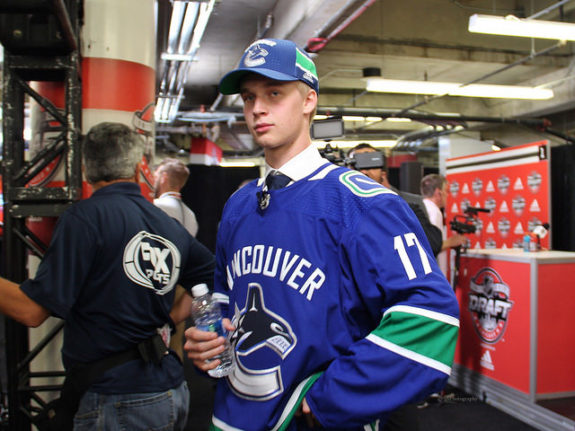 The 19-year-old super Swede scored with 36 seconds left in the third period to force overtime, making him the 16th player in NHL history to notch nine or more goals in his first nine career games. And he's the sixth player to achieve that outside of the league's inaugural season, according to the NHL public relations department.
Earlier this week he was named NHL Rookie of the Month for October, and he is off to a flying start two days into November. In becoming the first Canucks rookie and the youngest player in franchise history notch a five-point game, Pettersson displayed more examples of his incredible hockey sense.
Slick-Passing Swede Sparks Brock Boeser
In the first period, Pettersson zipped a pinpoint pass to Brock Boeser that sprung him for a breakaway goal to put the Canucks up 1-0.
Then with the game tied 1-1 in the second Pettersson topped that pass with a beautifully smart play from behind the red line that was reminiscent of similar plays made by the now-retired Henrik and Daniel Sedin. With direct passing options closed in the neutral zone, Pettersson deftly banked the puck off the end boards and into the path of a speeding Boeser who ripped a shot past Avalanche goalie Philipp Grubauer.
"I saw (Boeser with) more speed than the defender …" Pettersson, who leads his team with 15 points, modestly told Canucks TV. "I made a play, and it worked out."
Listed as 6-foot-2 and 176 pounds, much has been made of Pettersson's slight frame and how he will handle the punishment of a full NHL season. He's already missed six games because of a concussion from a senseless bodyslam by Florida Panthers defenseman Mike Matheson, but Pettersson isn't showing any fear of playing in the dangerous areas. From just outside the top of the crease, he buried a loose puck past Grubauer to tie the game at four late in the second period.
Elias Pettersson Rises To The Challenge
Going head-to-head with 2017-18 Hart Trophy finalist Nathan MacKinnon and current NHL leading scorer Mikko Rantanen, the young Canucks star outshined his more experienced foes by stepping up late in a wildly entertaining game. After a Colorado turnover behind its net, Bo Horvat passed to Pettersson in the slot for the tying goal in the last minute of the third.
"I got goosebumps when we tied the game late," Pettersson told The Canadian Press (via TSN.ca).
Hauled down on an overtime breakaway, Pettersson drew a slashing penalty by Colorado's Alex Kerfoot. Although a penalty shot wasn't awarded, Pettersson picked up an assist on Derrick Pouliot's game-winning power-play goal at 4:38 of OT and a pile of accolades from fans and media.
NHL PR noted that just 17 different players in league history have scored five or more points in a game at a younger age than Pettersson's 19 years, 355 days.
Elias Pettersson (19 years, 355 days) is the youngest player in @Canucks history to record 5+ points in a regular-season game.

He eclipsed the previous mark set by Trevor Linden (20 years, 253 days) on Dec. 20, 1990 (3-3—6 vs. EDM). #NHLStats #COLvsVAN pic.twitter.com/cEE55Rygqk

— NHL Public Relations (@PR_NHL) November 3, 2018
He has failed to score at least one point in just two games so far this rookie season. We're just nine games into his NHL career, and Pettersson has become a fixture on the nightly highlight shows and has lifted the surprising Canucks (9-6-0) to first place in the Pacific Division after Friday's games.
Every night he finds a way to do something special, and after the team's dismal record in recent years he's spearheading a revived enthusiasm about the team in this city. Through nine games, Pettersson has an incredible 39.1 shooting percentage.
"We knew he was supposed to be a pretty good player. And he's been all of that," Canucks head coach Travis Green told CP (via TSN.ca).