All it took was a surprising two-game series win over the North Division leading Toronto Maple Leafs to help the Vancouver Canucks reclaim their mojo. At least, that's how it seems.
Now, heading into tonight's game – the second straight game against former Canucks' player Tyler Toffoli – the team carries a three-game winning streak into the start of the second half of their season. They also carry the confidence that they have a goalie who can keep them in games and can actually allow the first goal of the game and still come back to win. Monday's game was the first time this season that they had accomplished that feat.
Related: Canucks News & Rumors: Boeser, Miller, Demko & Horvat
In this edition of Canucks News & Rumors, I'll comment about some of the activity emerging from Monday's 2-1 shootout victory over the Montreal Canadiens as well as share news emerging from the organization.
Item One: Don't Expect Elias Pettersson Back for a Few Games
The latest word is that Elias Pettersson will miss at least another week of game action. That news came via the Canucks' head coach Travis Green yesterday. Pettersson has been laid low by some ill-defined upper-body injury that has kept him from three games already and will likely keep him out of at least three more.
The good news for the Canucks is that the team has won each of the games their young star has missed. They'll need to continue those winning ways without him if they wish to move up the standings toward any kind of a chance for the playoffs.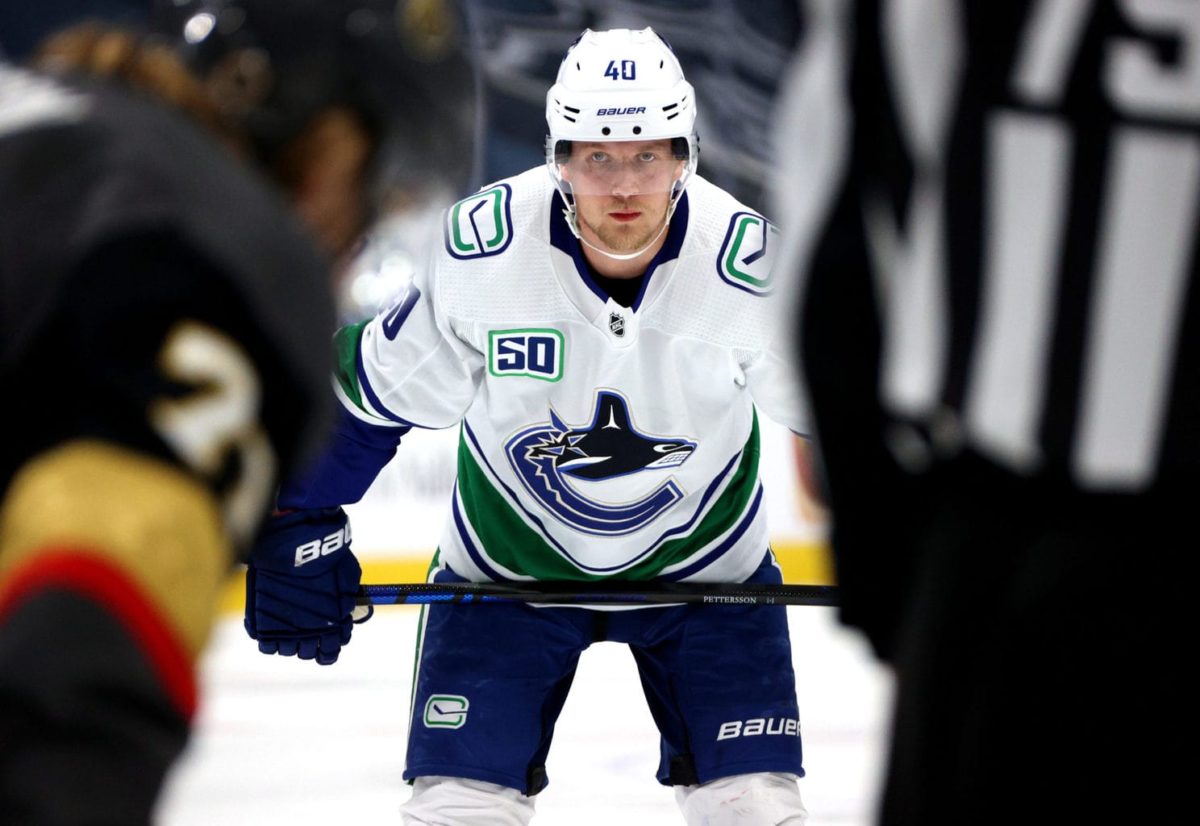 While Pettersson's away, Canucks' fans should expect J.T. Miller to take his place at center. Three-game winning streak or not, Pettersson will be missed. Prior to being gone, he had scored 10 goals and 11 assists (for 21 points) in his first 26 games of the season.
Item Two: Adam Gaudette Rings Game-Tying Goal Off Bar Past Carey Price
Talk about both a timely and an unstoppable goal. Adam Gaudette's third goal of the season during Monday's 2-1 shootout victory over the Canadiens was both. In short, the goal couldn't have come at a more opportune time.
With less than a minute left and Canucks' goalie Thatcher Demko pulled for an extra attacker, Gaudette came flying down the right wing and absolutely fired the puck off the post and past the Canadiens' goalie to push the game into overtime. The shot was an absolute howitzer and happened so quickly that it was tough for anyone to tell that it went in. But Price knew, and so did the slow-motion replay cameras.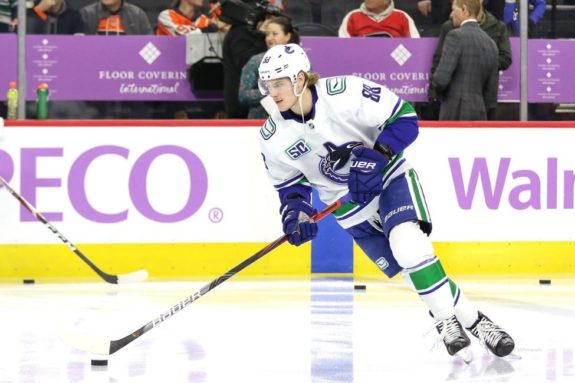 Obviously, Gaudette's goal benefitted the Canucks by giving the team a chance for a win, which eventually came when Bo Horvat scored in the shootout. However, the 24-year-old Gaudette probably needed this boost as well. He'd gone 15 games without scoring a goal and had only scored three assists in those games. After last season's 33 points in 59 games, more was expected of the Canucks' third-liner than the six points in 25 games he's scored this season.
Item Three: Bo Horvat Makes a Difference in Canucks' Victory
In part, Horvat helped lead the team to the win by setting up Gaudette's game-tying, last-minute goal and then scoring the only goal during the shootout. It looks as if the 25-year-old team captain might never become a point-a-game player like his teammate Pettersson has a chance to become, but his leadership can no longer be in question – if it ever was. He might also be one of the most underrated players in the NHL.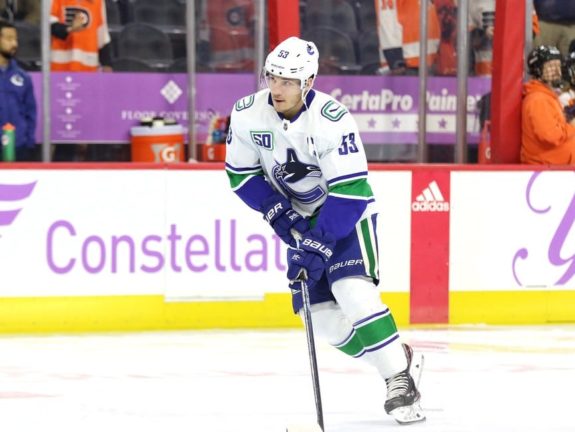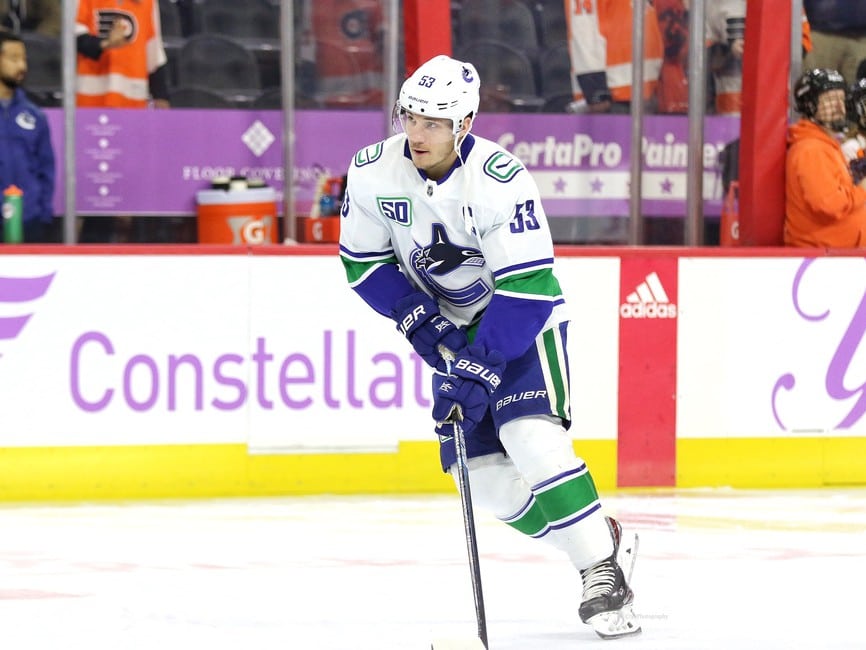 Horvat has not totaled 11 goals and nine assists (for 20 points) in 29 games this season. And he wins key face-offs. He often seems to show up and come through when the team needs him.
Related: Canucks' Horvat Staking Claim for Olympic Roster Spot
Item Four: Thatcher Demko's on a Hot Streak
It seemed as if Thatcher Demko's winning streak might come to an end against the Canadiens, but that wouldn't have been his fault. He only let in one goal on 30 shots on net in the team's first game this week against the Canadiens. And, similar to Gaudette's goal that Price had no chance of stopping, Demko was helpless on Jeff Petry's power-play marker early in the first period. It just looked like a tough luck loss for the 25-year-old goalie until Gaudette's heroics.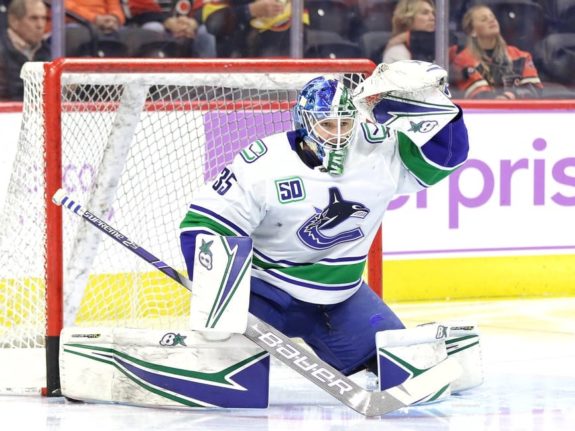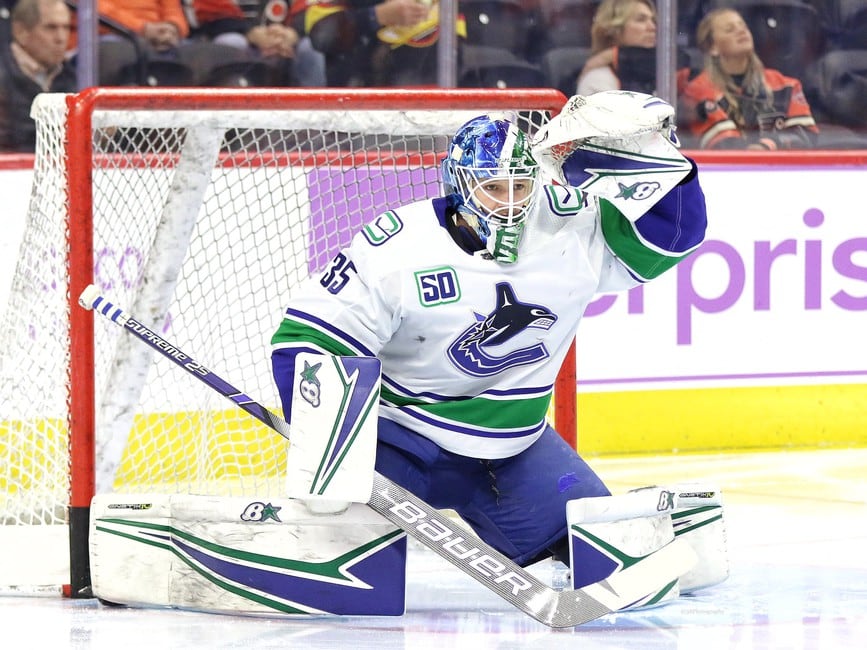 Demko was stellar the rest of the way and through the shootout, where he stopped Nick Suzuki, Jonathan Drouin, and Tomas Tatar (on a daring between-the-legs attempt) to ensure the Canucks' win. The win was his fourth-straight. Demko's record has now improved to 8-9-1 with a goals-against- average of 2.75 and a save percentage of .916.
Related: Best NHL Goalies of the 1980s
Demko's looked like last season's bubble-breakout self recently in only giving up 10 goals on 190 shots during his last six games. During those games he's also had a stunning .947 save percentage. Braden Holtby has only started one game recently and that probably will be the pattern from this point forward; he'll likely only see the spot start during back-to-back games.
Congratulations to Demko for being named the NHL's second star of the week on Monday. During his award-winning week, he posted a record of 3-0-0 with a goals-against average of 1.00 and a save percentage of .969.
Item Five: Quinn Hughes Ends Mini-Slump with an Assist
Quinn Hughes had the secondary assist on Gaudette's third-period goal, which broke a bit of a mini-slump for the 21-year-old defenseman. He's only had three assists in his last eight games, and that isn't like him. Prior to the slump, he was almost on a point-a-game pace and now has 23 points in 29 games for the season.
What's Next for the Canucks?
During the last three games, the team has given up only four goals. That might be Demko's re-emergence in goal, but it also might be a change in the team's on-ice style. They simply had a poor record because they were giving up so many goals.
Related: Canucks News & Rumors: Demko, Virtanen, Edler, Horvat & More
Was that the goalie's fault? I'm not so sure. It might be that head coach Travis Green has worked to forge a more defensively-sound group that will generate fewer goals for but also might generate more victories. That might not be as exciting, but it might be more effective.
The Old Prof (Jim Parsons, Sr.) taught for more than 40 years in the Faculty of Education at the University of Alberta. He's a Canadian boy, who has two degrees from the University of Kentucky and a doctorate from the University of Texas. He is now retired on Vancouver Island, where he lives with his family. His hobbies include playing with his hockey cards and simply being a sports fan – hockey, the Toronto Raptors, and CFL football (thinks Ricky Ray personifies how a professional athlete should act).
If you wonder why he doesn't use his real name, it's because his son – who's also Jim Parsons – wrote for The Hockey Writers first and asked Jim Sr. to use another name so readers wouldn't confuse their work.
Because Jim Sr. had worked in China, he adopted the Mandarin word for teacher (老師). The first character lǎo (老) means "old," and the second character shī (師) means "teacher." The literal translation of lǎoshī is "old teacher." That became his pen name. Today, other than writing for The Hockey Writers, he teaches graduate students research design at several Canadian universities.
He looks forward to sharing his insights about the Toronto Maple Leafs and about how sports engages life more fully. His Twitter address is https://twitter.com/TheOldProf