The Vancouver Canucks continue to churn out impressive rookies every single season. First, it was Brock Boeser in 2018, then Elias Pettersson in 2019, and finally Quinn Hughes in 2020. Now they have another one in 21-year-old Nils Höglander who has been impressive ever since the drop of the puck in training camp. Though, he's not the only rookie that has made his debut during the 2020-21 season. In total, three youngsters have seen NHL ice with varying degrees of success. Let's take a look at their performances so far in our first Canucks rookie spotlight of the season.
Hoglander's Hustle & Tenacity a Treat To Watch
Could the Canucks have another Calder Trophy nominee on their hands? It sure looks that way with Höglander impressing everyone with his point production and dogged determination to possess the puck. Every shift he has played in the NHL has been filled with tenacity, hard work, and a seemingly inhuman amount of energy. If you didn't know any better, you would think he was the Energizer bunny. He just keeps going and going.
Related: Canucks Prospects Report: Lind, McDonough, Podkolzin & More
Hoglander is doing everything the right way too. For a guy that entered the NHL amidst concerns about his size and defensive play, he is thriving because of his ability to play defence. Look no further than the insane textbook shift he had against the Winnipeg Jets last week.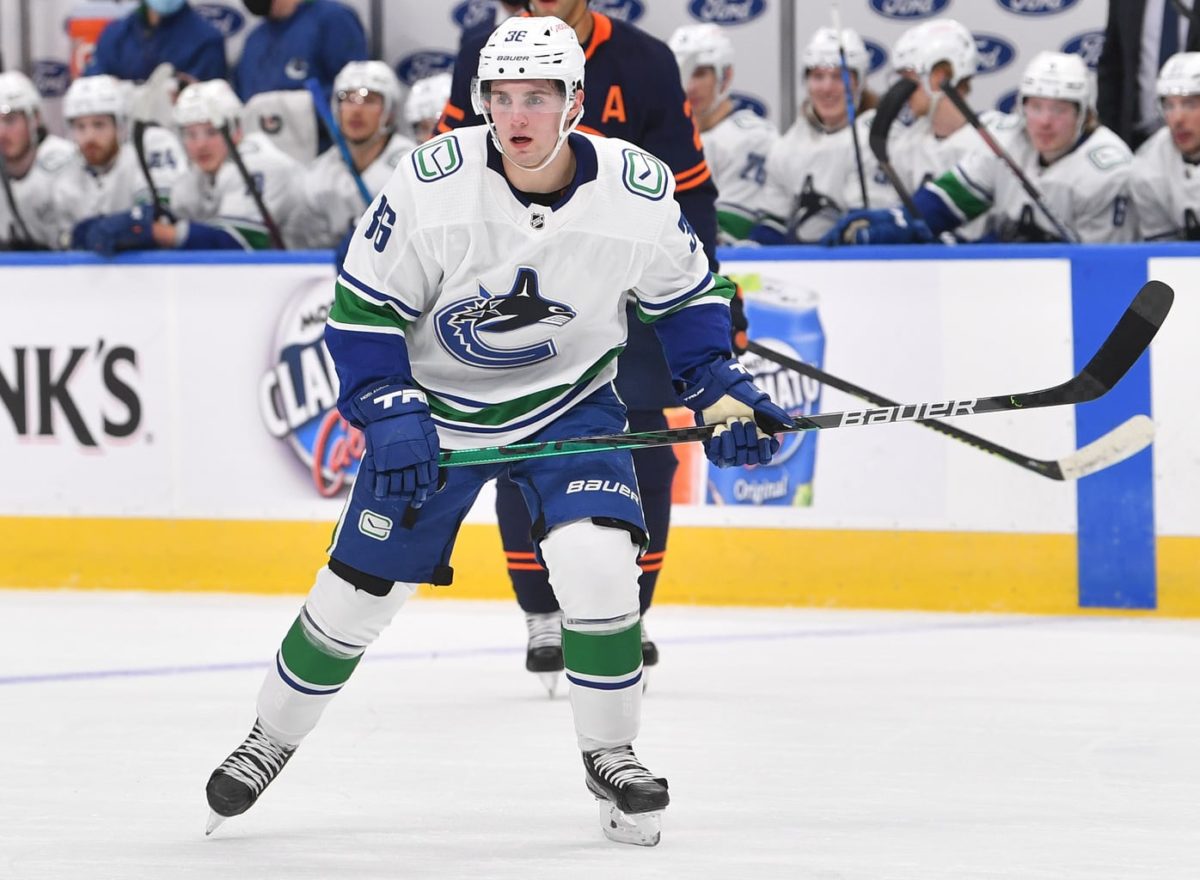 Höglander simply generates offence because of the fact that he's always on the right side of the puck. The strength he has on his skates allows him to stay in every battle on the boards, despite his 5-foot-9 stature and his work ethic in all areas of the ice is something to behold. Teaming up with Bo Horvat and Tanner Pearson, he has posted three goals and seven points in 19 games and, as expected, has performed well in the fancy stats too with a 51.92 Corsi-for percentage (CF%). There's just a lot to like about his game so far, and he's just only scratching the surface of what he could ultimately become. He could actually be in the conversation for the Selke Award one day. He's just that good.
Hoglander has all the tools to become that and more as he's only 19 games into his NHL career. People thought I was crazy when I ranked him ahead of top prospect Vasily Podkolzin in my rankings last season. I continue to stand by my projection that he will become a top-line left winger one day. So far, he's done nothing to change my mind.
Grade: A
Olli Juolevi Starting To Realize His Potential
After a solid postseason debut against the Minnesota Wild, Olli Juolevi entered the 2020-21 season with high expectations. So far he has met them by not only making the team but by being a solid addition to the defence core as well. He leads the team in plus/minus with a plus-2 and has only been a minus player twice so far this season.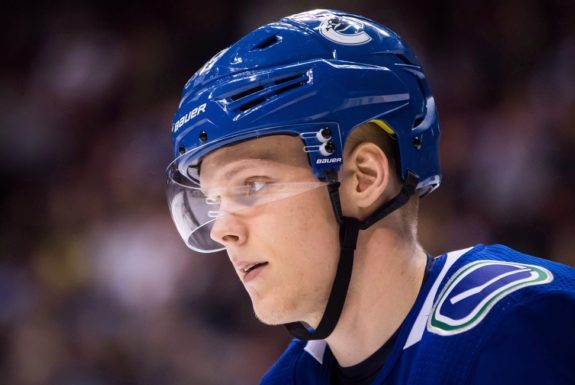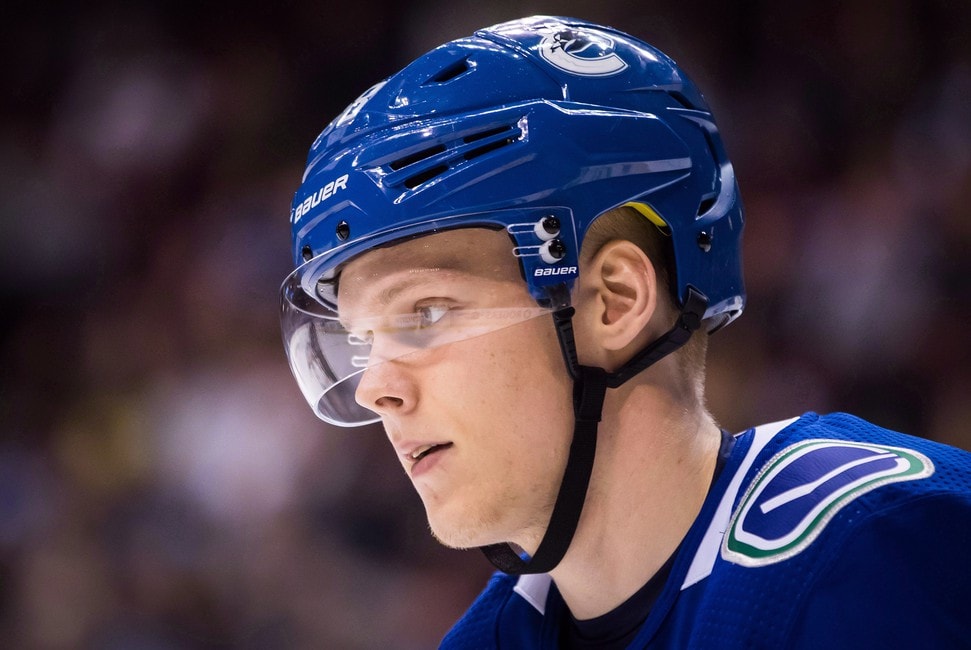 Juolevi was a projected top-ten pick in 2016 because of his mobility and cerebral two-way game. He was a no-nonsense defender with a solid first-pass that could move the puck quickly and efficiently out of danger. As the games go by, we are seeing more and more of that from him, and the ice time is creeping up because of it. Head coach Travis Green is trusting him with more responsibility, and in no time, he will be a fixture in the lineup.
Related: Canucks Ready To Gamble on Prospects To Complete the Blue Line
The last game against the Calgary Flames was Juolevi's best of the season. He not only combined forces with Tyler Myers to make a serviceable third pairing, but he also dropped Matthew Tkachuk with a big hit after he went unpenalized after sneakily tripping him behind the net. On top of that, he made several good defensive reads and never got beat one-on-one. He basically played the game that he was so highly touted for before the 2016 draft, and he will only get better with time.
Grade: B+
Jalen Chatfield Is a Serviceable Depth Defenceman
When the Canucks re-signed Jalen Chatfield during the offseason, I don't think anyone thought that he would see any significant time at the NHL level. He was at best a depth defenceman destined for the taxi squad or the Utica Comets. Fast forward to now and he has played nine games and averaged 14:18 of ice time mostly paired with veteran Alex Edler.
As for his performance in those games, Chatfield was a little over his head at times as he struggled to contain the talent of the Toronto Maple Leafs and Montreal Canadiens. In his last four against them, he was on the ice for nine goals against and 18 high-danger chances against. In his last game alone, he was on for four goals and finished a minus-4. He was also beat one-on-one by Auston Matthews after making a bad read at the opposition's blue line where he should have taken the offside instead of backing off. He has been scratched in favour of Juolevi ever since, and with how well he's playing, I don't see Chatfield coming back into the lineup anytime soon unless there are some injuries.
Despite his struggles against some premier talent, Chatfield has looked like a serviceable NHL defenceman capable of playing a limited role on the bottom pairing. He has shown the ability to kill penalties, block shots and play a simple game from the backend. He still has some learning to do, like when to make a play on the puck and when to back off, but that should come with time and experience. At 24-years-old already, he probably won't develop into anything more than a depth defenceman like Alex Biega, but that's okay especially for an undrafted player that wasn't expected to even make it past the AHL with the Comets.
Grade: C
Canucks Kids Are All Right
Overall, the Canucks rookies have been a bright spot this season. Hoglander has definitely been the most consistent, but Juolevi has developed nicely into an NHL defenceman too. Chatfield has seen his struggles, but he should be a good depth piece for the future if injuries rear their ugly head again.
For the fourth straight season in a row, they have a Calder Trophy caliber rookie, and that's exciting in itself. Vasili Podkolzin is just around the corner too, and with the potential he has, they could have another one in the chamber just ready to be fired into the Calder Trophy conversation next season. That would make it five straight rookies, which would be beyond unprecedented.
All stats provided by Hockey Reference and Natural Stat Trick
---
---