The NWHL's 2021 season in Lake Placid was filled with stops and starts and eventually came to a screeching halt due to covid again. There were a plethora of great performances throughout the 15 games that took place between Jan. 23 and Feb. 1, including the rise of Toronto's Mikyla Grant-Mentis and the precision passing we saw from Boston's Kaleigh Fratkin.
The league looked a lot different from when we last saw them in action back in March – filled with an influx of new players, a whole new team, and the most draft picks ever to hit the ice in a season following an NWHL Draft. 19 of the 30 players selected in the 2020 NWHL Draft made their professional debuts in Lake Placid and there were some great performances from newbies on each team.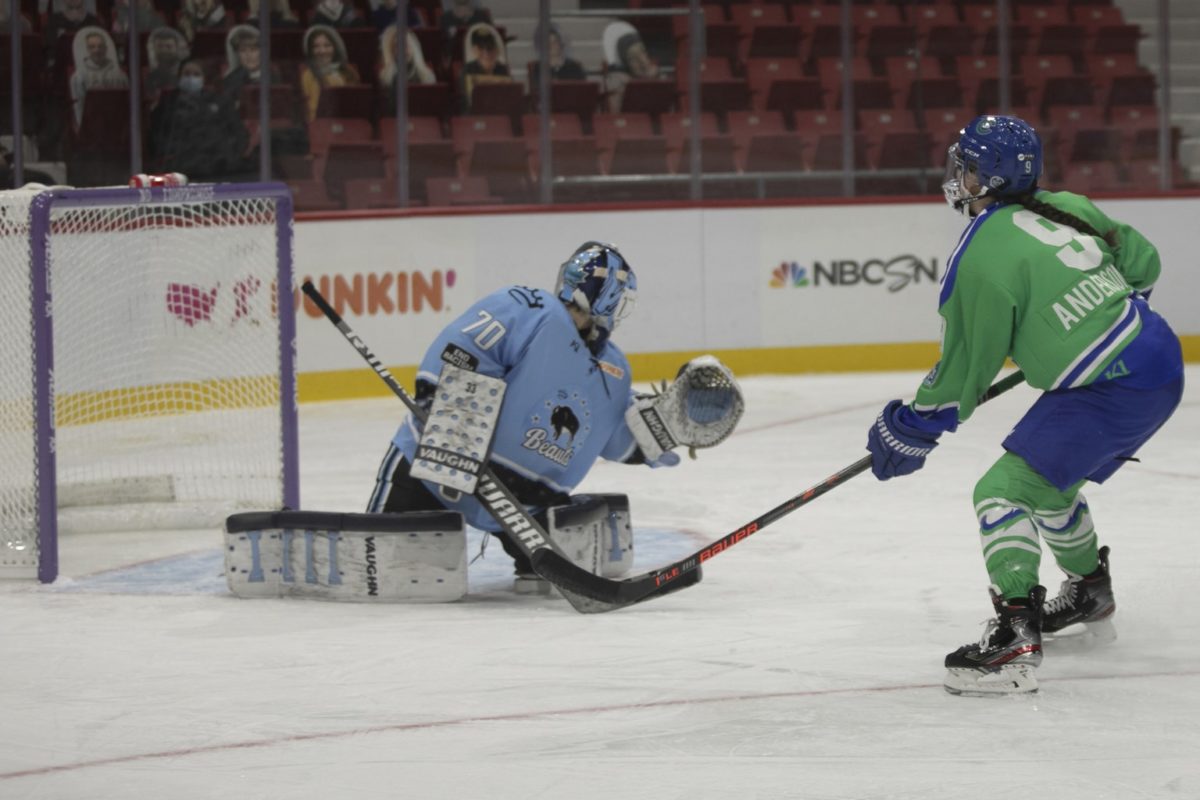 There was also some outstanding play from newcomers who weren't drafted, but let's focus on the 19 draftees, how they helped their teams, and helped to raise the level of play throughout the league.
Boston Pride
The Pride had six draft picks make their NWHL debuts, highlighted by the play of Sammy Davis, the no. 1 overall pick. Davis led all draftees with four goals and five points, while also leading her team in goals. She was just finding her groove after back-to-back two-point games against Buffalo before the league shutting everything down.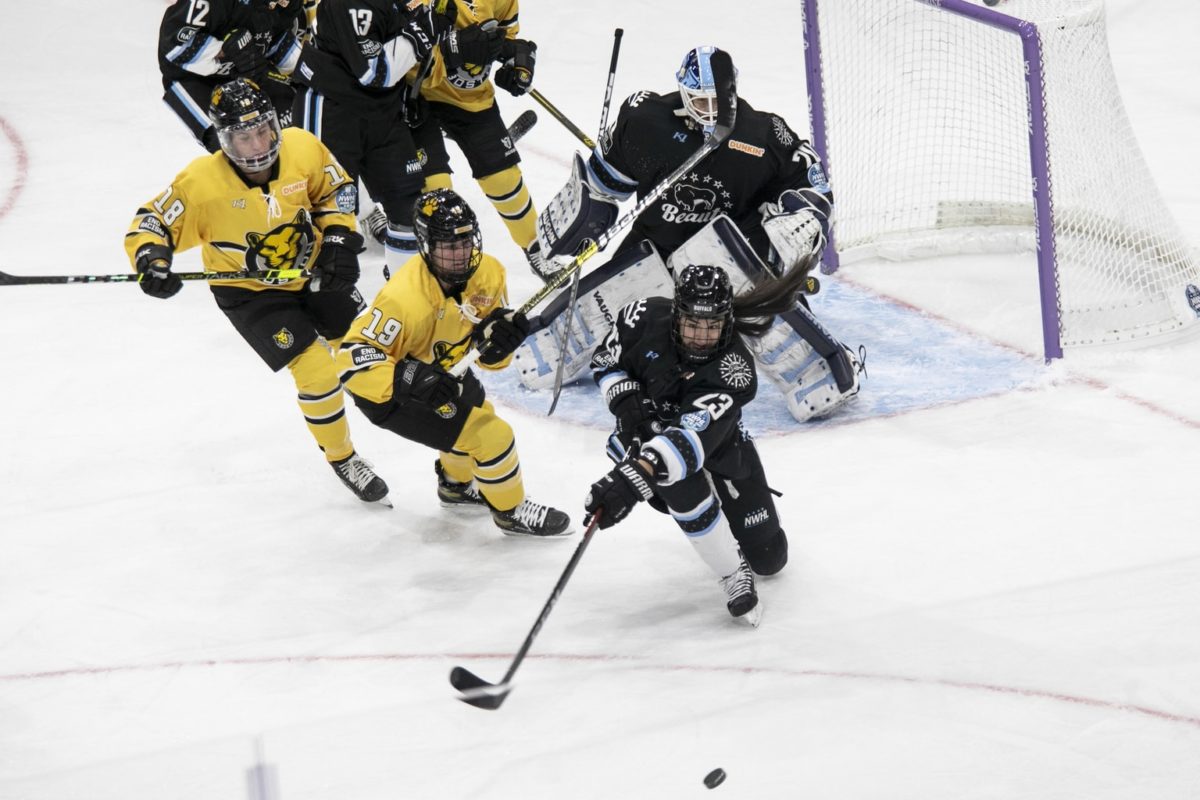 "Sammy is a dynamic player. I think the first couple of games she may have been gripping her stick a little too tight, but over the last three games she's been phenomenal," Pride head coach Paul Mara said after his team's 6-0 win on Jan. 31. "She scored a huge goal for us tonight. That's what we expect from her every night."
Meghara McManus was drafted 28 picks after Davis and was able to match her point output, putting up two goals and three assists. Like Davis, once she got comfortable her production skyrocketed – all five of her points came over the course of Boston's final two games and in their 7-1 triumph on Feb. 1. McManus fired a game-high seven shots on goal.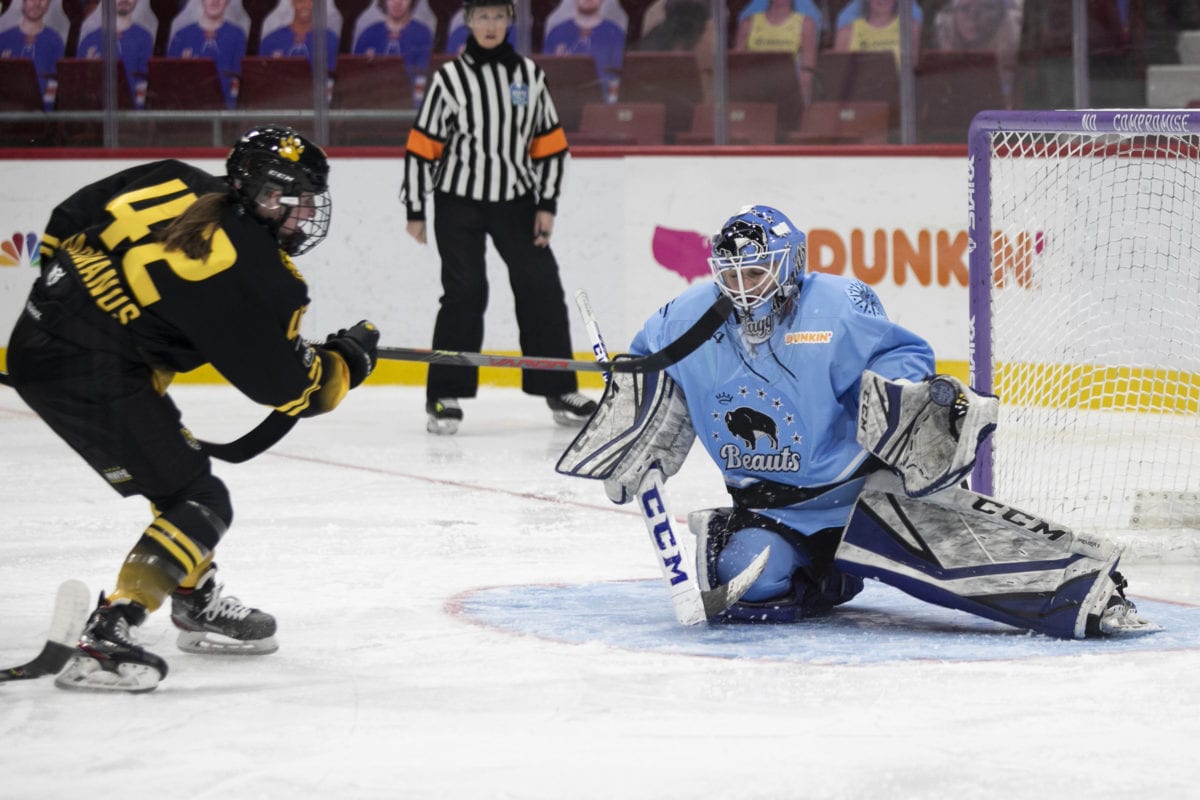 Altogether Boston's six draft picks combined for seven goals, ten assists, 20 blocked shots, and 93 shots on goal. Tereza Vanisova led all players in the league in face-off percentage, winning 60-of-86 draws (.698) she took.
Boston's draft class by the numbers:
Sammy Davis (1st overall):  5 points (4g-1a), 17 SoG, 2 PiM, PPG, 2-1 f/o
Tereza Vanisova (12th overall): 2 assists, 18 SoG, 1 block, 10 PiM, 60-26 f/o
Taylor Wenczkowski (18th overall): 1 goal, 21 SoG, 4 PiM, 0-2 f/o
Taylor Turnquist (24th overall): 3 assists, 10 SoG, 7 blocks, 2 PiM
Meghara McManus (29th overall): 5 points (2g-3a), 20 Sog, 2 blocks, 4 PiM, 2-5 f/o
Paige Capistran (30th overall): 1 assist, 7 Sog, 10 blocks, 4 PiM
Connecticut Whale
The Whale had five 2020 draft picks dress for games in Lake Placid before they opted out of the season due to covid concerns within their group. Forward Kayla Friesen and defender Tori Howran were Connecticut's first two picks in the draft and over the four games the team played they showed just why.
Related: Q & A with Kayla Friesen of Connecticut Whale
Friesen scored the Whale's first goal of the season and was averaging just over five shots on goal per game. She was also efficient in the face-off dots, winning 33-of-63 face-offs (.524) she took.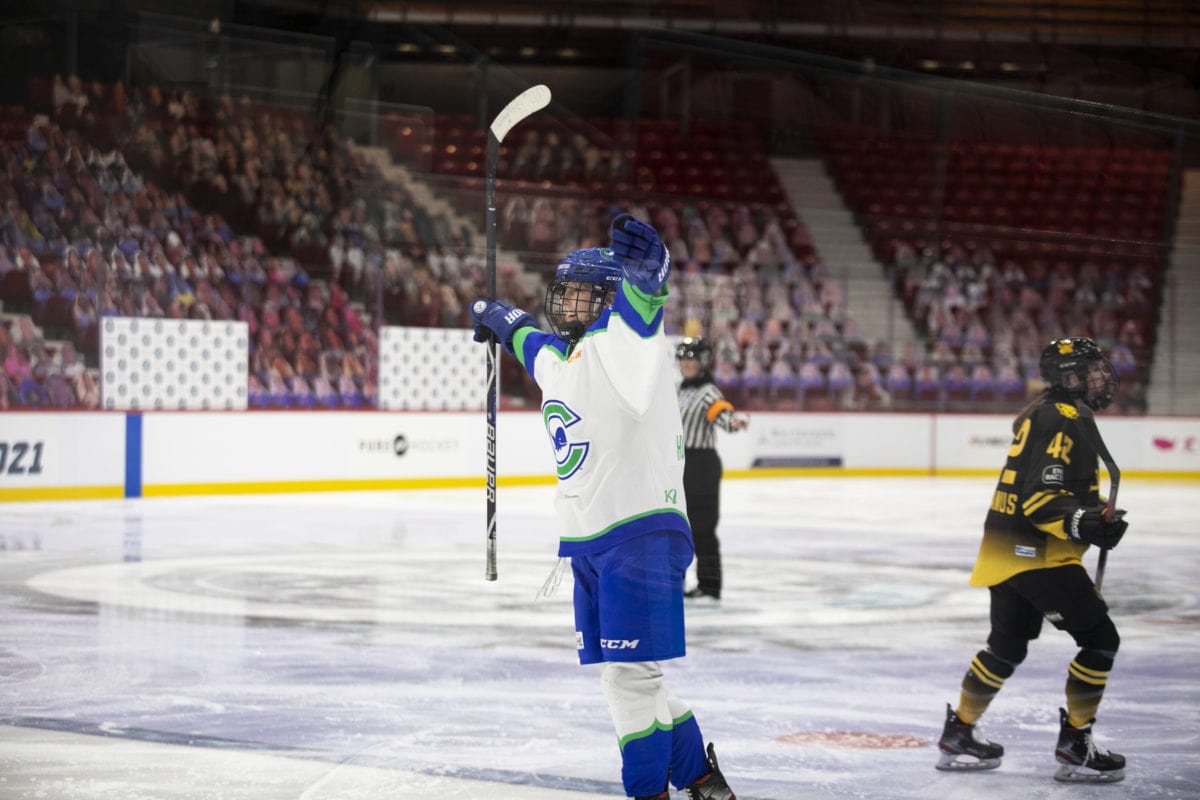 Howran had a point in all three games she played, logged just a shade under 70 minutes of ice-time, and was a perfect partner alongside captain Shannon Doyle on the Whale's top D pair. 
Connecticut also gained the forward depth they have lacked in season's past with the contributions they had from Amanda Conway, Nicole Guagliardo, and Maddie Bishop.
Connecticut's draft class by the numbers:
Kayla Friesen (2nd overall): 1 goal, 16 SoG, 33-30 f/o, 1 block, 4 PiM
Tori Howran (7th overall): 3 points (1g-2a), 5 SoG
Amanda Conway (19th overall): 2 points (1g-1a), 5 SoG 
Nicole Guagliardo (25th overall):  2 SoG, 4 PiM
Maddie Bishop (27th overall): 1 SoG
Buffalo Beauts
The Beauts only had two of their draft picks play during the 2021 season, but one might argue they had perhaps the best draft pick from the 2020 draft class in goaltender Carly Jackson. The wins may have not been there but you would be hard-pressed to find someone who didn't think Jackson was the best player on the ice in all six games she played.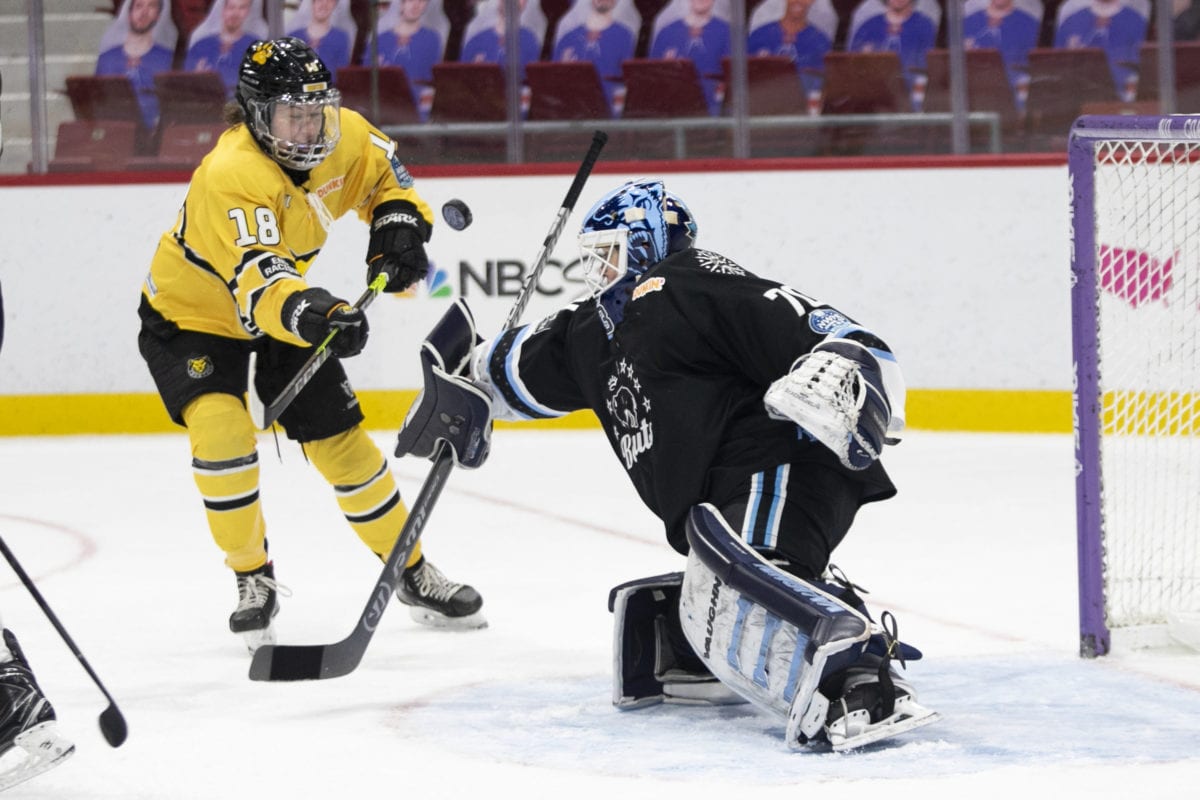 "One of the things that we wanted to do with our GM Nate Oliver was to build out from our back end. We started with a goaltender and worked our way out," said Beauts head coach Pete Perram following one of his team's games in Lake Placid. "Carly is a professional. The ability for our players to play a game and trust your goalie, to know that she's got your back, you can't put a value on that."
Jackson led all goalies in games started/played (6), shots faced (231), saves (210), and minutes played (350:47).
"I would say that CJ has both met and exceeded our expectations," added Oliver when asked about drafting her with his team's first-round pick. "We knew that we were getting an elite goaltender when she was drafted and then bringing her aboard over the summer. She owns pretty much all of the major goaltending records for the Maine Black Bears. So, yeah, we knew we were getting a top-notch netminder for sure."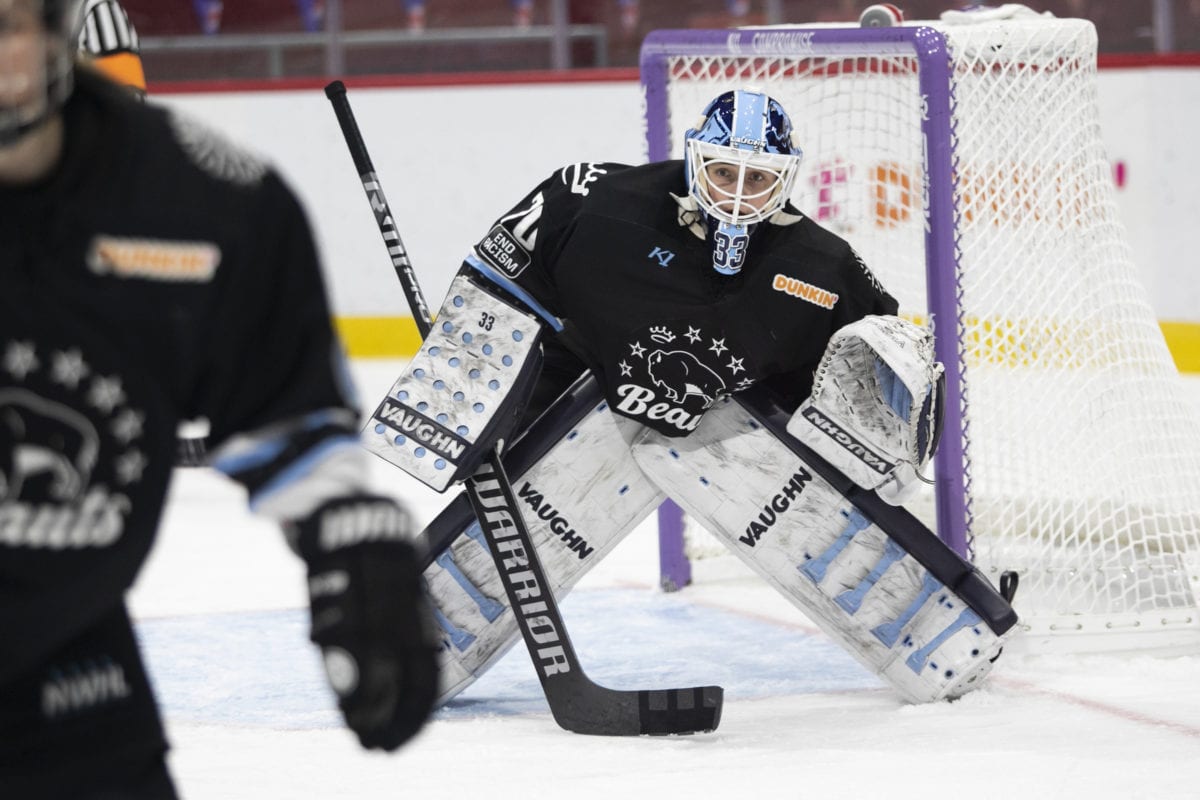 "But then CJ gets here and you see her in action day-in and day-out, and you realize how special of a goalie she really is," said the first-year Beauts' GM of his netminder. "Look at our first three games in Lake Placid – she stood on her head and kept us in games. We don't have to worry with her in our net. It's reassurance at its finest."
The Beauts' other draft pick to play in the 2021 season, Autumn MacDougall, led the team in goals (3), was tied for second on the team in points (3), and was tied for third on the team in shots on goal (15). Buffalo scored seven goals in six games in Lake Placid.
Buffalo's draft class by the numbers:
Carly Jackson (3rd overall): 1-4-1, 3.59 GAA, .909 save %, 210 saves/231 shots
Autumn MacDougall (14th overall): 3 goals, 15 SoG
Metropolitan Riveters
The Riveters played the least amount of games in Lake Placid (3), and like Buffalo only had two draft picks in action. But they were both impactful for sure. Their first pick, defender Saroya Tinker, was a welcome addition to the Rivs' blue line, and their third pick, goaltender Tera Hofmann, won her only start, stopping 33 of the 36 shots she faced.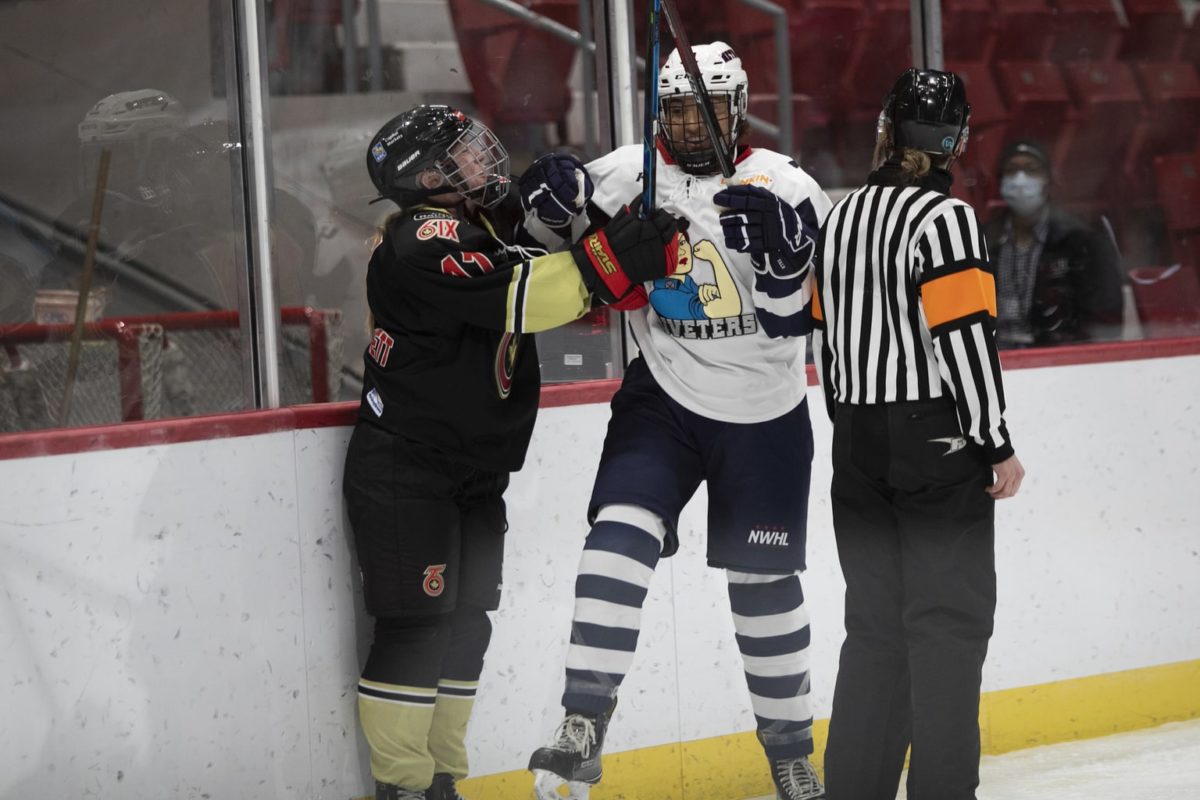 "Stretch (assistant coach Ashley Johnston) and I (recently) talked about Tinker; she was playing well in all three games, but you could tell that with each game she was getting more confident. In the game against Minnesota she was doing things she did not do in our first game," Riveters head coach Ivo Mocek said. "I told her to not be afraid – if you have time in the offensive zone with the puck, get it from your backhand to your forehand and get it to the net if you have that time."
"Don't always try to play it safe. She was getting more confident and comfortable playing, and was realizing she had the time, had the skills to make those decisions. She really was getting better with every period she played."
Hofmann would have gotten the start in the Riveters' next scheduled game had the team not have had to withdraw from the season according to Mocek. He also revealed that even though Tinker and Hofmann have been teammates for over five years, that aspect didn't play into the team's decision to draft them both in the 2020 NWHL Draft.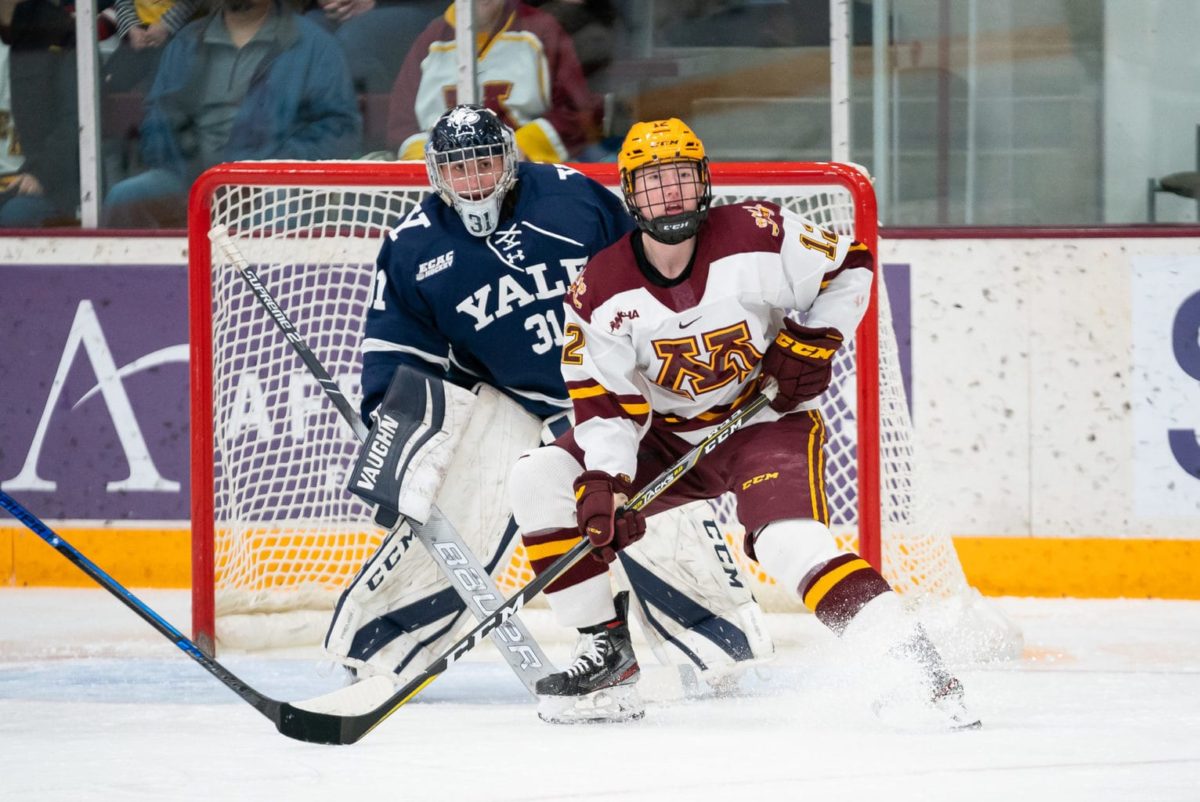 "It didn't really affect our draft strategy. It was a benefit (that they knew one another) for sure, but it wasn't a factor in our decision making as far as who we were going to pick," said the second-year Rivs bench boss. "But I'm really glad that we picked both of them."
Metropolitan's draft class by the numbers:
Saroya Tinker (4th overall): 1 assist, 2 SoG, 5 blocks
Tera Hofmann (16th overall): 1-0-0, 3.00 GAA, .917 save %, 33 saves/36 shots
Toronto Six
Like the Beauts and Riveters, the Six only had two draft picks play during the games in Lake Placid, but boy did they have an impact. Toronto's second pick Amy Curlew was tied for fourth on the team in points with four.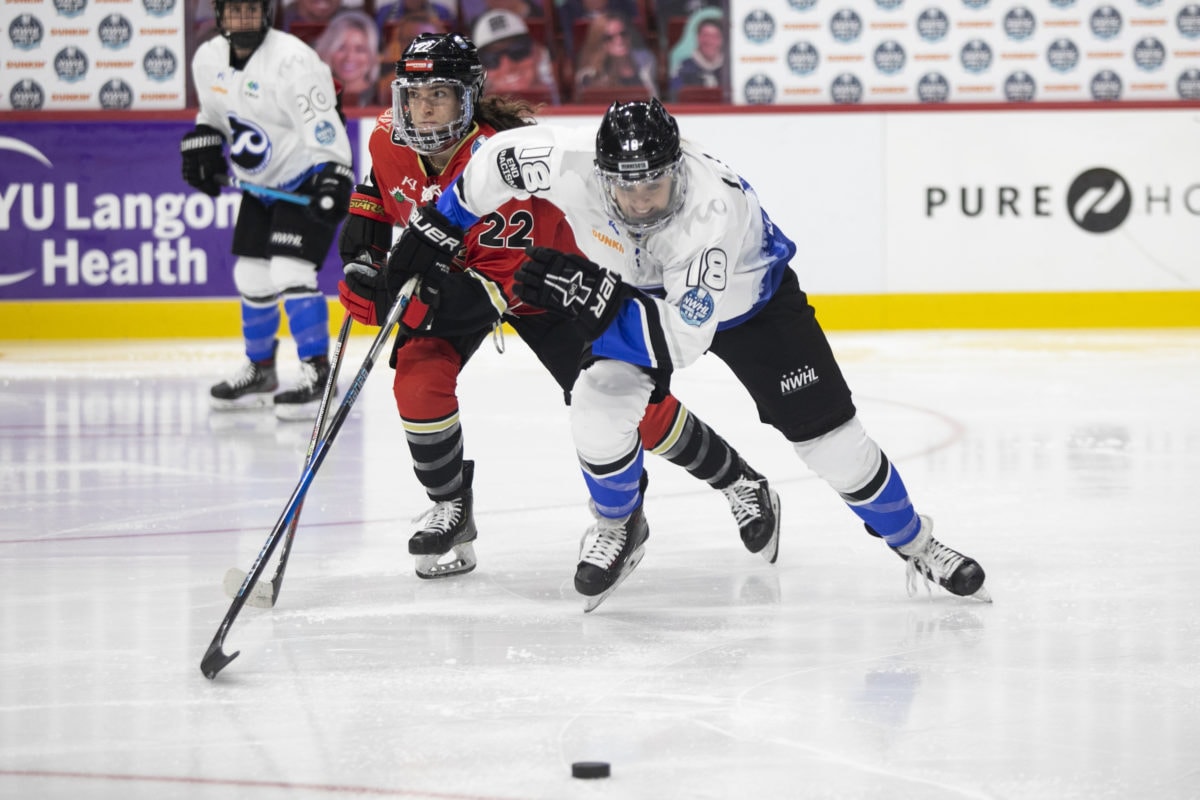 Their other pick, Natalie Marcuzzi, only had one assist over the six games she played but was heavily involved in the offense on a nightly basis as the Six finished the season on a four-game winning streak. 
"These kids were hand-picked to have that attitude when we play hockey. No prima donnas, no people that are more important than anyone else, and they care about the mission of the T6. That's why I'm so proud of them," said head coach Digit Murphy after what was her team's final game.
They may have been an expansion team, but Toronto was just as formidable as any of the other NWHL teams, and the talent on their roster could be a force to be reckoned with going forward. Reminder they have about 600 picks in the 2021 NWHL Draft.
Toronto's draft class by the numbers:
Amy Curlew (8th overall): 4 assists, 3 SoG, 4 block, 4 PiM, 3-3 f/o
Natalie Marcuzzi (22nd overall): 1 assist, 19 SoG, 1 block, 2 PiM, 12-12 f/o
Minnesota Whitecaps
The Whitecaps also only had two draft picks playing this season, but they seamlessly fit into a group that has been largely well-established for quite some time. We should point out that they were also Minnesota's final two picks in that draft.
Haley Mack had her fingerprints all over the Whitecaps' offense, racking up a shootout-deciding goal in addition to a game-winning power-play goal, and a goal that helped to turn the tide in their first game against the Six.
"Mack is incredible. One of the most frustrating players to face in practice," said Whitecaps goaltender Amanda Leveille, "it seems like every shot goes bar or post in. We are lucky to have her on our team and she is going to have a long and successful career in the NWHL."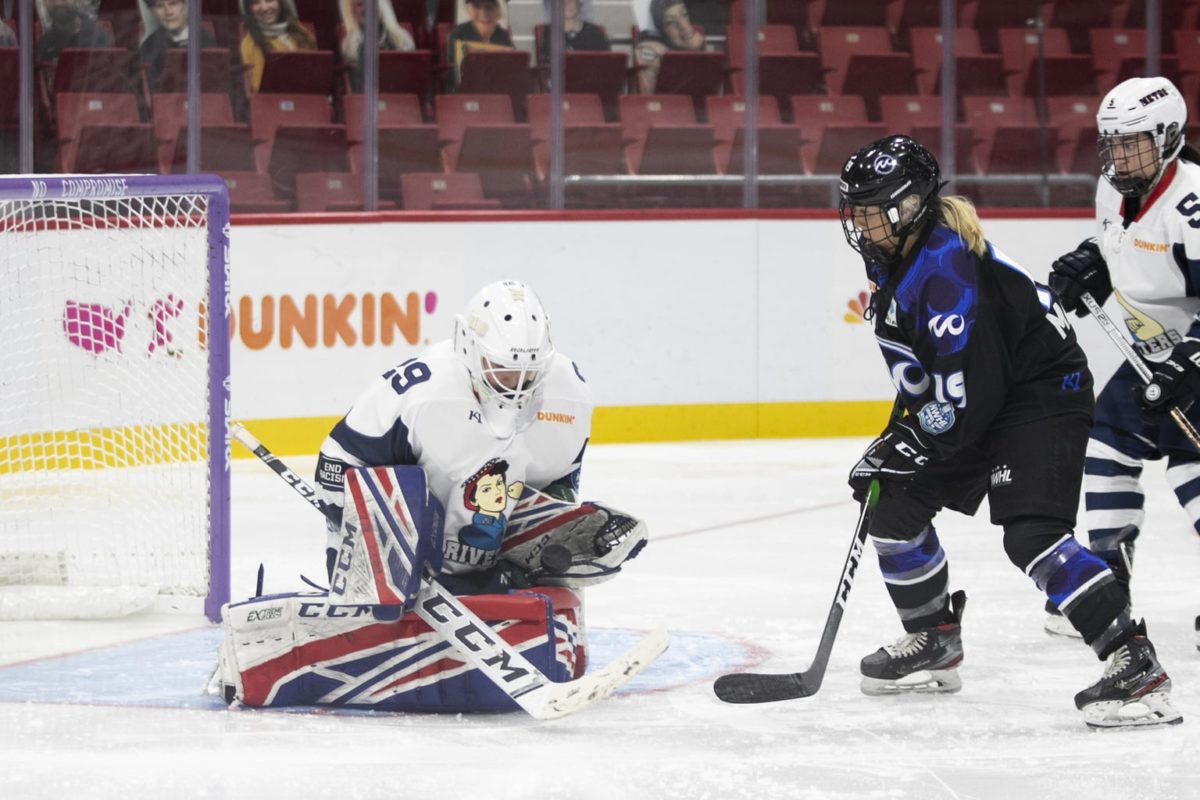 Maddie Rowe didn't have any points, but the defender blocked multiple shots in every game (19 total) and was a brick wall in front of Minnesota's brick wall goaltender.
Leveille shared with us a great story about Minnesota's first clash with Toronto. "I got hit in the neck with a shot in the first period and couldn't really move my arm or shoulder after that. In the third period, Rowe skated up to me and said, 'when I am on the ice I am not letting another shot through,' and she literally blocked everything. Absolutely incredible!"
"After that Toronto game, she had three giant bruises on her legs! And she continued to block so many shots all tournament long," added Leveille. "She is going to be a standout defender for the Whitecaps for a long time."
Minnesota's draft class by the numbers:
Haley Mack (23rd overall): 3 points (2g-1a), GWG, PPG, s/o goal, 10 SoG, 1 block, 2 PiM
Maddie Rowe (28th overall): 19 blocks, 3 SoG, 2 PiM
Dan Rice is in his 9th year of reporting for THW & has covered NJ Devils home games for 15+ years at various websites. He began his journey working for legendary broadcaster/writer Stan Fischler from 2002-04 & completed an internship at the ECHL; he also has been writing features for the NWHL (nwhl.zone) website since 2016.